2009 U.S. Dressage Championships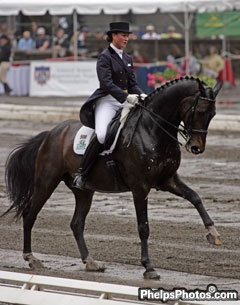 The rain just couldn't help itself. After a dry day on Friday, the 2009 Festival of Champions at the USET Foundation Headquarters – like much of the rest of the country, was again, drenched.
The Grand Prix Freestyle, which was expected to be the highlight of the weekend – didn't disappoint.
But Adrienne Lyle surprised a few (including herself) by ending up on top of the leader board with Wizard.
"Basically, he's a giant chicken with water," said Lyle after sloshing through the puddles in the arena. "He was a little backed off yesterday with the rain so this morning I went and played in the puddles."
The strategy worked like a charm.
Lyle held her own against some very experienced veterans. The 27-year-old rider from Ketchum, ID (and 2008 USEF National "Brentina Cup" Dressage Champion) rode Wizard in a freestyle that everyone - even in the relentless rain - really enjoyed.
"I'm so excited," she said about the 10-year-old Oldenburg gelding. "It is only my second time ever riding this freestyle. He was a lot more confident today and he handled the atmosphere. I'm very proud of him."
The pair scored 74.950% for their effort.
Lyle rode to a medley of country music including John Denver's Thank God I'm a Country Boy and the always popular: Save a Horse, Ride a Cowboy.
"I'm a country fan, that's all I listen to," said Lyle. "We're from Idaho, I'm allowed to do country. I thought it was youthful and fun."
Lyle is a disciple of two-time Olympian Debbie McDonald, and her professionalism and maturity in the ring defy her age. Their freestyle was difficult and technical, it included double pirouettes and piaffe pirouettes.
Sixth in Friday's Grand Prix (which had been postponed one day due to the deluge on Thursday) Lyle and Wizard returned with a new purpose on Saturday afternoon.
Friday's winner had to settle for second in the Freestyle, but Leslie Morse and Tip Top 926 got to try out a rocking new freestyle.
Tip Top went later on in the class and Morse felt that perhaps the footing deteriorated a little.
"It wasn't slippery, but it was getting heavy," said Morse. "It was a bit tricky, especially on the centerline."
The 15-year-old Swedish Warmblood stallion waltzed his way through the sloppy footing to the tunes of Stevie Wonder, Annie Lennox and The Eurythmics. They still lead the Championship, which will conclude Sunday with the Grand Prix Special.
"Tip Top was so submissive and on the aids, he did everything I asked and he did it with a smile on his face," said Morse of her freestyle which scored 74.250%.
Traditionally the Special is held before the Freestyle, but due to the rescheduling because of the rain – the two tests were swapped.
Morse, who owns Tip Top with Laura Petroff, will make some changes to the new Freestyle now that she has had a chance to test drive it.
Local rider Lauren Sammis and Sagacious HF rounded out the top three. The Team Gold and Individual Silver medalist from the 2007 Pan American Games used the same Billy Joel music as her small tour freestyle (which is a crowd favorite) but added the more difficult Grand Prix movements.
The gutsy 10-year-old Dutch Warmblood gelding is in his first year at Grand Prix. There has been a lot of buzz around him as he has been very impressive all spring, but Sammis is keeping it all in perspective.
"He's a green Grand Prix horse," she said. "Today he went really well, but the goal is still next year."
Bateson-Chandler Retains Lead in Intermediaire I Championship
The competition got wetter as the Intermediaire I Championship continued on Saturday morning.
But Dea II showed even more brilliance in the Intermediaire I test, firmly cementing her lead in the National Championship which concludes Sunday. The 11-year-old Hanoverian mare performed beautiful half passes and lateral work for Katherine Bateson-Chandler and was rewarded for her efforts with a score of 74.579%. In the heaviest of the rain of the class, Bateson-Chandler made it clear that she wasn't giving anything away.
"I was gritting my teeth determined," said Bateson-Chandler. "I came up the hill and saw Jan's score and was determined to be on my game. I pushed every movement – she was awesome."
Bateson-Chandler was also fourth on Rutherford. Both horses are owned by Jane Forbes Clark.
"I was much happier with both horses today," said Bateson-Chandler. "All season she has been a little ahead of Rutherford, she is a little more confident in the ring."
Jan Brons and Teutobod put forth a seriously good challenge but it wasn't quite good enough to take over the top spot. He remained second both in the class and in the overall standings.
"The horse did the best he could today," said Brons. "He stepped up to the plate."
Teutobod tried very hard for his mark of 74.526%, making the scores very close at the end of two of the three legs which determine the National Intermediaire I Dressage Championship.
Shelly Francis and Wig showed a very determined effort and were rewarded with a much improved result from the Prix St. Georges on Friday. Their score of 71.737% was good enough for third place.
"I knew what I was up against," said Francis. "I thought I had a chance if Katherine made a mistake. This has been such a good competition and so much fun."
All three of these riders have next fall's Alltech FEI World Equestrian Games on the radar screen if all the pieces come together for them.
"All three are such quality horses," said Jan.
The quality of the entire field was impressive, and Bateson-Chandler, who came up through the ranks as a groom for Robert Dover, was proud of her horses in such tough company.
"I'm honored to be in the company I am in," said Bateson-Chandler. "This is a huge deal for me."
The Intermediaire I Champion will be crowned tomorrow after the freestyle competition.
Brentina Cup Honors Decided by 6/10ths of a Percent; Jocelyn Wiese Wins National Championship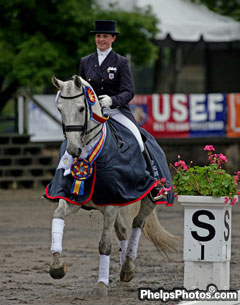 In riding today's FEI Young Rider Grand Prix Test (which served as the second half of their championship) the competition was so close in today's Brentina Cup class that there was only a .5% spread between the top four riders.
This meant that even though 21-year-old Jocelyn Wiese and Lamborghini were fourth in the second leg – their score of 64.837% was good enough to secure the overall title. This pair won the first leg of the Championship and their overall average of 65.368% was just barely good enough to hold the lead over Alyssa Eidbo and Johnny Cash.
"My ride was very good today," said Weise. "This test is more difficult for me than the Brentina Cup test. There was some improvement in my one-tempi's, I was lucky enough to have enough of a lead coming in that I could have a little leeway. I made a couple of mistakes but I was able to recover and come out on top."
Eidbo didn't place as high as second in either leg of the Brentina Cup Championship but her consistent performance with Johnny Cash prevailed.
The 19-year-old from Atlanta, GA was fourth on Thursday and third today, slipping them into the Reserve Champion spot on a two-day total of 64.697%.
"I wasn't expecting to be the Reserve Champion," she said. "It was a nice surprise. I had consistent rides. He did the one's and two's perfectly. I had bobbles in the piaffe and the pirouette, but he was very consistent."
Eidbo heads to Auburn University in the fall as a pre-Vet major.
The individual class winner for the FEI Young Rider Grand Prix Test was Lauren Sprieser and Clairvoya, who rebounded after the first round on Thursday to use the win to move up the standings to fifth overall.
Riana Porter takes Top Honors in Soggy National Junior Dressage Championship
The Junior Championship was decided in the worst of the weather and, despite brave efforts from all of the riders, it was 17-year-old Riana Porter who was the best of the group after the two classes. Her two-day total score of 68.427% was good enough for the win.
"My horse was perfect," said Porter about riding in the downpour. "I thought why me? But I didn't think I couldn't do it, we've done it before and rain isn't an excuse for us. It went really well, maybe it didn't feel as well as it looked."
Porter, who is going to be a senior in High School, rode Romax Foldager to a very mature performance despite the conditions. The California rider made her cross country trip worth the miles on the strength of her performance today.
"We have come up through the levels together," said Porter about her beloved Romax. "We learned all the movements together."
Her score of 70.368% in the Individual test left her just clear of yesterday's winner Lauren Knopp, who settled for second in the Individual test and Reserve Champion overall.
"I thought all the horses performed well," said Knopp about the footing. "I was maybe a little conservative in the extensions, but he was ready to go play in the mud."
Knopp and Rho Dance were very consistent in their test but their score of 68.316% wasn't good enough to repeat yesterday's feat, their two day total 68.347% left them just behind Porter.
The 18-year-old just graduated from Wellington High School, and won the first round of the Championship yesterday. She is planning on heading to the FEI North American Junior/Young Rider Championships this summer.
Photos copyrighted: Mary Phelps/Phelpsphotos.com
More Coverage of the 2009 Festival of Champions on Dressagedaily.com
Related Links
Scores 2009 U.S. Dressage Championships
Tip Top Wins Grand Prix at 2009 U.S. Grand Prix Dressage Championship