2009 Bundeschampionate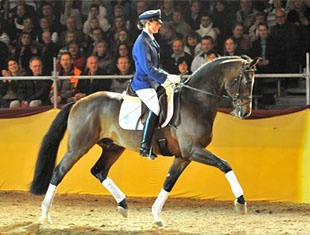 The Baden Wurttemberger licensed stallion Chat Qui Rit de L has achieved the provisional high score of the season at all Bundeschampionate Qualifiers in Germany so far. The stallion won the Thuringian Bundeschampionate Qualifier in Grabsleben last weekend with an 9.2 score.
It was the first time this season that a horse achieved an overall score in the nines! Friederike Schulz-Wallner presented the stallion in the 5-year old Dressage Horse division and obviously claimed victory with such a mark. Chat Qui Rit de L is by Chico's Boy x Cadillac x Ricardo and is bred by Sigmar Baumgärtner from Bad Saulgau, Germany. He is owned by Paul Bengesser's Gestüt Lohmühle in Nördlingen and he was the winner of the Munich 30-Day Stallion Performance Test in 2007.
Schulz-Wallner also finished second in the 5-year old division with the Trakehner bred Zauberfurst (by Interconti). This horse scored 8.5. Doreen Tuscher and Furst Frederico (by Furst Heinrich) placed third with 8.2 and Norbert Grobe and Don Carlos (by Don Cardinale) followed in fourth place with 8.0.
Schulz-Wallner continued her string of succss by winning the 6-year old Dressage Horse division with Radcliffe, a Bavarian branded Rivero II offspring. This horse received 8.4 from the panel of judges. Tahani Ibrahim and Simply a White Splash, an Oldenburg offspring by Sunny Boy, slotted in second with 7.5.
Results
5-year old Dressage Horses
1 Chat qui Rit de L - Schulz-Wallner, Friederike - 9.2
2 Zauberfürst - Schulz-Wallner, Friederike - 8.5
3 Fürst Frederico - Tuscher, Doreen - 8.2
4 Don Carlos - Grobe, Norbert - 8.0
5 Djamihla - Rakelbusch, Gerdi - 7.7
6 Mr. Sheffield - Hoffmann-Zeitze, Dagmar - 7.5
7 Casalls Choice - Sprenger, Svenja - 6.2
8 Albat - Becker, Katja - 5.6
6-year old Dressage Horses
1 Radcliffe - Schulz-Wallner, Friederike - 8.4
2 Simply a white splash - Ibrahim, Tahani - 7.5
3 Dr. Jackson - Müller-Wuttke, Maren - 7.4
4 Wianne - Rakelbusch, Gerdi - 6.9
5 Charly Cool - Grobe, Norbert - 6.4
6 Smart little Boy - Ibrahim, Tahani - 6.3
7 Adele - Kohl, Julia - 6.0