2009 Bundeschampionate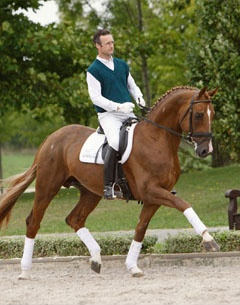 Dream of Heidelberg II offspring dominated the Bundeschampionate qualification classes at the regional show in Prussendorf, Germany, June 5 - 7, 2009. Dominion and Dream Street won the 5 and 6-year old Dressage Horse classes.
Gestut Kempke hof's head trainer Ronald Lüders won the 5-year old division with the Mecklenburg branded Dominion (by Dream of Heidelberg II x Monjul x Adriano). The dynamic duo scored 8.10 to claim victory. Steffen Frahm finished second aboard Doug and Louise Leatherdale's Hanoverian stallion First Dance (by Florestan) on an 8.0 score. Maik Kohlschmidt and the Oldenburg bred So What (by Scarlatti) finished third with 7.5.
Kempke Hof rider Markus Suchalla won the 6-year old dressage horse class with the Mecklenburg bred Dream Street (by Dream of Heidelberg II x Davignon II). The pair achieved an 8.10 score. Brandenburg State Stud rider Christian Flamm ranked second on the Oldenburg branded Don Pedro (by Donnerschwee) with a score of 8.0. Steffen Frahm and the Leatherdale's Trakehner licensed stallion Herzensdieb (by Tambour) tied.
Results
5-year old Dressage Horses
1 Dominion - Lüders, Ronald - 8.10
2 First Dance - Frahm, Steffen - 8.00
3 So what - Kohlschmidt, Maik - 7.50
4 Doyen's Belli - Eyermann, Heike - 7.10
4 Fonteyne -  Schmerglatt, Robert - 7.10
6 Rob Roy - Frahm, Steffen -  7.00
6 Don Malecon - Maruhn, Esther  - 7.00
8 Hevona -  Eyermann, Heike - 6.90
8 Dori -  Raue, Bernhard - 6.90
10 Punktgenau -  Steffens, Sabine - 6.70
10 C'est la vie - Völzke, Judith -  6.70
12 Rubinello - Lundgren, Astrid Helene  - 6.10
13 First Time - Sandbrink, Stefan - 6.00
6-year old Dressage Horses
1 Dream Street - Suchalla, Markus - 8.10
2 Don Pedro - Flamm, Christian - 8.00
2 Herzensdieb -  Frahm, Steffen -  8.00
4 Sarotti - Hintsche, Andrea - 7.80
5 Prinzess - Feistkorn, Lena - 7.70
5 Dr. Jackson - Müller-Wuttke, Maren - 7.70
7 Sweetest poison - Kohlschmidt, Maik - 7.60
8 Tacita - Lüders, Ronald - 7.40
9 Paganini - Wahlers, Wilfried - 7.00
10   Touch Down - Lundgren, Astrid Helene - 6.90
11   Dance for me - Kraus, Wenke - 6.70
12   Cosima - Saalbach-Müller, Ina - 6.60
13   Get time - Lundgren, Astrid Helene - 6.30
Fürst Donnerhall  -  Hintsche, Andrea - RET.
Shantou -  Stübig, Alexandra - RET/DNS