2009 Dutch Dressage Championships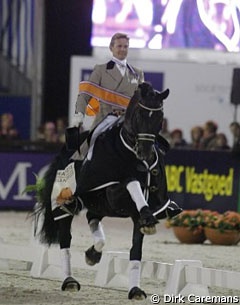 Edward Gal and the black KWPN stallion Totilas commanded and conquered the 2009 Dutch Dressage Championships in De Steeg, The Netherlands, ending Anky van Grunsven's era of undisputed reign as Dutch prima donna. Aboard Tosca Visser's 9-year old Totilas (by Gribaldi x Glendale), Gal won the Grand Prix, Grand Prix Special and Kur to Music with staggering scores of 77.063%, 80.416%, and 86,700%.
Gal's freestyle has a very low technical difficulty, as Totilas is only 9, and even though the dramatic tunes are clinging, the music hardly ever matches the footfall of the horse or marks the transitions between movements. But Totilas' extraordinary movement mechanism and stability in performance dazzled the judges and audience and with some shooting star credit points the pair scored 86,700% in the Kur. One wonders where the score will end in the future if the technical difficulty goes up.
Gal obtained a total score of 244.181 percentage points, almost 10 percent higher than silver medal winning Anky van Grunsven and Salinero (by Salieri), who totaled 233.904 points. Imke Schellekens Bartels and the Smarius Family's Hanoverian mare Sunrise (by Singular Joter) got the bronze with a total of 229.982 points.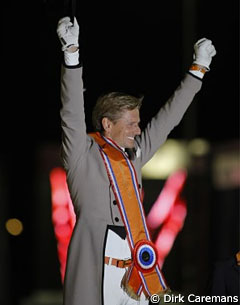 Never before has Anky van Grunsven been defeated at the national championships when she was riding either Bonfire or Salinero, which makes Gal's victory even more special. In 2004, Gal became Dutch Champion with Lingh while Anky finished in second place with her second horse Krack C.
The 39-year old Harskamp based Edward Gal is amazed by the capabilities of his horse."Maybe this is the best horse I have ever seen," he said. "Totilas can do everything. I've never felt this in my entire life as a rider. He still makes a few mistakes now, but that's his lack of experience. He is also very level minded, always clear thinking and relaxed. I don't have to work on him to get the best out of him. And I know for sure he can even be better." Gal also has the 8-year old full sister of Totilas in his stable. "She can do a thing or two as well," he quipped.
Not only Totilas' "veni, vidi, vici" conquest at the national championships was THE topic of discussion, but also Gal's new triple buttoned grey frock became the talk of the town. Designed by couturier Mart Visser, Gal's grey coat contrasted heavily with the traditional black or blue shadbellies.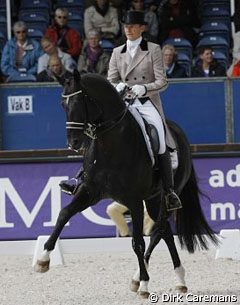 Van Grunsven accepted her defeat with great sportsmanship. "I have not won on more occasions, but it's good that new stars are born in our sport. Last year it was Adelinde Cornelissen, this year it's Edward Gal," said Van Grunsven. "It means that dressage in Holland is doing really well. Personally I'm not so happy about myself, but I think we'll have a very strong team in August for the European Championships."
Anky van Grunsven mentioned in the press conference that she is suffering from a lack of motivation. She has difficulties charging up for competitions. "Fifteen years ago I won my first World title, I'm the triple Olympic champion. What is there more to get? I just need to get back into the swing of things," she stated. "On the other hand this was only the second time that I competed Salinero since last summer. There still is a lack of routine. Competitionwise, I have been focusing on Painted Black the last few months."
But Anky will be preparing Salinero for the European Championships. "I made three big mistakes on the first day of the Championships. This normally never happens. It was probably my concentration. Fortunately, I have proven enough that at important events, I'm always there."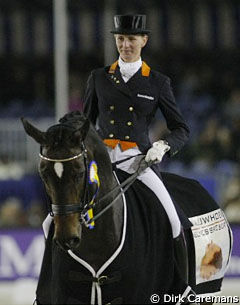 Imke Schellekens-Bartels was ecstatic about her bronze medal. Her mare Sunrise returned to the show ring in March 2009 after half a year of recovery due to an injury. With solid mid and high seventy percentage scores, Schellekens won bronze. "I had a super feeling in all three tests and always left the arena with a very content feeling. It is nice when this feeling matches the judges' scores. After Hong Kong I was really bummed out and wondered if I could ever get Sunrise back to her old level, but now I believe she is even better than before. She feels much looser in the body."
Sunrise's tongue issue, which arose last year in Rotterdam, seems to have gone too. A new bit seemed to have fixed the problem. Imke is now riding Sunrise in a bit that is giving more room for the tongue.
The next important event will be the CDIO Rotterdam, June 19-21, 2009, as it counts as a selection trial for the composition of the Dutch European Championship team.
Photos copyrighted: Dirk Caremans
Related Links
Scores 2009 Dutch Dressage Championships
Gal and Totilas, 2009 Dutch Indoor Grand Prix Champions
Total Pleasure with Totilas
Adelinde Cornelissen, 2008 Dutch Dressage Champion
2005 Dutch Championships: Van Grunsven Star of Holland for 12th Time
Gestion Salinero Scratched for 2004 Dutch Dressage Championships
Scores 2004 Dutch Dressage Championships
Anky van Grunsven to Compete at 2003 Dutch Dressage Championships
Jeanette Haazen and Rockefeller van de Zelm, 2002 Dutch ZZ-Licht Champion
Anky van Grunsven Wins Tenth National Title at 2000 Dutch Dressage Championships
Scores 1999 Dutch Dressage Championships