2009 CDIO Rotterdam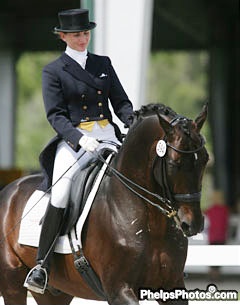 The teams for the nations competition at the 2009 CDIO Rotterdam have been announced. Though Rotterdam counts as a selection trial for the European Championships for many countries, not all nations are sending their strongest, most confirmed teams
but prefer to are experiment with upcoming riders.
Denmark, for instance, is experimenting with two new riders, the American based Mikala Gundersen who trains with Lisa Wilcox in the U.S.A but is now in Europe to train with Ernst Hoyos and rising talent Sune Hansen on Gredstedgårds Casmir.
Mikala Münter Gundersen - Leonberg
Sune Hansen - Gredstedgårds Casmir
Andreas Helgstrand - Tannenhof's Carabas
Anne van Olst - Clearwater
The Dutch equestrian federation and team trainer Sjef Janssen have announced the team that will represent The Netherlands at the 2009 CDIO Rotterdam, where a nations' cup will be ridden. Based on the performances of the riders the past season and at the 2009 Dutch Dressage Championships last weekend, Janssen selected the following team:
Anky van Grunsven - Salinero
Edward Gal - Totilas
Imke Schellekens Bartels - Sunrise
Sander Marijnissen - Moedwil
For the British dressage riders, Rotterdam is an important event as the team selectors will keep their eyes open for the best performing rider who can become the third rider on the British team at the Europeans. Laura Bechtolsheimer and Emma Hindle are already certain of a place, but the battle for the third team spot seems to be between Bigwood, Gregory and Hester.
Fiona Bigwood - Wie Atlantico
Jane Gregory - Lucky Star
Carl Hester - Liebling II
Emma Hindle - Lancet
Germany is not sending any A team riders but has gathered a team of professional dressage riders to represent the country in The Netherlands:
Johannes Augustin - Norblin
Sonja Bolz - Cockney
Hartwig Burfeind - Goofy de Lully
Christoph Niemann - Whizzkid
The Belgians are also teaming up some upcoming Grand Prix riders who can gain experience at the big Rotterdam dressage event.
Sophie van Lent - Dark Diamant
Marc Peter Spahn - Cas
Fanny Verliefden - Rubel
Wim Verwimp - Maxwil
Sweden is represented by:
Annette Christenson - Normandie JB
Maria von Essen - Vivo
Maria Eriksson - Galliano
Nina Hofmann - Leo af Magnushöj
Photo copyrighted: Mary Phelps/Phelpsphotos.com
Related Links
Photo Report 2008 CDIO Rotterdam: Excitement at Final Dutch Olympic Trial
Scores 2008 CDIO Rotterdam