2009 World Championships for Young Dressage Horses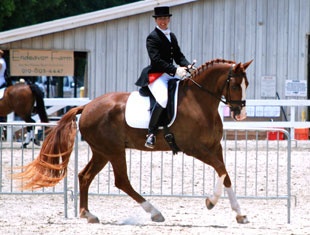 Last weekend, the third and final U.S. selection trial for American young horses that aim to qualify for the 2009 World Young Horse Championships took place at the CDI Raleigh in North Carolina, U.S.A. So far, no U.S. based horse has been able to achieve the national qualification score of 8.2. This East Coast selection trial in Raleigh succeeded the Western trial at Flintridge and the central league trial in Wayne, IL.
Four 5-year olds and four 6-year olds were entered to compete at Raleigh. Theresa Butta won the 5-year old division with Helene, while Heather Mason and Warsteiner won the 6-year old dressage horse class.
Teresa Butta received a 7.584 to win the class. She rode Dr. Jim Bond's Hanoverian mare Helene (by Hohenstein x Weltruhm) and scored an 8.5 for walk.  The trot and canter were a 7.4, submission a 7.6 and general impression a 7.7. Elly Schobel and Lord Sisley placed second. The Oldenburg branded Lord Sinclair x Landgraf gelding is owned by Margaret Miller and scored a 7.352 in total.
In the six-year old division, Heather Mason and her own Dutch warmblood gelding Warsteiner (by Riverman x Roemer) are the second U.S. pairs to score over 8.0 this year at the trials. They achieved a total of 8.004 points. He got a 7.5 for walk, 8.4 for trot, and 7.8 for canter.  The judges were very impressed with his willing attitude and gave him an 8.5 for both submission and overall impression. 
Danish Mikala Munter Gundersen rode the American bred Hanoverian Pikko Del Cerro (by Pik L x Rohdiamant) to a second place. The dark bay stallion received an 8.2 for the walk, a 7.6 for trot, an 8.0 for canter, a 7.5 for submission and a 7.8 for general impression. This gave them an overall average of 7.9. 

In an interview with Dressagedaily, U.S. Young Horse Coach Scott Hassler was asked if he was disappointed that no pair in the US has received the qualification score this year.  "I think it's very important to keep our standards high.  And the score of 8.2 is good.  We don't want to send horses over who won't be competitive with the Europeans," he said.
Hassler reminded that US riders have the option of qualifying their horses in Europe. He confirmed that one rider has already done so.
Read More about the CDI Raleigh Young Horse classes at Dressagedaily.com
Back to the 2009 WCYH index