2009 Bundeschampionate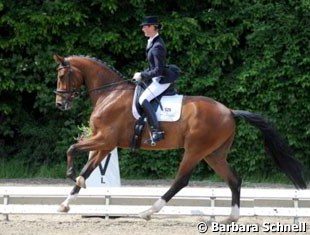 Show Boy and Fürst Fantasy have won the Bundeschampionate qualification classes at the Rhineland regional show in Neuss-Grefrath, May 22-24, 2009.
Marion Engelen and her Westfalian branded gelding Show Boy (by Show Star x Dimension) dominated the 5-year old Dressage Horse division. The combination received an 8.2 mark from the panel of judges and topped the leaderboard. Max Wadenspanner, who is based at Ton de Ridder's Hof Rossheide near Aachen, finished second with the Rhinelander mare Roma (by Ricardos x Ehrentusch). They scored 8.1 and beat Katja Camp on the Rhinelander mare Finnya (by Fürst Piccolo x Dunhill H) with a 0.1 point difference.
Only five horses filled up the ranking of the 6-year old Dressage Horse division. Local professional Jana Freund won the class on the licensed Westfalian stallion Fürst Fantasy (by Fürst Heinrich x Rosenkavalier). With a 7.9 score, they won the class but did not reach the criterium of 8.0 to qualify for Warendorf. Claudia Haller and the Rhinelander stallion Laurenziano (by Laurentianer x Weinberg) placed second with a 7.6.
Photo copyrighted: Barbara Schnell
Results
5-year old Dressage Horses
1. Show Boy - Engelen,Marion - 8.20
2. Roma - Wadenspanner,Max - 8.10
3. Finnya - Camp,Katja - 8.0
3. Dresden Mann - Klimke,Ingrid - 8.0
5. Sheraton - Schiergen,Heiner - 7.80
6. Decor Delatio - Rongen,Miranda - 7.80
7. Freixenet - Bouten,Matthias - 7.60
7. FS La Noir - Freund,Jana - 7.60
9. Relashio - Reisch,Christian - 7.50
10. Like the Wind - Vatter,Matthias - 7.40
10. Beaufort - Rund-Köllner,Gabriele - 7.40
10. Flatley - Bouten,Matthias - 7.40
13. Laudatio - Leuchten,Bettina - 7.30
14. Casino Royale - Lüttgen,Anna-Katharina - 7.20
6-year old Dressage Horses
1. Fürst Fantasy - Freund,Jana - 7.90
2. Laurenziano - Haller,Claudia - 7.60
3. Dumbledore - Metzer,Karolina - 7.10
4. Agneta - Jorissen,Philippe - 7.0
4. Der König - Jorissen,Philippe - 7.0
Don Diego - Engeln-Tuma,Renate - ELI
Femke - Schiergen,Heiner - ELI