2009 World Championships for Young Dressage Horses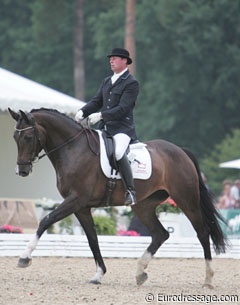 The second Danish selection trial for the 2009 World Championships for Young Dressage Horses took place in Midtsjælland last weekend 22-24 May 2009. Five 5-year olds and three 6-year olds were added to the long list and can vie for a team place at the Danish Young Horse Finals in Middelfart.
The show at the Midtsjællands Rideklub was actually a trial for the 2009 Danish Young Horse Championships for 4, 5 and 6-year olds but the competition also served as a qualification event for Verden (August 5-9, 2009). Four selection trials take place before a big Danish final on 4-5 July will determine the composition of the actual team.
The following horses qualified for the Finals at this second selection trial:
5-year olds
Alibi D (by Alcazar x Coriander) owner: Jens Erik Marcussen
Don Diamo (by Blue Hors Don Romantic x Andiamo) owner: Mikri A/S
Devino (by Depardieu x Rambo) owner: Emilie Overgaard Madsen
Kimpinski (by Blue Hors Silvermoon x Schwedengruss) owner: Kim Berner
Atterupgaards Dido (by Royal Hit x Donnerhall) owner: Atterupgaard
6-year olds
Dybdalgaards Margerit (by Carano x Racot) owner: Mikri A/S
Heslegårds Rolex (by Heslegårds Rubin x Heslegårds Louis) owner: Heslegårds Stutteri
Ullerups Müller (by Münchhausen x Ibikus) owner: Hanne and Esben Toft
The final two selection trials before the Finals take place at: the Holstebro Rideklub (5-7 June) and at the Dalumgaard Rideklub (20-21 June 2009).
Back to the 2009 WCYH index