2009 Royal Windsor Horse Show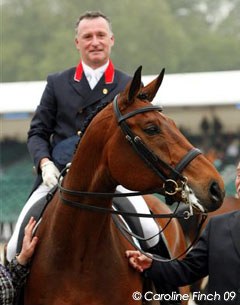 Richard Davison and The Countess of Derby's Hiscox Artemis won the inaugural World Class sponsored Grand Prix Kur at The Royal Windsor Horse Show on a score of 72.05%.
The competition, devised in conjunction with British Dressage, is designed to showcase the best of Britain's up and coming dressage talent. The show allows riders and horses across the World Class Programme the opportunity to compete at this prestigious venue leading up to the European Dressage Championships to be held at Windsor in August.
Former British Dressage team member and World Class dressage team captain Davison said, "It was a training exercise for everyone and a great opportunity to come and compete in the atmosphere of the big Castle Arena. I was delighted with Hiscox Artemis and his attitude and relaxation in the ring."
Davison continued, "The atmosphere at Windsor can be a challenge for dressage horses - there's so much going on, so it was fantastic to be able to school in that sort of environment. We made no mistakes and his confidence and harmony is really coming on side; it's a very good stepping stone in his competition career."
Following closely after Davison in the Kur, World Class development rider Sarah-Jane Elmslie and her own Wellington Masterplan scored 68.65% for second place with fellow development rider Gemma Green and Showtime close behind on 68% for third.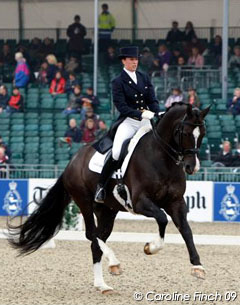 The World Class programme also sponsored a class for potential international dressage horses to compete at Prix St Georges level where Charlotte Dujardin with Carl Hester and Roly Luard's Valegro taking the top honours.
Valegro was the youngest horse in the class and competing in his first test at this level. "He's such an amazing horse," said Charlotte, who is based at Carl's Gloucestershire yard. "He's so well tempered and rides the same at home as he does in a huge arena. I'm just extremely lucky to have the opportunity to ride such a wonderful horse."
Charlotte bested her mentor who settled for second with Sasha Stewart's stallion Uthopia. It was not only a first time at this level for the eight-year-old but also his first competitive outing for two years.
"I am wrapped with that," said Carl. "Uthopia has such a good temperament and a lot of talent so I kept him at home training as I didn't see the need to over-show him and I am thrilled with the way he conducted himself in such a grown-up manner."
Following Hester, former show jumper Michael Eilberg, who recently moved onto the dressage development squad, took third place with his former show jumper Torino.
Photos copyrighted: Caroline Finch
Related Links
Fiona Price Interviews Richard Davison at the Royal Windsor
Evi Strasser's Foto Tyme Sold to Be Richard Davison's New Ride