Hanoverian Auctions in Verden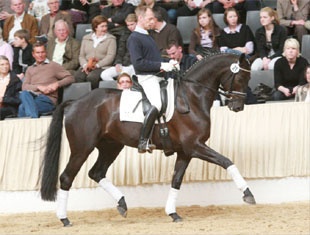 The outcome of the Hanoverian May-Auction exceeded all expectations. Customers from Great Britain paid the highest price of 62,000 € for the 4-year-old black gelding Sirius Black (by Stedinger x Rotspon; breeder: Johann-Bernhard Tuitjer, exhibitor: Heinz Jansen, Twist).
Seventy-two Hanoverian riding horses were sold at an average auction sales price of 12,218 €.
The last horse of the auction was a jumper and became the top-priced horse of the show jumping collection. The 4-year-old Quidam's Rubin x Amani-daughter Quilalea (breeder and exhibitor: Stefan Aust) achieved a price of 31,000 €. She will move to a Hessian show stable that already discovered World Cup Champion E.T. FRH at the Winter Auction in 1991.
Exactly 50 percent of the presented horses will be exported to 14 different countries. Faithful customers from Great Britain purchased seven Hanoverian horses, followed by Spain with five horses and France and the United States with each four purchases.
Auction manager Dr. Guenther Friemel was very satisfied: "The result surpassed all our expectations. The message of this May-Auction was very important." Not only the top horses were sold at excellent prices, the average result achieved for the whole collection was very satisfactory, too.
Photo © Tammo Ernst
More Hanoverian Auction News on Eurodressage