Between Heaven and Hell
For Swedish Patrik Kittel the time probably seems to have come where he's entering the big league. Last year he made his first major break through with Floresco NRW and got on the Swedish team that competed at the 2008 Olympic Games
, but this year, something even bigger seems to be in store for him.... and one horse will be the facilitator of all that: Scandic.
Most dressage professionals gradually work their way up and get a few good horses that put them in the spotlight, but it usually takes one special horse that leads them to highest echelons of the sport. In the winter of 2007, Dutch owner Jan Greve offered the ride on the Dutch warmblood branded Scandic (by Solos Carex x Amiral x Michelangelo) to Swedish Patrik Kittel. Scandic had already performed well at the 2004 World Young Horse Championships under Remy Bastings and was being trained at fourth level by Annemiek van der Vorm, but the real job to take Scandic into the major league, the Grand Prix, was up to Patrik.
The now 10-year old licensed stallion got immediately campaigned at international shows and the pair won the 2008 Zwolle Stallion Show, followed by victories at the CDN Wartenburg, CDN Mannheim and CDN Giengen in Germany. The chestnut has been improving all the time and there seems to be no limit to his athleticism and piaffe-passage potential.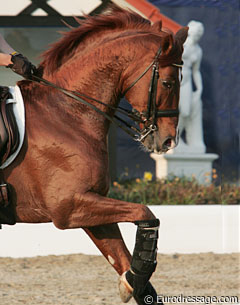 The talent of this horse has been "really" recognized by the judges for the first time at the 2009 CDN Wartenburg. Kittel won the Grand Prix with a stunning 74% and the Grand Prix kur with a phenomenal 80,5%.
For Kittel it must be hard to contain his emotions when riding such a high-scoring horse as Scandic. Everything is slowly coming together for this sympathetic Swede. Besides Scandic, Patrik also got the ride on Anky van Grunsven's recently acquired future FEI hope Pari Lani. With the gorgeous Lyndal Oatley, his dressage loving and riding girlfriend, on his arms, and working out of the breath taking stables of the Tecklenborg family in Appelhülsen-Nottuln, Germany, Kittel seems to have it all now.
Patrik is just out of the hospital after having had some kidney stones removed. He was grounded for a few days, so it was a good time to catch up with him for a Heaven and Hell interview:
Patrik, what's your favourite dish?
Patrik: Huge grilled gambas with lots of lemon...
If you were to chose a different profession, what would it be?
Patrik: Probably something with cars. I love fast cars.
What is the biggest intellectual joy for you?
Patrik: To discuss dressage with someone who is truly open for it!
What gives you the most artistic pleasure?
Patrik: to ride Scandic in a Grand Prix Kür scoring 80% and getting three times a 10.
What gives you the most physical pleasure?
Patrik: Sex! Nothing beats it
What makes you cry?
Patrik: Movies, death, failure. Lots of things... I am a real softy like that.
What annoys you the most?
Patrik: When people act nice to you but you know they really don't like you.
What does heaven look like to you?
Patrik: Heaven is here now with Lyndal, my dog Ozzy, my horses and the place I am living at with the Tecklenborg family. What more can a man want? It's  Heaven
And Hell?
Patrik: Hell when the Dr says that my kidney stone has not moved out of my body after god knows how many times trying to get the (big sucker) out....
What is the most beautiful place you've ever visited?
Patrik: I think its my home here in Appelhülsen. It gives me the most peace coming home.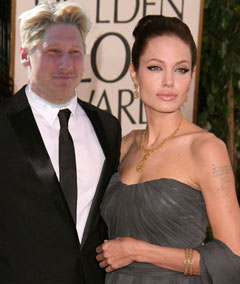 What is the ugliest place you've ever visited?
Patrik: Some of Bejing's back streets were not so nice. Also Bochum, an industrial city 40 minutes from us: it's ugly as hell.
At what moment were you the happiest in your life?
Patrik: So many things. I try to be happy most of the times, but if I can mention a couple: Lyndal: she loves me and that makes me really happy. But also going in Bejing for the Olympic Opening Ceremony. Or when I finished my Olympic ride and to see my mother after that. She was really proud of me.
When were you the saddest in your life?
Patrik: I think when my horse Dallmayer got injured in Aachen. I really wanted to ride there. That hurt a lot
Who would be your favourite one-night stand? 
Patrik: Angelina Jolie. She is very sexy but still a women with class.
Related Link
Swedish Team Selected for 2006 World Equestrian Games