2009 European Junior and Young Riders Championships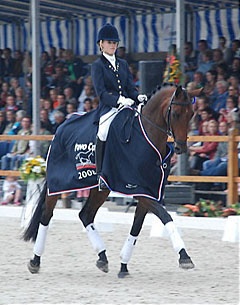 Eleven long listed horses did not survive the second selection trial for Dutch bred horses that aim to compete at the 2009 World Championships for Young Dressage Horses in Verden, Germany on 5 - 9 August 2009.
The selection committee, consisting of Mr Ernes, Mr Hamminga and Mr Van den Hoorn, discharged seven 5-year olds and four 6-year olds from the long list at the second selection trial held yesterday at the KWPN headquarters in Ermelo, The Netherlands.
The next training session/selection trial will take place Tuesday 2 June 2009.
The current long lists includes the following combinations:
5-year olds
1 Hexagons Zorion (Rubiquil x Matador II) - Thamar Zweistra
2 Zaragossa (San Remo x Democraat) - Robin Beekink
3 Zaragoza (Rhodium x Jazz) - José van Haaren
4 Zarava (Scandic x Negro) Karin van Dijk-Euser
5 Ziësto (Lancet x Clavecimbel) - Gerdine Maree
7 Zolena (Sir Sinlair x Cabochon) - Annarein Kerbert 
8 Akkerlands Zelly (Son de Niro x Ulster) - Marjolein Gevaert
9 Zico (Riant x Ferro) - Miranda Rongen
10 Zamora (Krack C X Farrington) - Lynne Maas 
11 Zizi Top (Tango x Ferro) - Hans Peter Minderhoud
12 Zambuka (Scandic x Bio Top) - Jennifer Sekreve
13 Zorro (San Remo x Montecristo) - Roy van den Heuvel
14 Zero Gravity (Royal Hit x Contango) - Johan Rockx
6-year olds
1 Wynton (Jazz x Matador II) - Edward Gal
2 Westenwind (Flemmingh x Contango) - Emmelie Scholtens
3 Kansas C (Krack C x Jazz) - Annemieke Vincourt
4 Wortila (Gribaldi x Vincent) - Roger Schulkens 
5 Wolly Ann (Stravinsky x Ulster) - Christa Laarakkers
6 Wendolyn (Briar x Donnerhall) - Emmelie Scholtens 
7 Wonja (Rhodium x Krack C) - Lotje Schoots
8 TC Wanted (Montecristo x Ferro) - Dieuwertje van Donselaar
9 Wiebe (Olivi x Houston) - Miranda Tip
10 Karolus van Wittenstein (Krack C x Partout) - Patrick van der Meer
11 Wijdewormer's Wesley (Sir Sinclair x Havidoff) - Marijke Folmer 
12 Westpoint (Jazz x Michelangelo) - Emmelie Scholtens