2009 World Cup Finals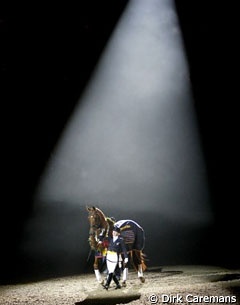 It's been a busy Friday at the four-day fixture which runs through Sunday. Spectators were enthralled by the Pas de Deux Challenge in which pairs of riders performed synchronised dressage movements. This was followed by an impressive demonstration by four budding young superstar dressage horses but the highlight of the afternoon was the emotional official retirement of Debbie McDonald's great ride Brentina.
This partnership enjoyed 15 fabulous years together during which time their successes included team and individual gold at the Pan American Games in 1999, the World Cup title in Gothenburg in 2003, team bronze at the Olympic Games in Athens in 2004 where they also finished fourth individually and team bronze at the World Equestrian Games in Aachen in 2006.
Debbie fell in love with the mare the moment she first sat on her back in 1994 and the Idaho rider says that "Brentina has taught me that this sport is not about success; it is about the love, relationship and the journey between horse and rider". The public affection for Brentina was obvious as many tears were shed when Debbie rode her into the arena accompanied by long-time groom and carer Ruben Palomera.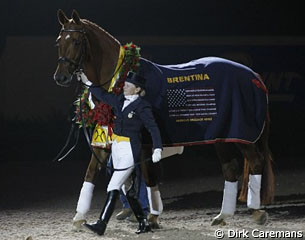 The mare's saddle was removed and she was decorated with a huge rosette and a cooler rug carrying her name, but the most poignant moment came as she was led away. "This is the last time Brentina will hear a crowd roar, so let her hear you one more time!" said commentator Brian O'Connor. The crowd responded enthusiastically and, to the soundtrack which earned the partnership third place at the Las Vegas final in 2005, the 18 year old equine heroine broke into a perfect passage movement as she said Goodbye to the bright lights and Hello to a very happy retirement.
Youtube Video Clip of Brentina's Retirement
Photo copyrighted: Diana DeRosa - More Las Vegas coverage at Dressagedaily.com
Back to the 2009 World Cup Index