Eurodressage F.O.C.U.S.
Dressage judge Luigi Masotto is a friendly 58-year old thin and active man with much energy animating from his eyes and body language. On 30th March 2009 he was elected President of the Italian Dressage Riders Association. Luigi runs a renowned business as a wholesaler of highly technological supplies for the building industry, but his hobby and soul are horses and riding.
Masotto has planned on taking dressage in Italy to a new level as the new president of "Gruppo Italiano Dressage," a non-profit organization which helps to promote dressage amongst youngsters. A new president and a new board of directors consisting of judges, trainers and riders have gathered to scout novice riders and assist them in their dressage training up the levels. They will also set up workshops for riders and have agreed to communicate extensively with the Italian Equestrian Federation to promote dressage on a regional level.
How did start your experience with horses?
Masotto: I think horses are in my DNA, but it all happened by mere chance. The first half of my life, I was an international winner in sailing, I also won a European Championship. At the age of 37, I went to a nearby barn to buy a pony for my daughter and I rode for the first time, cantering around on the countryside. It was love at first sight.
And now are your riding any more?
Oh yes, obviously. I also help a number of riders during my free time. I have had for some years a little riding school just beside my home, but my passion is riding in the countryside, I also earned two gold and a bronze national medals in cross-country and sometimes I compete in dressage.
Are you also a trainer?
Yes, a self –taught one. I took the degree as a trainer from the Italian Equestrian Sport Federation (FISE). I am also a dressage judge M/Da level and organized a lot of dressage competitions.
And now, which is the new experience you started?
Well, in Italy dressage has grown a lot during the past ten years, but I think that there is still a lot to do. For this reason, I decided to use my experience to help the only Italian association devoted to the promotion of dressage, the Gruppo Italiano Dressage (GID), to became more active, up-to-date and useful for riders.
Last month, the election for the new board took place (that last for 4 years) and I was elected President. I had the honour to enjoy the confidence of a large majority of 300 members.
What is the GID?
The Gruppo Italiano Dressage was born in 1976 with the purpose to stimulate and help the growth of dressage among riders, from beginners to the more advanced ones. This purpose has been reached by the work of the former board members, but now it is time to change, to became a "service group" for riders, trainers, judges, organizing committees, all the people involved. One of the GID goals is to help the Italian Equestrian Federation to promote and develop dressage.
Which are the first things to do on your agenda?
First of all there is communication: our web site and our newsletter will be completely renewed, more easy and friendly for our members. We want their opinions, complaints and desires, so we decided to start a blog dedicate to our members.
And on a regional level?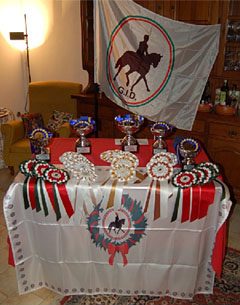 In Italy every region has his own problems and peculiarities and in the past years some misunderstandings led to some problems somewhere. We must overcome these brick walls by promoting more interesting competitions, providing more services to riders and so on. We are going to hold a survey among all riders to have a clearer idea of the local necessities. For example, one of the first requests we received has been a series of workshops about creating and riding freestyles.
What about the other board members?
I have the opportunity to work with a very united team, some have been part of the previous board, others not, but all are riders and some also judges. Their experience will be transform into a real "service from riders to riders". I want to thank the board: Paolo Peron, Stefano Mantica, Antonello Ruzzittu, Antonella Tosti, Ida Drei Dona' and Luca Riccardi, but I think that, as a service group and a non profit organization, our board will not be closed. We are going to recrute as many associates as possible in order to make use of the individual experiences, qualifications and resources. We want to know what our members need and find a way to give it to them.
Mr Masotto is a hyperactive man full of new ideas. He is very friendly and has a new plan every minute. After the interview, he showed us his last plan. In order to help the poor people of the village L'Aquila, which has been hit by an earthquake, Masotto made a couple of phone calls and raised help from a lot of sponsors and volunteers. He is starting to build a kindergarten to donate to the community of Abruzzo.  This is an example for all us.
By Michele Toldo, veterinarian, dressage and jumping rider, amateur trainer, dressage judge M/Da and freelance writer
Related Links
Vincenzo Truppa Embracing Life in All Its Aspects
Enzo Truppa Responds to Kemperman and Bartels' Criticism on Coverage of Dressage
Anna Paprocka-Campanella Moves on with New Horses
Pierluigi Sangiorgi Wins 2008 Italian Dressage Championships