What's Happening in the Dressage World?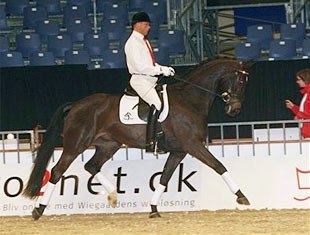 Danish dressage rider and trainer Rune Willum has been hired by Blue Hors to help their in-house rider Sune Hansen train the horses. Willum will drive once a week to Blue Hors in Randboel, Denmark, to assist Hansen all day with the training of the top horses such as Romanov and Gredstedgardens Casmir.
Ridehesten.com reported that the Thoroughbred stallion Kanudos xx has been sold to Team LA in Denmark. Nikolai Kowalski of Team LA acquired the Acatenango x Cortez xx offspring, which is approved for the Oldenburg, Trakehner and Danish warmblood society.
Ridehesten also released the news that the breeding stallion Lancier (by Landgraf I x Wahnfried) has passed away. The Swedish Jaderlund Sporthorses owned the dark bay Holsteiner stallion which died of a heart attack. Lancier's most famous offspring is the Olympic silver medal winning show jumper Lando.
Leading British dressage rider Laura Bechtolsheimer has signed up to compete in the TREC Pro-Am Challenge at Royal Windsor Horse Show, 13-17 May 2009. Competitors, including a top rider from jumping and eventing, will negotiate a stream of obstacles against the clock in the new BHS Frogmore Arena on Saturday 16 May at 5.55pm. TREC, which is based on the French discipline "Le Trec", is sometimes described as orienteering on horseback and is designed to test the versatility and training of horse and rider combinations through a range of activities. Another member of the professional team is celebrity horse trainer Kelly Marks, who will be taking part with her horse, American Pie.
Internationally renowned pianist Wibi Soerjadi got unwell on Saturday March 21, 2009. The Dutch Indonesian pianist visited Indoor Brabant and on his way home lost consciousness in his car. The cause of it not yet known but Soerjadi cancelled his concerts up till 27 March 2009. Soerjadi composed two tailor-made freestyles, The Spirit of Sunrise for Imke Schellekens-Bartels was his first and Anky van Grunsven had one made for Salinero following Sunrise's model. We wish Mr Soerjadi a speedy recovery.
Dutch stallion station De Havikerwaard is stopping its stallion business. The stud farm will only concentrate on breeding, training and selling horses and will no longer stand its stallions at stud. Following the death of Celano and the illness of Welt Hit II, which prevented him from breeding last year, De Havikerwaard has decided to call it quits on stallions.
Adelinde Cornelissen has moved her brand new business to a new equestrian facility.Initially, Cornelissen trained her horse at home in an outdoor school and trailered Parzival to a nearby indoor when the weather was bad. As she quit her job teaching English at a local highschool to become a professional dressage rider, Cornelissen was looking for a permanent base. She agreed to settle at Stable Arcadia (which still needed to be built) but because of the credit crunchthese plans didn't go through. The 29-year old Adelinde has now decided to rent some boxes at Cor Jager's private stable in Spier, The Netherlands, close to her home town Beilen.
Emmy de Jeu, breeder of Edward Gal's Sisther de Jeu, has put her chestnut KWPN branded Vivace de Jeu (by Contango) in training with Adelinde Cornelissen. She will be further training and competing the horse. Vivace is now schooled at fourth level.
Dutch junior rider Melline Zandbergen has lost her mount Chainfood Imago (by Inselfurst) following a severe training injury. The 13-year old grey Oldenburg gelding ruptured his meniscus during a lunging session at his home stable. In agreement with the veterinarian and several specialists the decision was made to humanely put down Imago.
Pat Manning, a British list 1 dressage judge, internationally admired trainer and founding member of what is now the British International Dressage Trainers Foundation, has died aged 77. Manning started out as a secretary in the 1960s at the infamous Fulmer International School of Equitation. She worked her way up to becoming a senior instructor and one of only 53 BHS Fellows in the world, running the centre in Robert Hall's absence. As a competitor, she is best remembered riding up to advanced level on Manhattan. Manning then set up her own yard at Aborfield near Reading, which was full of schoolmasters up to grand prix level. Her pupils were some of the biggest names in the world of dressage and eventing, including legendary eventers Lucinda Green and Ginny Leng as well as international dressage judge Jane Kidd, former national dressage champion Nicky Barrett, para-equestrian judge and trainer Jane Goldsmith, Paralympic medallist Sophie Christiansen and chairman of the BHS Patrick Print.
"She had tremendous insight and understanding; a brilliant trainer who could be relied on to give sound advice. Her training was always classical without any gadgets and she taught pupils that it takes time. She was regarded by the great dressage legend Dr Reiner Klimke as one of the world's best at lungeing horses. Only recently I heard her described as a genius," said Patrick Print a friend of 30 years.