2009 CDI-W 's Hertogenbosch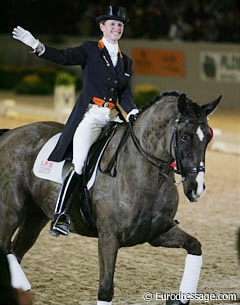 Anky van Grunsven will not receive a wild card for Salinero for the 2009 World Cup Finals in Las Vegas. Today at the CDI-W Hertogenbosch, Eva Salomon, FEI dressage director, announced that Van Grunsven is not eligible to receive a wild card.
As title defender, Van Grunsven is automatically qualified to compete in the Finals if she shows in at least two world cup qualifiers that season. She accomplished this with Painted Black and can take him to the U.S.A, but with Salinero she only rode in Den Bosch and did not meet the regulations.
The rule of a minimum of two world cup qualifier entries also applies to riders who aim for a wild card. "The same conditions count for a wild card horse," Salomon confirmed. "This means that Anky is not eligible to get a wild card for Salinero as she only did one show. She can go to Las Vegas with Painted Black."
The rule of two shows was pushed through by Anky's partner Sjef Janssen several years ago and now Anky failed to meet it Salinero. "I shot myself in the foot," Janssen joked.
Salomon also added that national federations had to send in their applications for a wild card by the due date of March 15, 2009. The FEI had not received one for Anky from the Dutch Equestrian Federation.
Gerrit Jan Swinkels, chairman of the Indoor Brabant organization, suggested that the FEI executive board could change the rule in order to accept Anky as a competitor. Salomon rebuked this immediately: "shall we make new rules for one rider? Is it fair to change the rules for one horse? It's not fair to the other competitors."
Anky, however, mentioned that she probably won't go to Las Vegas, though she has not yet made up her mind. "It's a shame I can't take Salinero, the Olympic champion. It would be good for the competition," she said. "I don't know if I will ride Painted Black in Las Vegas."
Even though the final standing of the Western European League is not officially confirmed yet by the FEI, Salomon provisionally mentioned the names of the riders qualified for Las Vegas: Isabell Werth, Adelinde Cornelissen, Hans Peter Minderhoud, Monica Theodorescu, Jan Brink, Jeanette Haazen and Minna Telde. These are the seven Europeans that are directly qualified out of 15 all together. The FEI will officially confirm the Western European riders and make a decision on the wild cards on Sunday March 22, 2009.
Back to the 2009 Den Bosch index