2009 CDN Zandhoven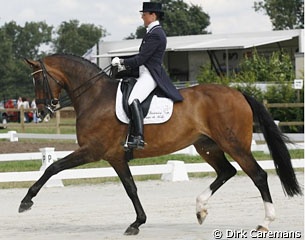 Vicky Smits-Vanderhasselt and her Hanoverian mare Daianira van de Helle have made a highly successful debut at Grand Prix level at the national dressage show in Zandhoven, Belgium, March 15, 2009.
The dynamic duo won the Grand Prix with 68,298% in a field of 15 national and international competitors.
Smits and the dark bay Daianira van de Helle (by Dream of Glory x Ritual) are one of Belgium's most successful FEI dressage pairs. As a young horse, Daianira finished sixth at the 2004 World Championships for Young Dressage Horses in Verden, Germany and participated again in the 2005 World Championships. As a small tour horse, she placed high or at the top at international competitions such as the 2007 CDIO Saumur, 2007 CDI Bremen, 2007 CDI Oldenburg, 2008 CDI Hagen and 2008 CDI Pompadour. It was only a matter of time before this gifted mare was going to make her transition to Grand Prix. Smits is playing with the thought to compete her mare in the 2009 Medien Cup in Germany, a special show circuit for upcoming Grand Prix horses.
Former British team rider Wayne Channon is back in the ring after a hiatus of eightmonths. His temperamental Dutch warmblood stallion Lorenzo (by Ferro x Wolfgang) stayed attentive to the aids and scored 68,085% to finish second. Channon is based near Turnhout, Belgium, and used this smaller Belgian show as warm up for the international competitions. His upcoming show will be Saumur. Brit Sarah Millis, who is training in The Netherlands, scored 66,064% on O'Neill (by Jazz) slotting in third.
In the Prix St Georges class another Brit took highest honours. Young Rider Emily Cousins, who is trained by Sarah Millis, placed first on her 10-year old Dutch warmblood Solo Bachelorette (by Welt Hit II x Ferro) with 68,947% ahead of former Belgian young rider Yoni de Souter on Bonaire van de Mottelhoeve.
Results
Pony Riders Team Championship Test
1. Charlotte Defalque - Milkshake - 70,833%
2. Alexa Fairchild - Neervelds Blamoer - 69,722%
3. Geoffrey de Roy - Ivano - 66,389%
3. Chloe Vicini - Joly's Torento - 66,389%
5. Laura Frijters - Perle Fine - 63,889%
6. Anna Jedrzejczyk - Epiascer - 63,333%
7. Julie de Baerdemaeker - Quidam van het Bovenhoekshop - 62,778%
8. Danique van Zwol - Concierge - 59,444%
9. Shelly Vischschoonmaker - Quinty - 58,611%
Pony Riders - Individual Test
1. Jorinde Verwimp - Tonkawa - 68,421%
2. Emilie van Riet - Be My Boy - 66,579%
3. Charlotte Defalque - Milkshake - 66,316%
3. Alexa Fairchild - Neervelds Blamoer - 66,316%
5. Leyla Larsson - Bjirmen's Tsjalling - 65,526%
6. Chloe Vicini - Joly's Torento - 65,000%
6. Giulia Pignatti - Scampolo - 65,000%
8. Geoffrey de Roy - Ivano - 64,737%
9. Laurence Roos - Derengo - 62,632%
10. Danique van Zwol - Concierge - 59,737%
1. Anna Jedrzejczyk - Epiascer - 58,158%
11. Julie de Baerdemaeker - Quidam van het Bovenhoekshop -58,158%
13 Laura Frijters - Perle Fine - 55,526%
Junior Riders - Team Championship Test
1. Mieke Mommen - Rocky - 68,378%
2. Sarah Cantin - Papillon - 68,108%
3. Noemie Goris - Wunderbar - 66,216%
4. Jorinde Verwimp - Ravel - 65,676%
5. Laurence Roos - Saturnus - 65,405%
6. Lawrence Breugelmans - Uniek - 63,784%
6. Tahnee Waelkens - Sandiegobese - 63,784%
8. Charlotte Helsmoortel - Saskia - 63,243%
9. Manon Hoet - Don Archipel - 62,162%
10. Charlotte Verhesen - Tresor - 61,622%
11. Julie de Baerdemaeker - Scaramouche - 57,027%
12. Naomi Barbary - Inez - 50,000%
Junior Riders - Individual Test
1.Mieke Mommen - Rocky - 70,263%
2. Alessia Pignatti - Sir Oliver - 69,737%
3 Jorinde Verwimp - Ravel - 68,421%
4 Tahnee Waelkens - Sandiegobese - 67,105%
5 Lawrence Breugelmans - Uniek - 66,842%
6 Manon Hoet - Don Archipel - 66,053%
7 Laurence Roos - Saturnus - 65,789%
8 Sarah Cantin - Papillon - 65,263%
9 Charlotte Verhesen - Tresor - 64,474%
10. Valerie Vandekeybus - Rivaldy - 62,368%
11 Charlotte Helsmoortel - Saskia - 59,474%
12. Jorinde Verwimp - Unity - 58,421%
13 Naomi Barbary - Inez - 53,947
Young Riders - Team Championship Test
1. Magali Bastaens - Topaz - 64,211%
2. Nina van Keilegom - Romeo van 't Pauwenhof - 60,000%
3. Monica Bogaert - R Lucas - 58,947%
Young Riders - Individual Test
1. Anouck Hoet - Real Diamond - 67,368%
2. Alix Faujour - Renzo - 62,368%
2. Magali Bastaens - Topaz - 62,368%
4. Alix Faujour - Cassandro - 58,158%
5. Monica Bogaert - R Lucas - 57,895%
Prix St Georges (top 10 only)
1. Emily Cousins - Solo Bachelorette - 68,947%
2. Yoni de Souter - Bonaire - 67,632%
3. Andrea Villaverde - Anyway - 66,842%
3. Alix Faujour - Renzo - 66,842%
5. Wim Verwimp - Vento - 66,053%
5. Els van der Veken - Wonderboy - 66,053%
7. Anouk Hoet - Wild Diamond - 65,000%
8. Alix Faujour - Cassandro - 64,474%
8. Brecht d'Hoore - Sital - 64,474%
8. Wim Verwimp - Robin - 64,474%
Intermediaire I (top 10 only)
1. Arjen Teeuwissen - Silver n Brass - 71,842%
2. Sophie Baetens - Rubens - 68,947%
3. Anouck Hoet - Powerdance - 66,579%
4. Fanny Verliefden - Guanita II 66,053%
5. Hilde van Rompaey - Wild Love - 63,421%
5. Frederik van de Keere - Taittinger - 63,421%
7. Helen Wielockx - Mister Ed - 63,158%
7. Delphine Meiresonne - Wipsy van het Heihof - 63,158%
9. Claudia Fassaert - Donnerfee - 62,895%
10. Kelly Himeleers - Variant van Junior - 62,632%
Grand Prix
1. Vicky Smits - Daianira van de Helle - 68,298%
2. Wayne Channon - Lorenzo - 68,085%
3. Sarah Millis - O'Neill - 66,064%
4. Wim Verwimp - Maxwill V - 65,106%
5. Arjen Teeuwissen - Rivaldi T - 62,979%
6. Claudia Fassaerty - Ostra - 62,660%
7. Michelle Vettenburg - Davidoff - 61,915%
8. Claudia Fassaert - Quinten LM - 61,702%
9. Lieke van Loon - Kasjmir - 61,383%
10. Fanny Verliefden - Rubel - 61,064%
11. Inge Verboom - Elvee's Noerejev - 60,319%
12. Wim Verwimp - Ravel - 60,106%
13. Kim De Craemer - Cocktail - 58,404%
14. Serge Pais - Nintendo - 57,340%
15. Virginie Deltour - Galakhan - 55,638%
Related Links
Triumph for Belgium, Vicky Smits and Daianira van de Helle Finishing Sixth
The Battle of the 'Belgians': Judging Fiasco Demerits Horses in First Round