What's Happening in the Dressage World?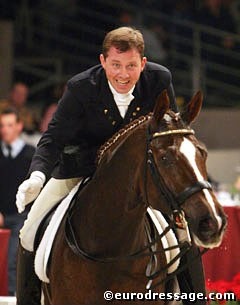 Former Olympic bronze medallist Sven Rothenberger is to become a judge. He has passed the admission exam, which consist of a practical test, an intake conversation and some computer questions and will now be a candidate-judge at small tour level. The training of these judges is carried out by O-judges Wim Ernes and Jan Peters in The Netherlands.
The KWPN licensed stallionZhivago (by Krack C x Jazz) is now in training with Theo Hanzon. The dark bay stallion was initially trained and shown by Edward Gal. Zhivago was the autumn 2007 Stallion Performance Test winner. He is owned by Joop van Uytert and De Radstake.
A new ride for Kyra Kyrklund! The Finnish Olympian currently has a Lusitano in training, PSL Rico. The stallion is owned by Mr. António Borba Monteiro and is bred by a classical dressage master Dr. Guilherme Borba.
Dutch rider Anke Ter Beek, who was worked five years at York Stutteri in Denmark, has taken a new direction in her life, according to Ridehesten.com. With the downsizing of York Stutteri, Ter Beek was forced to look into a new path in life. She has decided to take the academic route and will be studying graphic design in Copenhagen, Denmark. She will continue working with horses by teaching students.
The enormous 18 hh Holsteiner gelding Collo has moved on to a new rider. Owned by Jane Clark and previously shown by Katherine Bateson-Chandler at Grand Prix level, Collo is now campaigned by Canadian Peter Gray, who coached the 1996 Canadian Olympic Eventing Team. Gray bought Collo a year ago in Carl Hester's barn in England and has now competed him in his first CDI competition in Wellington, FL, begin February 2009. Gray and Collo 5, a 16-year-old Holsteiner gelding by Corofino 1, finished in third place in the Intermediare I Freestyle, with a score of 65.850%. "Collo is the most incredible school master," said Gray, who represented Bermuda at the 1984 and 1988 Olympics in eventing. "He is not only a great partner, but a super personality."
Klaus Husenbeth's Piccolino is being campaigned by a new rider. This German WEG 2002 gold medal winning team horse by Prince Thatch xx x Ganymed I is now being shown by Klaus's daughter Nadine at M-level (Fourth level) in Germany. At the national indoor show in Bremen February 25, junior rider Nadine and the 19-year old Hanoverian gelding won the M level test with a 7.9 score.
The Dutch Warmblood Studbook of North America (KWPN-NA) announced the line-up of speakers at its 21st Annual Meeting to be held in Del Mar, California, March 19-21, 2009.  This year's three-day event features some of the biggest names in sport, including Cor Loeffen, Janko van de Lageweg, and Olympian Steffen Peters.  This line-up of luminaries, along with exclusive workshops and a demonstration ride by Peters on his Olympic partner Ravel, are just some of the educational opportunities and festivities offered.  Participants will move to Steffen Peters' farm for hands-on demonstrations where Loeffen will offer insight into conformation and its impact on performance. He'll explain how to evaluate the horse, first impressions, and explain which characteristics are most important for athletic success. 
Sad news from Spain. On 1 February 2009 former Spanish Junior Rider Champion Andrea Salva Giro passed away following a heart attack. Salva participated at the 2002 European Junior Riders Championships and 2004 European Young Rider Championships with her steady horse Lipari. The 24-year old Salva conducted medical research in Vienna, Austria, but at the time of her death she was still involved with dressage in Spain being trained by Beatriz Ferrer-Salat.
In January 2009, one of Oldenburg's most successful brood mares C'Dur has passed away at age 16. The State Premium Mare by Landadel x Zeus was bred by Paul Wendeln and euthanized in his stable. In 1998 the bay mare became the German Elite Mare Champion and she produced four licensed offspring: D'Dur (by Donnerhall), Donneradel (by Donnerhall), a nameless son (by De Kooning) and the show jumper Ashby (by Argentinus).
Harli Seifert's business of breeding top quality dressage and show jumping horses (Colour Rubin, Conterne Grande, Blue Hors Romanov) has been reformatted into a new concept: a breeding station and a classical dressage horse training centre under the supervision of German Markus Gribbe. When Harli Seifert's husband died in 2008, he left his wife with major debts she was unaware of. Seifert's friends came to the rescue and helped her out of financial trouble. Especially the Hamburg entrepreneur Peter Baron von le Fort was instrumental in the rescue. He established the umbrella corporation Gestut Bunnen Besitz GmbH which covers both Seifert's breeding station and the new equestrian school. 45-year old Markus Gribbe has had a very turbulent career the past 10 years, switching employers at least four times. He always had the opportunity to work with top quality horses but moved base quite often. From Meggle, he went to Bechtolsheimer's yard, then to Tony Pidgley's farm in Windsor, and now he's back in Germany to work at Harli Seifert's stable as of March 1, 2009.
Klaus Plönzke of Gestüt Tannenhof has acquired a new young stallion for his daughter Anja. Heinz Ahlers sold the 6-year old Oldenburg licensed Sungold (by Sandro Hit x Grundstein II x Futuro), which is a full brother to Serano Gold, to Plönzke. Anja will be training and competing the stallion in the future.
Two of the highlight licensed stallions that brightened the participants' list of the 2009 Danish warmblood stallion licensing have been withdrawn for the approval. Furstenball and Bentley won't appear in Herning to be approved for the Danish warmblood society.Furstenball (pictured), the 2008 Oldenburg licensing champion owned by Lone Boegh Henriksen and Schockemohle, injured himself several weeks ago in the warm up ring before his appearance in the Schockemohle stallion show in Vechta. It was a very minor injury and though Furstenball is back in full training with Ines Westendarp, four days of approval immediately followed by 10-days of stallion performance testing would be too much to ask now from this 3-year old. Blue Hors Bentley, the crowd favourite of the 2008 Hanoverian Stallion Licensing which is co-owned by Blue Hors and Schockemohle, also injured himself at the stallion station in Germany. He'll be up for approval at the late-licensing in April, just like Furstenball.
From reading some online bulletin board threads on Eurodressage's February editorial, we've noticed that the final comment in the article on "Judging at the Edge" seems to have been misinterpreted. It was not our intention to promote the judging of warm ups, but we merely wanted to point out that harmony in a test is often misjudged or even "not" judged at all. The tension in a horse swooshing his tail, tightening his back or opening his mouth, though showing fantastic movements, seems to be accepted in the show ring. But if you as a spectator follow the warm up of such a stressed horse, you would have seen a rider pulling and yanking the horse, pestering it into being an "electric" horse. We found Col. Carde's remark just very exemplary of the current situation: "It is so frequent that thirty minutes of forced work are the key to five minutes of pretended happiness."