2009 New Zealand Dressage Championships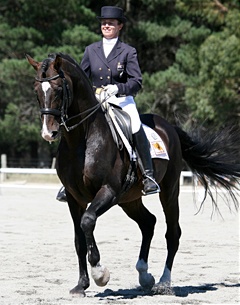 Raglan based Jody Hartstone has recaptured the New Zealand Dressage Champion's title which she has claimed for the first time in 2006.
Hartstone and her imported stallions Landioso and Donnerwind enjoyed a clean sweep across the board at the 2009 New Zealand Dressage Championships, held in Christchurch this weekend.
Hartstone impressively took the top two Grand Prix spots with her stallions, after a successful weekend which saw her lead from start to finish. The 22-year-old stallion Landioso was once again the star, winning the New Zealand National Grand Prix Title, the prestigious Burkner Medal (for the Grand Prix Championship) and the Tironui Trophy (Grand Prix Kur). Looking a picture of health, Landioso convincingly led the field all weekend, with nothing really threatening him, except remarkably, his stable mate, Donnerwind.
Hartstone's second stallion Donnerwind arrived from Holland in 2006 and this weekend saw some of his best work since arriving, showing improved strength and consistency.
While Donnerwind has always been outshone by Landioso, he is in fact creeping ever closer to the star and finished just a few points behind this weekend to earn him the National Grand Prix Reserve Champion title.
Hartstone is delighted at the successful weekend and admits she is "so proud of her team". 
"They both did some really great work. Obviously I'm so proud of Landioso who came out and did three good tests. They weren't his best tests ever, but there was some good quality work in there – especially his canter pirouettes and changes. And Donnerwind finishing second is very exciting, it has taken a while to really get our partnership sorted but he did some of his best yet this weekend, with some really expressive passage and piaffe."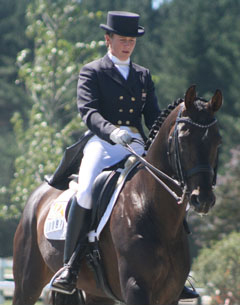 Landioso (by Landgraf I x Calvados II) was formerly ridden by Birgitt van der Eyken, former European Pony Gold medallist, before Hartstone bought him to New Zealand in 2003. After standing at stud in Germany at Gestuet Birkhof, he now stands at stud in New Zealand on the North Island coast of Raglan, where he often works out on the beach. Donnerwind 5 (by Donnerschlag x Furinde x Voltaire), formerly ridden by Jana Freund, arrived in New Zealand in 2006. Hartstone owns him in conjunction with Stal Nijenuis.
This result is the perfect lead up to the upcoming Kelt Capital Horse of the Year Show in Hastings from March 18-22, where Hartstone will again compete both stallions, in hope of snagging a share of the $30,000 Grand Prix prize purse and the kudos of the Horse of the Year title, which she narrowly missed out on last year.
Other placegetters at Grand Prix level at the Bates NZ Dressage Championships were  Jenny Scotter (JK L'Amour); Sally Field-Dodgson (Amberleigh Elite); Laurel Cross (Winter Acacia); Deborah Rutherford (Just Hollie) and Shiwon Green (Gosh).
National Title in other levels were Nicki Page with Boss II (Level 6/7 Champions); Penny Castle with Gymstar One (Level 5); Sue Hobson with Aristoc (Level 4); Susan Tomlin with Domino MH (Level 3); Julie Brougham with Kinnordy Glogau (Level 2) and Nicola French with Don Freese (Level 1).
Text by Lisa Potter
Photo by Annie Studholme
Related Links
Hartstone, 2006 New Zealand Dressage Champion on her "Professor"
Bill Noble, 2007 New Zealand Dressage Champion
Angela Fergusson, A Fresh Face for Horse of the Year 2008
Appleton, 2009 New Zealand Young Rider Champion