2009 Wellington Dressage Classic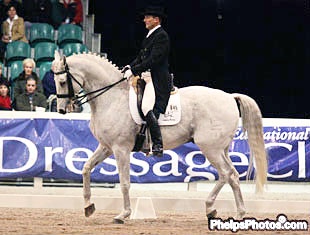 Nearly a year before the start of their 2009 winter series, Wellington Classic Dressage officials began production on their 2009 show program. And when it came to the question of a cover shot, Lars Petersen and Succes were chosen to grace the front. At the Wellington Classic Dressage Spring Challenge CDI3*, the Danish pair continued to justify that choice taking the win in both the CDI Grand Prix de Dressage and the CDI Grand Prix Freestyle.
"We sure know how to pick them, don't we?" said John Flanagan, who co-manages the Wellington Classic Dressage Show series with his wife and show manager Noreen O'Sullivan-Flanagan. While Lars & Succes grace the 2009 season cover for the Wellington Classic series, John noted that Canadian Ashley Holzer graces the cover of the Gold Coast Dressage Association's 2009 winter show program.  Ashley was the big winner in Grand Prix competition at the Gold Coast Dressage Association Opener CDIW. Giving a plug to their Wellington Asset Management investment company, the Flanagans joked, "We're not only good at picking winners for the covers, but also picking investments."
They most certainly struck it right with Petersen and Succes, a 14-year-old Danish Warmblood by Blue Hors Silvermoon. The pair has been racking up wins during the Florida winter season in their goal to earn a spot at the 2009 Dressage World Cup, scheduled to be held in Las Vegas in April. The road to the World Cup isn't easy, but Petersen can't complain about his effort to get there.
"It's been going really well," he said of his winter show season. "Succes is feeling really good and I'm quite happy with him." Interestingly, the top three finishers in the CDI Grand Prix Freestyle at the Wellington Classic Dressage Spring Challenge, held Feb. 6-8 at the Jim Brandon Equestrian Center, were all from Denmark. "And, you also had Danish horses at the top, isn't that nice?" Petersen said.
He and Succes took the Freestyle win with a score of 76.65. Behind them in second was Danish rider Mikala Gundersen with Leonberg and a score of 70.45. In third was Bent Jensen, a Danish rider who now rides for the U.S., on Liberty Light. They had a score of 69.15 percent. Petersen's winning score in the CDI Grand Prix de Dressage was 70.851 and Gundersen was also second in that competition with a score of 69.064 percent.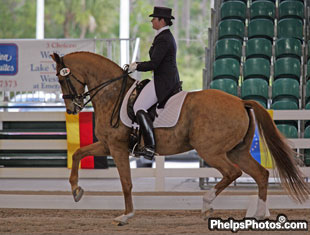 In other CDI Grand Prix competition at the Wellington Classic Dressage Spring Challenge CDI3*, one really happy winner was Reese Koffler-Stanfield, who traveled from her home in Kentucky to spend two months on the Florida circuit. With the 17-year-old KWPN gelding Goubergh's Kaspar, she took the win in the CDI Grand Prix Special with a score of 67.667 percent.
The win was a bit of a shock to Koffler-Stanfield because she was up against a large field of successful competitors. "Wow. I'm just really, really excited. It was great, super. I can't believe it," she said. The day before her win, she had finished third in the CDI Grand Prix for the Special behind winners Shelly Francis and Dominion and second-place finishers Michael Barisone and Olympus. Francis and Dominion have been gathering a number of wins in Florida in their effort to qualify for the National Dressage Championships in Gladstone this summer. Olympus, a 12-year-old KWPN gelding owned by Dr. Nancy Binter was a new ride for Barisone.
Koffler-Stanfield inherited "Kaspar" from her sister, Lindsay, who competed with the horse last year. The family bought the horse last spring and the agreement was that her sister rode him the first year and she got him afterward. Koffler-Stanfield's first Grand Prix with Kaspar was a couple weeks before at the Gold Coast Dressage Association Opener.
Koffler-Stanfield trains with Kathy Connelly, who was in Europe during the Spring Challenge CDI3* so George Williams stepped in as coach. "He came in and helped with my warm up and was just awesome. He took over the coaching reins and made me feel really confident," said Koffler-Stanfield, who counts among her students back home, Kentucky's First Lady, Jane Beshear.
She credits the support of all her students, her family and her husband, Travis, with making the trip to Florida possible. Her mom, Margee Koffler, even flew in to be her groom. "My husband, my family and my students have been awesome in helping to make this happen," she said. "They all said go enjoy it and go for your dreams."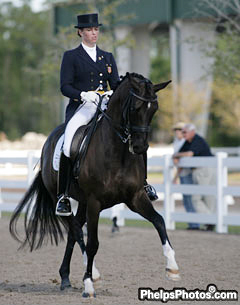 In FEI Open Grand Prix competition, Lauren Sammis and Sagacious HF took their first Grand Prix win with a 67.943. In second was Shawna Harding with Come On III, winners of last year's Wellington Classic Dressage Challenge of Champions, with a score of 67.589. Both horses just moved up to Grand Prix this season. Susan Jaccoma and Donatella won the FEI Open Grand Prix Freestyle with a score of 66.250 with James Koford and Don Principe placing second with 65.750 percent. Winner of the FEI Open Grand Prix Special was Karen Lipp riding Latino to a score of 64.688. Right on their heels was Sharon McCusker and Juli Sherif with their score of 64.479 percent.
By Lynndee Kemmett
Photos copyrighted: Mary Phelps/Phelpsphotos.com
Full Coverage of this event on Dressagedaily.com
Related Link
Scores 2009 CDI Wellington Dressage Classic