2009 World Dressage Masters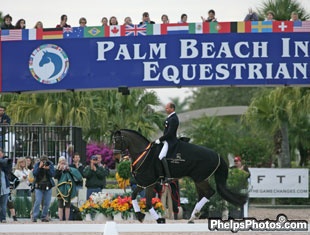 The organization of the World Dressage Masters has announced that the CDI Salzburg has pulled out the 2009 WDM series.
Because construction activities at the Residenzplatz in Salzburg, where the WDM event was supposed to be staged on May 1-3, have been delayed it has been proposed to transfer the WDM event to the indoor show in October. However, because the World Dressage Masters shows are outdoor shows only, show management and the Salzburg organization have agreed to postpone it to 2010.
The inaugural World Dressage Masters CDI 5* at the Palm Beach International Equestrian Center in Wellington Florida Jan. 29-31 have been a huge success in many respects. American Olympian Steffen Peters called the event "a real wake up call." He stressed the importance of the event for the entire dressage community. "It is a real wake up call for our commitment and responsibilities as riders," Peters said.
Inspired by the successful première, WDM management can't wait for their second show. However this will not be Salzburg as originally planned. WDM is now negotiating with two other major outdoor shows to host a World Dressage Masters.
"We would like to stick to our original plan to have four shows in our 2009 schedule," John van de Laar of WDM Management said. "We hope that we can present the fourth WDM show on short notice."
Apart from the main sponsor Exquis, US company Equestrian Sport Productions and Moorland Investments and Stables are partners. The concept combines top sport, top events and top prize money to help dressage develop into an even more attractive and understandable spectacle.  
The other location of the 2009 World Dressage Masters series are Munich, Germany (May 21-24) and Hickstead, Great Britain (July 23-26).
Photo copyrighted: Mary Phelps/Phelpsphotos.com
Back to the 2009 WDM index