2009 New Zealand Young Rider Championships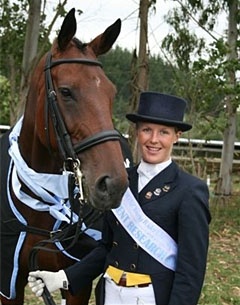 New Zealand South Island rider Hannah Appleton notched up an impressive trifecta, winning the overall New Zealand Young Rider title for the third consecutive year at the 2009 New Zealand's Pony & Young Rider Championships held in Taupo. 
The talented 19-year-old Appleton and her mare Zactac Graceful were solid performers throughout the weekend, scoring an impressive 68.45% in the Young Rider Freestyle (CDIY) and 63.68% in the Individual test (CDIY).
Reserve Young Rider was Sarah Wilkinson (Auckland) with her consistent performer Greensdowns Laredo, scoring of 63.79% and 66.65%. Third overall was Alisha Sixtus (Roanoake Just Tru), followed by Katie Cowley (Hu-Ra) and Jasmine Van der Hayden (Charlton Highbrow).
At Level 5, it was a closely fought battle, with Auckland riders Anya Tovey and Jordana Geor head to head all weekend in a quest for first place. The strong field included Waikato's Amanda Berridge (Volte SL) and Bay of Plenty's Charlotte Moss (Landina II).
However after racking up two firsts and a second place from three tests, Anya Tovey and AEA Flemmington emerged the victors. Just a few percent separated the two competitors all weekend, and in the final test of the competition, the IRG Level 5 Freestyle, nothing separated Tovey and Geor (Superior Hit), both sitting on 64.66%.
The 20-year-old student was delighted with AEA Flemmington, who was imported from Holland seven years ago. The 12-year-old, by Flemming, performed consistently all weekend, with Tovey riding accurate tests and setting the standard with solid scores of 63.71%, 61.28% and 64.66%.
Jordana Geor on her German import Superior Hit also impressed, finishing Reserve Level 5 Champion. In third place was Amanda Berridge and Volte SL, with a win in the 5.4 test, and then Charlotte Moss and Landina II in fourth position, with just half a point separating third and fourth placegetters.
In the Level 4 Championship, Rebecca Goldsbury enjoyed a clean sweep throughout the competition, winning all three tests on impressive scores of 72.16%, 71.29% and 68.12%. Goldsbury and Avante Garde have enjoyed a successful season, also winning the Level 4 competition at the FEI World Challenge. This combination also won the Fissenden Memorial Trophy for the most championship points gained over the competition in any grade.
Goldsbury, a 17-year-old student, has already attained several national titles, including Horse of the Year 2008 Level 4 winner, with Avante Garde, a nine year old, by Anamour.
Reserve Champion for Level 4 was Alex Hope, riding Prima Magneto, which she recently sold to Morrinsville rider Lucy Allen. In third place was Chelsea Thom (Ananique), followed by Imogen Cahill (Chrialka Premonition).
Tauranga's Alex Hope lined up for a second time at the prize giving, following her Reserve Champion at Level 4, to receive the Level 3 Championship title. The 16-year-old rider impressed on her elegant five year old mare Gizelle, heading off strong performances from Taranaki's Catherine West. West took second and third place in the competition, with Grey Safari as Reserve Champion and The Zues just a couple of points behind for third, followed by Julie Flintoff and HR Windrush in fourth place.
Christchurch rider Ellie Braddock and Honey Puff won the Level 3 Pony competition, ahead of fellow South Islander Rianna Te Au and Sir Harley. These two riders also comprised the team for the South Island versus North Island competition, which they won.
Nicole Hilder and Vollrath Welcome were Level 2 Champions, with Aimee Liddington and Hi Jinx Reserve Champions. Siobhon Davis (Maxyip) narrowly edged out Alex Anderson (Golden Calibre) for third place.
In the Pony Level 2 competition, it was a closely fought competition, with Samantha Alexander and Showfield Papanui taking the overall Championship title. Just one point behind was Rhiannon Scott (Oporae's Antionette) and Danielle Wheeler (Bugs Malone), with Scott eventually taking the Reserve title after a countback to separate the pair. In fourth place was Charlotte Grant and Classique Visage.
Waikato's Kelly van Dyk enjoyed a successful weekend, taking the Level 1 Championship on Jo McNicoll's lovely Anamour mare Adriana. The combination also scored the highest Level 1 score of the weekend with 69.79% in the 1.2 test. Reserve Champion was Kate Welton (The Law), then Jessica Willard, the Australian Trans-Tasman competitor, riding Jenny Oliver's Just Bailey and Danielle Wheeler (Aqua Pura).
In the Level 1 Pony section, Auckland rider Jeanie Pattison and Blown Away led the field to take the Champion title, ahead of Una Cahill and Miss Maddison. Third was Marjorie Bentley-Brett (Watch It Chester) and Emily Richards (Dakota Dreaming).
Marjorie Bentley-Brett from Manawatu was also awarded the Dressage NZ Newcomer Award, with her x-bred Watch It Chester. The 13-year-old rider was absolutely delighted to receive the award, having only been riding dressage for just over a year.
Related Links
Hannah Appleton wins 2007 New Zealand Young Rider Championship
Australian Team wins friendly 2007 NZL Trans Tasman Young Rider Derby
Victoria Welch Wins Individual Gold at the 2009 AYOF