What's Happening in the Dressage World?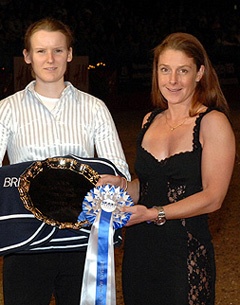 At the 2008 CDI-W London Olympia Horse Show, the Kbis Dressage Horse of the Year was awarded to the Hanoverian stallion Lancet, who finished fourth in the team test and seventh overall at the Olympics. His rider and owner Emma Hindle was recovering from cancer surgery performed just weeks before the competition. Emma Hindle (right) looked stunning in a lacy black dress when she accepted a trophy in London!
Photo courtesy: British Dressage
It would be unfair to German eventing rider Bettina Hoy not to mention how amazing she looked at the P.S.I. Gala Ball!! It's great to see riders without breeches for once, but Hoy in a gala dress is something totally different! Ai Carramba! Hoy is pictured standing like a catwalk model on stage at the PSI Gala Ball Awards next to Ullrich Kasselmann.
The famous Australian dressage couple Heath and Rozzie Ryan have recently moved from their long time home, the NSW Equestrian Centre at Lochinvar, to their own 100 acre property near Newcastle.
Dutch O-judge Jan Peeters has received permission from the FEI to continue judging at FEI events for one more year. The 70-year old Peeters has reached the age for retirement as a judge, but the FEI decided it wants to keep Peeters in function for another year. To Dutch equestrian magazine De Hoefslag, Peeters said he's eager to see the changes the FEI Dressage Task Force proclaims to be making. "We're talking a lot amongst colleagues and let [FEI Task Force] them bring on those new ideas," Peeters said. "Most likely they will not only have to change the juding system, but also the tests. The judging in Hong Kong was not wrong there. The only mistake they made was to appoint a head of the jury from a rivalling country. It would have been better if that head was neutral."
Peeters believes that the judging system can be changed by adding two more judges on the short side at A. "Seven judges, so two extra on the short side at A should even out the scores. Forget the story which comes from amateurs to scratch the highest and lowest scores. It doesn't work and makes scoring more shallow," Peeters told De Hoefslag.
The 2008 Dutch Licensing Champion Ampere will stay in The Netherlands. Ampere (by Rousseau) sold to American Fritz Kundrun last year and it looked like the stallion would move abroad, but stallion owner Reesink Horses has made sure that the bay stallion will stay in Holland. Ampère was the convincing champion of the licensing and stallion performance test. He was praised for his extraordinarily fantastic canter, his suppleness and his extremely good workethic. Ampère will be available in 2009 at the following breeding stations: Wim Cazemier, De Dalhoeve, De Watermolen, and Dekstation Westland. In Germany Ampere will be exclusively available via Emma Hindle's Brookhouse Stud. The stallion is also approved for the Oldenburg studbook and is waiting for approval from Hanover and Rhineland.
Anky van Grunsven was supposed to ride Painted Black (by Gribaldi) at the World Cup Qualifier in London, but she had to withdraw because of a back injury. Anky had an MRI scan made of her back in the hospital of Ede, The Netherlands. The sport doctor Peter Vergouwen advised her not to ride for a while. "It's hard to get me off a horse, but decided to follow his advise because it's hurting pretty badly. I never had back pain before and I want to keep it that way in the future, so I need to rest." Because Anky cancelled her performance at the CDI-W London, she was able to attend the NOC Sport Gala Ball as a nominee for the "Sportswoman of the Year 2008" title. Despite having won her third Olympic gold medal this year, Anky did not win it, butthe 21-year old cyclist Marianne Vos took highest honour. Anky has confirmed that she will be competing at the CDI-W Mechelen at the end of the week.
Photo courtesy: Pim Ras - Dutch Sport Photography
Isabell Werth's sponsor Madeleine Winter-Schulze has lost her husband Dietrich Schulze, who passed away on 17 December 2008 at age 68. Dietrich Schulze was a former show jumping rider and breeder and he had been ill for quite some time. Dieter and Madeleine sponsor some of Germany's best equestrian riders: Isabell Werth, Ina Saalbach-Müller Ludger Beerbaum, Marco Kutscher, and Bettina Hoy.
Irish Eventing High Performance Manager Ginny Elliott has announced the appointment of Ferdi Eilberg as dressage coach to the Irish Eventing team. Originally from Germany but a resident in the UK for over 20 years, Eilberg was the former World Class Performance Director of Coaching to the British Dressage team. He was also dressage trainer to the British Three Day Event team and accompanied them to three Olympic Games. Ferdi Eilberg said: "I have a long history with Eventing, particularly in Britain and I have worked with some of the Irish dressage riders before. I'm looking forward to working with the eventers and I think Ginny and I can make a considerable difference. I am very excited at the prospect of working with Horse Sport Ireland and the Irish team."