PSI Auction News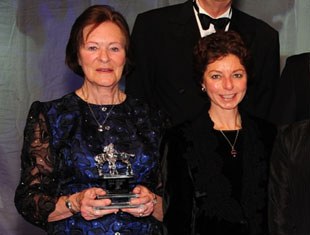 Normally horses are central when Ullrich Kasselmann and Paul Schockemoehle welcome guests to the P.S.I. Auction in Ankum. Only not on Saturday evening at the PSI Gala Ball, where strong personalities who have achieved the extraordinary in horse sport and breeding are honoured.
The P.S.I. Awards, which are anually presented in various categories, were created to show the appreciation of the initiators of the world's most important auction, Ullrich Kasselmann and Paul Schockemoehle. An extraordinary sculpture, created by the famous crystal house Swarowski, symbolizes their thanks. Four P.S.I awards were presented Saturday December 13th in Ankum in recognition of four extraordinary people.
Lady Caroline Inchcape is Great Britain's Grand Dame of dressage. She is breeder, trainer, successful rider and dressage judge and now carries the P.S.I. Award Dressage Supporter. Nobody knows better than Ullrich Kasselmann and Paul Schockemoehle how much Lady Inchcape, who calls Oxfordshire her home, has earned this award. She has – according to presenter Monica Thedorescu's calculation - been close friends with the P.S.I. initiators for the past 30 years. She gives impulse and supports and cares for the dressage sport with all her ability. "Absolutely one of a kind," praised team Olympic champion Theodorescu.
The impressions from Hong Kong in August were unforgettable as a Holsteiner grey gelding named Marius Voigt-Logistik and his rider Hinrich Romeike won double gold in Eventing by the Olympic Games. The dentist's qualities as a rider are in everybody's discussions since that fantastic evening and the team player Hinrich Romeike was described by team mate Bettina Hoy as an intelligent and extraordinary individual who has shown how important respect for the partner horse and every member of the team is. Hinrich Romeike now carries the P.S.I. Award Eventing.
Hannelore Brenner has committed herself to another riding discipline. The Bachelor of Business won double gold in Dressage at the Paralympics in Hong Kong with the spirited mare Woman of the World. Obvious evidence for the motto of the woman who suffered an incomplete paraplegia after a riding accident, but continued to ride successfully and says herself; "Disabled is, who disables themselves". A remarkable woman and athlete in every way for the P.S.I. Award Dressage was the perfect description from presenter and President of the FN, Breido Graf zu Rantzau.
Awaited with great expectation, and presented to a true legend in the sport, was the P.S.I. Lifetime Award which pays tribute to the lifetime achievements of the winner. No other than the five time Olympic champion Hans Guenter Winkler (GER) was recognized in the speech from ARD sport commentator Hartmann von der Tann. Hans Guenter Winkler, is as rider, an identifiable figure from the post war era who has given important impulses to the sport, also since the end of his sporting career. Several important competitions for young riders have been developed by the show jumping rider and marketing expert and he has used all his experience and contacts to help the equestrian sport. A life's work, which is rewarded with a special prize – a cruise on the MS Deutschland, owned by Peter Deilmann Cruises, from Tenerife to Hamburg in 2009.