What's Happening in the Dressage World?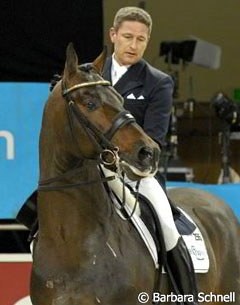 Oliver Luze, winner of the 2008 Medien Cup Finals, and his wife Katrin Luze are leaving Gestut Tannenhof where they have worked as head riders for more than 10 years. Luze coached Anja Plonzke (daughter of Klaus Plonzke, the owner of Tannenhof) to all her major successes aboard Solero TSF. Oliver started his professional career working at Gronwohldhof. He then became an auction rider in Vechta and then a stallion performance tester in the U.S.A. before moving to Tannenhof. The Luzes will now work at the equestrian centre of Rainer Schwiebert. Anja's husband Roland Bauer will become the new manager of Tannenhof.
Ingrid Wahler, wife of the famous German stallion owner Burkhard Wahler of Klosterhof Medingen, has been severaly injured falling of Hanoverian Stallion of the Year De Niro while hacking. The 15-year old stallion returned from the woods without his rider. She was found after a lot of searching in the local forest and immediately transported to the hospital. She has been in a coma for three weeks now and is in stable but critical condition. Wahler, who had not worn a riding helmet, sustained an open skull fracture. We wish her a speedy recovery!
Danish Stud Farm Firfod is relocating its Danish Warmblood stallions abroad.Angrib Firfod (by Gribaldi x Schwadroneur) is currently in training with Edward Gal and the Danish Licensing Champion Zardin Firfod (by Gribaldi x Schwadroneur) is now being trained by Dominic-Nathanael Erhart. Zardin has five licensed sons. Zardin was previously campained by Per Sandgaard and Joachim Thomsen.
Anky van Grunsven has been nominated to become Dutch Female Sports Athlete of the Year 2008. She has won the title once before in 1994, then just for winning the World Cup Finals. Now the triple individual gold medallist is almost guaranteed of winning it. The winner will be named at the Gala Ball of the Dutch Olympic Sport Federation on December 16, 2008, at the RAI in Amsterdam. Van Grunsven will not be attending the Gala Ball as she has chosen to compete Painted Black in the World Cup Qualifier in London which take place at the same time.
Renowned international FEI Dressage PonyPower and Paint has been retired from competition. The past year, the soon to be 16-year old dun coloured stallion (by Power Boy x Dancer) has been struggling to stay sound and was being treated at Greve's equine clinic De Watermolen. The German owner, the Pasch family, however, decided that it has been enough and trailered the stallion back home to Germany. Neither the Pasch family nor his current rider/leaser, the Dutch Fokker family, wanted to comment on the current situation of the pony.
Trained by Coby van Baalen, Power and Paint was for many years the anchor pony on the Dutch Pony team having won numerous silver team medals. He had four FEI pony riders on him: Rachell Fokker, Angela Krooswijk, Mara de Vries and Marrigje van Baalen. The latter rider won individual silver with him, while Krooswijk won individual bronze. The pony got some controversial publicity when a photographer caught him being lunged in the rollkur for an extended period of time. Fortunately, Rachel Fokker's pony career has not ended with the departure of Power and Paint. Fokker is still training and competing her second pony Boss Bunter andhas currently got the ride on the Welsh pony licensing champion Orchard Boginov (by Veronas Bo-Gi x Vita Novas Golden Boris).
Leunis van Lieren has lost two of Stable Hexagon's in-house riders. Chantal and Jessica Nijpjes, who had been riding at Hexagon for eight years, have decided to call it quits and start their own independent business in Sint Laurens, The Netherlands. They are going to train and compete horses and ponies as well as teach students.
Heather Blitz' Grand Prix horse Otto has been sold to Todd Flettrich. Blitz, 39, who has been based in Denmark at Ove Mortenson's barn with his 12 year-old Danish Warmblood gelding Otto (by Rambo x Rampal) for the past two years, took over the ride in 2004 from Mimi Shows. Mortenson bought Otto from Shows while Blitz was riding him in Louisiana and the pair moved to Denmark to develop his career at Grand prix level.
We also heard that the 12-year old Oldenburg premium licensed stallion Weltissimo has been sold. The dark bay stallion by Welt Hit II x Barsoi xx was purchased by American Nancy Gooding at the Vechta Elite Auction for 160,000 euro. The stallion came in training with Susan Draper-Pape and the pair finished fourth at the World Young Horse Championships and were reserve champions at the Bundeschampionate. Once Weltissimo hit Grand Prix level, he moved to Hubertus Schmidt, who competed him internationally. Weltissimo has now been sold, though we don't know the name of the new owner, just yet.
Photo copyrighted: Barbara Schnell
The KWPN breeding stallion Inspekteur (by Darwin) has been severely injured during a trailer loading accident. The dark bay stallion slipped off the trailer andruptured his loin. The main artery was severed but thanks to the quick intervention of veterinarian Jan Mertens, the stallion is still alive. Though it is uncertain how well it will heal. Inspekteur was actually leased to the Czech Republic. Bred by J. Dorrestyn, the now 18-year old Inspekteur was a young rider's mount for Marlies van Baalen, Danielle van Aalderen, Vincent van Gasselt and Wendy van der Helm. The latter purchased the stallion several years ago and has now leased him to Klara Bohackova from the Czech Republic. The accident happened while Inspekteur was being loaded for the trip to East Europe. Klara would have been using the stallion as a breeding stallion and schoolmaster. Wendy van der Helm and her partner Maurice van Vliet got engaged during their holiday in Egypt. They will get married in February 2009.