French Dressage News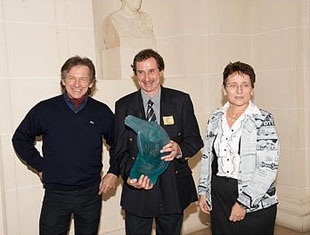 The Astley Academy and the French Equestrian Federation have given their annual awards to the most prominent figures in the French Dressage World. The 2008 Astley Award recipients were Marc Boblet, Camille Judet Cheret, Mrs Tryba, Jean Philippe Siat, Marc Feller, Didier Ferrer, Marina van den Berghe, and Patrick Collard.
Inspired by the model of literary academies, the Astley Academy gives annual awards to the most outstanding characters in French Dressage of the past year. Those individuals who have made an outstanding contribution to the development and promotion of equestrian culture through their achievements, initiatives and investment are awarded the Astley Trophy at an annual Gala Evening.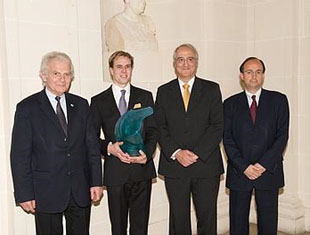 Marc Boblet was given the Coupe Elite for Best French Grand Prix rider of the year. Camille Judet Cheret won the Talent of the Year trophy, Mrs Tryba was the breeder of the year for having bred Obaine du Lerchenberg and Jean Philippe Siat became the owner of the year for owning the Grand Prix horse Greystoke. Marc Feller was honoured for owning Othello, the most talented horse of the year and Didier Ferrer was proclaimed organizer of the year for hosting the CDI Pompadour. Marina van den Berghe became trainer of the year for having coaching Remy Issartel and Thibault Cambourieu to much success. The trophy for judge of the year went to Patrick Collard.
Founded by Odile Reynaud and Jean-Charles Bourdier, owners of the Haras de la Ferrandière near Paris, in partnership with the French Equestrian Federation, the Astley Academy aims to promote dressage in France.
Photo courtesy: Guéritot
Related Links
2007 French Dressage Astley Award Ceremony in French Senate
2007 Astley Academy Award Winners