2008 Performance Plus Auction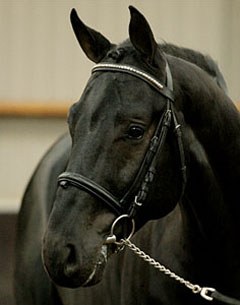 Tomorow the fifth edition of Performance Plus Elite Auction will kick off. This year's event will be held at Reesink Horses, Molenweg 12, 7151 HA Eibergen, The Netherlands.
Last week some very interesting young horses have been added as wildcards to the collection of Performance Plus Elite Auction 2008.
Performance Plus guarantees its ambition to auction top material. A qualified collection of the best foals and horses are the main condition for an interesting auction.
With a well considered choice for a combination of proven sport breeding, correct exterior, good basic gaits and a fancy look we have compiled the 2008 collection for you.
 For more information check: www.performanceplus.nl
76
Dollar
Vivaldi x Variant x Jeroen
20-05-2008
Stallion
 
 
 
 
 
77
Sugar Ray
Sandro Hit x Rubinstein I x Ramino
20-01-2006
Stallion
 
 
 
 
 
78
Living Legend
Lord Loxley x Sandro Hit x Aldatus
10-3-2006
Stallion
 
 
 
 
 
79
Scorsese
Samarant x Welt Hit II x Fagott
23-2-2006
Stallion
 
 
 
 
 
80
Sonny
Sandro Hit x Prince Thatch xx x Wagner
2-6-2006
Stallion
 
 
 
 
 
81
Zierensio
Florencio x Vincent x Nooitgedacht
05-06-2004
Gelding
 
 
 
 
 
82
Winston
Jazz pref x Gribaldi keur x Burggraaf pref
14-04-2003
Gelding
 
 
 
 
 
83
Berlinda
Samba Hit II x Riant x Kennedy
25-5-2006
Mare
 
Back to the 2008 Performance Plus Index