British Dressage News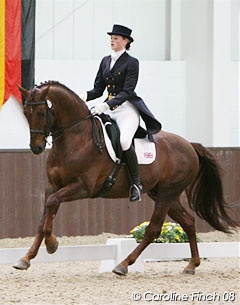 Following the recent junior and young rider viewing weekend, the selectors have chosen the following riders to be members of the 2008/9 squads:
Junior prime squad:
Alexandria Barr
Melissa Beer
Samantha Brown
Olivia Kuropatwa
Samantha Thurman-Baker
Junior progress squad:
Emily Harris
Pippa Hutton
Darcus Lever
Young rider prime squad:
Katie Abberley
Emily Cousins
Sarah Gorvett
Lara Griffith
Charlie Hutton
Young rider progress squad:
Several other riders have been placed on the waiting list and will join squads in due course if their results are appropriate. The plan is to have about five members in each prime squad and this will be reviewed monthly from January 2009 with regular changes expected.
One of the two squad trainers Ferdi Eilberg or Erik Theilgaard will take the training sessions, which kick off on 3 January at Bury Farm, Slapton, followed by 7 February, Vale View, Leics, and 7 March, Bury Farm.
Prime squad members will be given priority and others may be invited if space permits. Some will be invited to watch and benefit from non-riding activities, such as rider profiling, keep fit and sports science.
Selectors are considering sending riders to the following international shows:
8-11 Jan, Zwolle, NL
Feb (tbc), Roosendaal, NL
16-18 April, Addington Manor, GB
1-3 May, Saumur, FR
1-3 May, Moorsele, BE
7-10 May, Weert, NL
May (tbc), Le Touquet, FR
9-12 July, Vierzon, FR
15-19 July, Pompadour, FR
23-26 July, Hickstead, GB
Related Links
British Pony Squad for 2009
Harris, Bates, Cartwright, 2007 British Youth Rider Champions