FEI Dressage News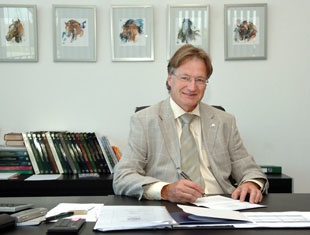 The FEI has released a statement in which it announced an Ad Hoc Working Group which is to function as "new" FEI Dressage Committee. The FEI Executive Board hopes that this interim group will replace the current FEI Dressage Committee whose resignation will be decided upon
at the 2008 General Assembly in Argentina next week. More news on this ad hoc group has been spilled on a German website which states that Kemperman has been appointed as chair for one year as of the General Assembly.
Currently two "Dressage Committees" are existing next to each other, the Ad Hoc one which has the support of the FEI Executive Board and the "real" FEI Dressage Committee, which FEI president Princess Haya request to resign. The FEI Dressage Committee is elected and approved by the General Assembly and its resignation is determined by all the national federations at the next Assembly and not by the FEI president nor the FEI executive Board. With Haya's request for resignation, the FEI sent out a clear message about its dissatisfaction with the current one.
The FEI press release states:
The FEI Executive Board has proposed the appointment of an Ad Hoc Working Group of world class dressage experts from all aspects of the discipline to review key issues and inject a new focus in the sport. 

At the forthcoming FEI General Assembly taking place in Buenos Aires (ARG) on 17th – 21st November, the Ad Hoc Working Group remit will be proposed for discussion and approval by the FEI Bureau. 

The status of the members of the current Dressage Standing Committee, who have been called upon to resign, will be an issue for FEI member National Federations to address through the FEI Bureau and General Assembly as appropriate. 

Proposed names of the Ad Hoc Working Group include: Frank Kemperman (NED), chairman and representative of the event organisers; Richard Davison (GBR), riders representative; Robert Dover (USA), trainers representative; Alain Francqueville (FRA), chef d'équipe. A further member representing the judges is being finalised.
The German website SMS-Pferdenews discloses more info concerning this Ad-hoc committee. It states that Kemperman has been appointed chair of the new committee and that he will be in this position for one year as of the General Assembly. Kempermann is the director of the biggest equestrian show of the year, the CHIO Aachen, and has the Dutch nationality. The German Equestrian Federation, which opposed Haya's request, is aware that Kempermann has been asked to chair the ad hoc committee.
"The FEI has asked me this and I agreed," Kemperman told the German site. "I have alerted the German Equestrian Federation of this step and the Dutch Equestrian Federation has given their support to me"
Related Links
Danish Equestrian Federation Points at FEI Boards Making Mistakes
Spanish Equestrian Federation Opposes Haya's Request for Resignation FEI Dressage Committee, IDTC In Favour
FEI President Princess Haya Asks for Resignation FEI Dressage Committee
Mariette Withages, Chair of FEI Dressage Committee, Replies
War of the Worlds: National Equestrian Federation Take Standpoint on Haya's Request for Resignation of FEI Dressage Committee