2008 Spanish Young Horse Championships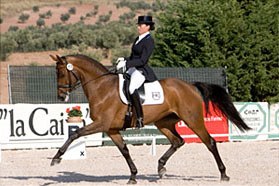 4-year old Zanzibar, 5-year old Donna Clara and 6-year old Finja have won the 2008 Spanish Young Horse Championships which were held in Nambroca near Toledo, Spain, October 31 - November 2, 2008.
In the four-year old division Diana Ostáriz Oliver and her Dutch warmblood bred mare Zanzíbar won the overall championship. The combination placed second in the first round with 77.8% and they won the finals with 75.2% The reserve champions were José Daniel Martin Dockx aboard Delmonte, followed by Federico Molina Cruz on Zalentinj Rose.
In the five-year old class Antonio José Díaz Porras and the liver chestnut German bred Donna Clara finished at the top. The combination placed second in the first two rounds and stepped up to the plate to take the victory in the final round. Their overall score of 337.1 put them quite ahead of reserve champions Gregorio Feria Vaz on Wobelisk, who had to work their way up to the top from a 16th place in the first round (68%) to a first place in the second (75.6%) and a second place in the finals. Overall they got 330.2. Sandra Peña Aguilar and Wrangler placed third with 326.8.
Nuria Vila Perez and the Hanoverian mare Hemeretik Finja (by Fisherman's Friend x Wanderbusch II) reigned supreme in the 6-year old division. Vila Perez won all three rounds scoring in the mid seventies. Their overall of 336.6 placed them in the lead well ahead of reserve champions Eva Pellat Masso and Dressur Divo who got 328.9. Monica Moral Torrent and Pik Pavarotti slotted in third with 320.1.
Results 2008 Spanish Young Horse Championships
4 year olds - Round 1
1. José Daniel Martín Dockx - Delmonte - 79.6%
2. Diana Ostáriz Oliver - Zanzíbar - 77.8%
3. Carlos Ventura Pins - Laredo 195 - 75.8%
4. Susana Vázquez Mostaza - Don Boyenstein - 75.4%
5. Federico Molina Cruz - Zalentinj Rose - 75%
6. Guillermo Roldán Martínez - Diamond Hero - 73.4%
7. María Teresa Ortíz Carpintero - Cea Zorro - 72.8%
8. Lucas Elías Lara - Zidane - 72.6%
9. Tomás Francisco Caudet Prats - Robin Hood - 71.4%
10. Victor Petit Ferrer - Zaphire - 708%
11. Miguel Polo Ruiz - Preciosa - 70.6%
12. Juan Manuel Acosta POnce - Der Ebbinger - 70.4%
13. Marta García García - MgTeam Nahuat - 70.2%
14. Gregorio Feria Vaz - Don Rafael - 69%
15. David Martín Soria - Rosegger - 68.8%
16. Cándido Tardío Moscoso - Pilatos - 67.2%
17. Pablo Raya Jiménez - Henessy - 66.8%
18. Sarah Renger Spindlow - Candelo XIII - 66.6%
19. José Antonio Torres Díaz - Levis - 66.2%
20. Federico Molina Cruz - Glorioso - 65.6%
20. Laura Yubero Prieto - Rialto Star - 65.6%
22. Carlos Ventura Pons - Franklin - 64.8%
22. Albert Ramos Puig - Zoula - 64.8%
24. Carlos Martín Moreno - Guadalquivir VI - 64.2% 
25. Andrea Ursula Kaefer - Lino - 64%
26. Toni Ramírez Bercero Baron Z - 63.2%
26. Carlos Pinta Salguero - Tabernero JF - 63.2%
28. Mario Gómez Morcuende - Jadraque - 62.2%
29. José Ignacio López Porras - Luybe - 62%
30. Ignacio Romero Torres - Urdiales - 61.6%
31. Iván POzas Gómez - Jareño IX - 61.2
31. Emilie Montabrun - Nubio - 61.2%
33. David Presa Alonso - Zahastrona - 60.8%
34. Lucas Elías Lara - Mango Levito XIX - 60.6%
35. Fidel Díaz Amor - Farfista - 60.2%
36. David Presa Alonso - Zepelin - 59%
4 year olds - Finals
1. Diana Ostáriz Oliver - Zanzíbar - 75.2%
2. Gregorio Feria Vaz - Don Rafael -  73.4%
2. Federico Molina Cruz - Zalentinj Rose - 73.4%
4. Juan Manuel Acosta Ponce - Der Ebbinger - 73%
5. José Daniel Martín Dockx - Delmonte - 72.4%
6. María Teresa Ortíz Carpintero - Cea Zorro - 71%
6. Carlos Ventura Pons - Laredo 195 - 71%
8. David Martín Soria - Rosegger - 70.4%
9. Miguel Polo Ruiz - Preciosa - 69.4%
10. Marta García García - MgTeam Nahuat - 68.2%
11. Lucas Elías Lara - Zidane - 67.2%
11. Guillermo Roldán Martínez - Diamond Hero - 67.2%
11. Susana Vázquez Mostaza - Don Boyenstein - 67.2%
14. Tomás Francisco Caudet Prats - Robin Hood - 66.2%
15. Victor Petit Ferrer - Zaphire - 64.6%
2008 Spanish Young Horse Championship - 4-year olds
1. Diana Ostáriz Oliver - Zanzibar - 267.1
2. José Daniel Martin Dockx - Delmonte - 264.2
3. Federico Molina Cruz - Zalentinj Rose - 259.3
4. Carlos Ventura Pons - Laredo 195 - 255.7
5. Juan Manuel Acosta Ponce - Der Ebbinger - 251.6
6. María Teresa Ortíz Carpintero - Cea Zorro - 251.2
7. Gregorio Feria Vaz - Don Rafael - 250.3
8. Susana Vázquez Mostaza - Don Boyenstein - 247.5
9. Miguel Polo Ruiz - Preciosa - 244.7
10. Guillermo Roldan Martínez - Diamond Hero - 244.5
11. David Martin Soria - Rosegger - 244
12. Lucas Elías Lara - Zidane - 243.3
13. Marta García García - MgTeam Nahuat - 241.7
14. Tomás Francisco Caudet Prats - Robin Hood - 239.5
15. Victor Petit Ferrer - Zaphire - 235.4
5 year olds - Round 1
1. Sandra Peña Aguilar - Wrangler - 78.6%
2. Antonio José Díaz Porras - Donna Clara - 75.2%
3. Agustí Elías Lara - Mango Webbe - 74.6%
4. Raquel Beneyto Rodríguez - Rubin Primera - 73.2%
5. Marta García García - MgTeam Aviana - 71.4%
6. Henry Junior Brewah Grandados - Don Diego - 71.2%
7. Juan Francisco Fernández Muñoz - Faraón - 70.6%
7. Ignacio Romero Torres - Palmy de Riverland - 70.6%
9. David Marín Prieto - Leandra de Mon -  70%
10. Laura Yubero Prieto - Walzertanz - 69.4%
11. Carlos Pinta Salguero - Rondador JF - 69%
12. Dimas Saiz De Los Ríos - Rohon - 68.6%
13. José Manuel Lucena Estrada - Wolk - 68.4%
14. Diana Ostáriz Oliver - Cacique IX - 68.2%
14. Gustbo Job - Wonderboy - 68.2%
16. Gregorio Feria Vaz - Wobelisk - 68%
17. Nadal Ferriol Ferriol - Fighting Blue - 67.8%
18. Sarah Rengel Spindlow - Candelo XI - 67.6%
19. Agustí Elías Lara - Cazurro II - 67%
20. Guillermo Roldán Martínez - Romeo - 66.6%
21. Cándido Tardío Moscoso - Orfeo Negro - 65.8%
22. Sergio Martí Pérez - Armas Zarzeño - 65.6%
23. José Antonio Torres Díaz - Kefir XI - 65.2%
23. Cindy Román Pérez - Cedro IV - 65.2%
23. Javier Gil Díaz - El Charro - 65.2%
26. Eduardo Antonio mellado Murga - Warkady - 64.4%
27. Mario Gómez Morcuende - Íbero - 63.8%
27. Magín Mateu López - Látigo VI - 63.8%
29. Miguel Polo Ruiz - Xadres - 63.6%
30. Antonio Crespo Nogal - Salinero XXXVII - 63.2%
31. Sylvia Enamorado López - Cantor VIII - 63%
32. Francisco Castro Osuna - Bebe - 62.2%
32. Ayala Guillermo García - Cubanon - 62.2%
34. José Ignacio López Porras - Faraón LXXXVII - 60.6%
35. José Alejandro Alcaide Roda - Roble Ar - 60%
36. David Marín Garrido - Aureo - 59.8%
37. Juan carlos Díaz Amor - Jaén Caracol - 59.2%
38. Tomás Francisco Caudet Prats - Wouter - 58.6%
39. Daniela König - Dicanto - 58.4%
40. Begoña De Ingunza Márquez - Bético XVI - 58%
5-year olds - Round 2
1. Gregorio Feria Vaz - Wobelisk - 75.6%
2. Antonio José Diaz Porras - Donna Clara - 73.8%
3. Marta García García - MgTeam Aviana - 70.6%
4. Henry Junior Brewah Grandados - Don Diego - 70.4%
5. Raquel Beneyto Rodríguez - Rubio Primera - 69.6%
6. José manuel Lucena Estrada - Wolk - 69.2%
6. Tomás Francisco Caudet Prats - Wouter - 69.2%
6. Sandra Peña Aguilar - Wrangler - 69.2%
9. José Alejandro Alcaide Roda - Roble Ar - 69%
10. Dimas Saiz De Los Rios - Rohon - 68.8%
11. David Marín Garrido - Leandra De Mon - 68.4%
12. Nadal Ferriol Ferriol - Fighting Blue - 68%
13. Agustí Elías Lara - Cazurro II - 67.8%
14. Francisco Castro Osuna - Bebe - 67.6%
14. Eduardo Antonio Mellado Murga - Warkady - 67.6%
16. Custavo Job - Wonderboy - 66.2%
17. Sergio Martí Pérez - Armas Zarzeño - 65.6%
17. Agustí Elias Lara - Mango Webbe - 65.6%
19. Juan Francisco Fernández Muñoz - Faraón - 65.4%
19. Sarah Rengel Spindlow - Candelo XI - 65.4%
21. Magín Mateu López - Látigo VI - 65.2%
22. Guillermo García Ayala - Cubanon - 65%
23. Javier Gil Díaz - El Charro - 64.8%
24. José Antonio Torres Díaz - Kefir XI - 64.6%
25. José Ignacio López Porras - FAraón LXXXVII - 64.4%
26. Diana Ostáriz Oliver - Cacique IX - 64%
27. Sylvia Enamorado López - Cantor VIII - 63.4%
28. Cándido Tardío Moscoso - Orfeo Negro - 63.2%
29. Carlos Pinta Salguero - Rondador JF - 63%
30. Mario Gómez Morcuende - Ibero - 62.8%
31. Antonio Crespo Nogal - Salinero XXXVII - 62.6%
31. Ignacio Romero Torres - Palmy de Riverland - 62.6%
31. Davíd Marín Garrido - Aureo - 62.66%
34. Guillermo Roldán Martínez - Romeo - 62.4%
34. Begoña De Ingunza Márquez - Bético XVI - 62.4%
36. Laura Yubero Prieto - Walzertanz - 61.6%
37. Daniela König - Dicanto - 61%
38. Juan Carlos Díaz Amor - Jaén Caracol - 60.8%
39. Miguel Polo Ruiz - Xadres - 55.8%
5-year olds - Finals
1. Antonio José Díaz Porras - Donna Clara - 75.6%
2. José Manuel Lucena Estrada - Wolk - 75.2%
3. Gregorio Feria Vaz - Wobelisk - 74.4%
4. Marta García García - MgTeam Aviana - 74.2%
5. Agustí Elías Lara - Cazurro - 72.8%
5. David Marín Garrido - Leandra de Mon - 72.8%
5. Raquel Beneyto Rodriguez - Rubin Primera - 72.8%
8. Henry Junior Brewah Grandados - Don Diego - 72.2%
8. Sandra Peña Aguilar - Wrangler - 72.2%
10. Nadal Ferriol Ferriol - Fighting Blue - 70.6%
11. Juan Francisco fernández Muñoz - Faraón - 67.6%
12. Eduardo Antonio Mellado Murga - Warkady - 67%
13. Agustí Elías Lara - Mango Webbe - 65.8%
14. Gustavo Job - Wonderboy - 65.6%
14. Dimas Saiz De Los Rios - Rohon - 65.6%
2008 Spanish Young Horse Championship - 5-year olds
1. Antonio José Díaz Porras - Donna Clara - 337.1
2. Gregorio Feria Vaz - Wobelisk - 330.2
3. Sandra Peña Aguilar - Wrangler - 326.8
4. Marta García García - MgTeam Aviana - 325.7
5. Raquel Beneyto Rodríguez - Rubin Primera - 323.2
6. José Manuel Lucena Estrada - Wolk - 322.6
7. Henry Junior Brewah Grandados - Don Diego - 321.2
8. David Marin Garrido - Leandra de Mon - 318.2
9. Aguist Elias Lara - Cazurro II - 314.3
10. Nadal Ferriol Ferriol - Fighting Blue - 311
11. Agusti Elias Lara - Mango Webbe - 304.6
12. Juan Francisco Fernández Muñoz - Faraón - 303.9
13. Dimas Saiz De Los Rios - Rohon - 303
14. Eduardo Antonio Mellado Murga - Warkady - 299.8
15. Gustavo Job - Wonderboy - 298.7
6 year olds - Round 1
1. Nuria Vila Pérez - Finja - 74.6%
2. Eva Pellat Massó - Dressur Divo - 71.6%
3. Mónica Moral Torrent - Pik Pavarotti - 70.6%
4. David Marín Garrido - Prime Time - 70.4%
5. Jens Johan Naesgaard Rodríguez-Passolas - Robinho - 68.6%
6. Álvaro Osborne Díez - Deauville - 67.6%
7. Rafael Seguí Sintes - Castillier - 67.4%
8. Sandra Martí Pérez - Chapeau Claque - 67.2%
9. Agustí Elías Lara - Mango Limeño - 66.6%
9. Dimas Saiz de Los Rios - Edipo - 66.6%
11. Adrían López Díaz-Pavón - Groszor-Z - 66%
12. Mario Gómez Morcuende - Gorrión Peña Toro - 64.4%
13. Danae Lara de la Cámara - Sunny Hit - 64.2%
14. Rafael Alcócer Forteza - Durán V de Luxe - 63.8%
15. Luisa Quero Goodwin - Richmond - 62.4%
16. Josep Massan Toreño - Daylight - 62.2%
17. Ayala Guillermo García - Enorme - 62%
18. Cristina Figueroa Borbón - Souveran - s Parade - 61.8%
19. Ainhoa Oliver Uribe - Voltage - 61.2%
20. Cristina Ullarte Hernández - Vivenchy - 61%
21. Patricia Cumplido Gouhie - Candidato V - 59.8%
22. Teresa Jauquicoa Martinena - Nerium II - 59.4%
23. Tamar Zafra Raya - Seni-Carlo - 57.4%
6 year olds - Round 2
1. Nuria Vila Pérez - Finja - 72%
2. Danae Lara De La Cámara - Sunny Hit - 71.2%
3. Sandra Martí Pérez - Chapeau Claque - 70.8%
4. Eva Pellat Masso - Dressur Divo - 69.4%
5. Jens Johan Naesgaard Rodríguez-Passolas - Robinho - 69.2%
6. Rafael Segui Sintes - Castillier - 68.6%
6. Guillermo García Ayala - Enorme - 68.6%
8. Mónica Moral Torrent - Pik Pavarotti - 67.4%
9. David Marín Garrido - Prime Time - 66.6%
9. Josep Massan Toreño - Daylight - 66.6%
11. Álvaro Osborne Díez - Deauville - 66.4%
11. Dimas Saiz De Los Rios - Edipo - 66.4%
13. Luisa Quero Goodwin - Richmond - 66%
14. Tamar Zafra Raya - Seni-Carlo - 65.2%
15. Patricia Cumplido Gouhie - Candidato V - 65%
16. Mario Gómez Morcuende - Gorrión Peña Toro - 63.8%
17. Rafael Alcocer Forteza - Duran V de Luxe - 62.6%
17. Adrián López Díaz-Pavón - Groszor-Z - 62.6%
19. Agustí Elias Lara - Mango Limeño - 62.4%
20. Cristina Ullate Hernández - Vivenchy - 61.2%
21. Teresa Jauquicoa Martinena - Nerium II - 61%
22. Ainhoa Oliver Uribe - Voltage - 60.2%
23. Cristina Figueroa Borbón - Souveran - s Parade - 58.6%
6-year olds - Finals
1. Nuria Vila Pérez - Finja - 77%
2. Eva Pellat Massó - Dressur Divo - 76.6%
3. Mónica Moral Torrent - Pik Pavarotti - 74.2%
4. Dimas Saiz De Los Rios - Edipo - 72.6%
5. Rafael Seguí Sintes - Castillier - 72.4%
6. Jens Johan Naesgaard Rodríguez-Passolas - Robinho - 71.1%
7. Diavid Marín Garrido - Prime Time - 70.8%
7. Sandra Martí Pérez - Chapeau Claque - 70.8%
9. Agustí Elías Lara - Mango Limeño - 70.4%
10. Josep Massan Torreño - Daylight - 68.8%
11. Danae Lara De La Cámara - Sunny Hit - 68.4%
12. Álvaro Osborne Díez - Deauville - 65.6%
13. Mario Gómez Morcuende - Gorrión Peña Toro - 65.2%
14. Luisa Quero Goodwin - Richmond - 65%
15. Guillermo García Ayala - Enorme - 63.2%
2008 Spanish Young Horse Championship - 6 year olds
1. Nurvia Vila Perez - Finja - 336.6
2. Eva Pellat Masso - Dressur Divo - 328.9
3. Monica Moral Torrent - Pik Pavarotti - 320.1
4. Jens Johan Naesgaard Rodríguez-Passolas - Robinho - 315.2
5. Rafael Segui Sintes - Castillier - 315.1
6. Sandra AMrtí Pérez - Chapeau Claque - 315
7. David Marin Garrido - Prime Time - 311.9
8. Dimas Saiz De Los Rios - Edipo - 311.4
9. Danae Lara De La Cámara - Sunny Hit - 307.8
10. Agusti Elías Lara - Mango Limeño - 301
11. Josep Massan Toreño - Daylight - 299.7
12. Álvaro Osborne Diez - Deauville - 298.4
13. Luis Quero Goodwin - Richmond - 391.4
14. Ayala Guillermo García - Enorme - 291.3
15. Mario Gomez Morcuende - Gorrión Peña Toro - 290.5
Score courtesy: Ecuestre Online
Related Links
FEI Young Horse Classes, Easy Prey for the Portuguese
Annual Iberian Horse Extravaganza at SICAB