Oldenburg Breeding News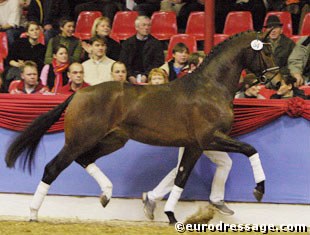 The Oldenburg breed society has made a revolutionary change in its stallion licensing process. The presentation in hand in the triangular ring has been replaced by a mandatory presentation on the lung line in front of the selection committee.
This year, the Oldenburg society will be licensing the young stallions on November 20-22, 2008 and it will apply the lunging routine for the first time at this licensing.
The licensing procedure now entails a presentation in hand on hard surface, followed by the lunging session. On the next day, the stallions will be shown in freedom and over some jumps. On the third day, the committee will announce which stallions are licensed, which not, which qualify for the premium ring and which stallion will be the champion of the licensing.
In Oldenburg, the non licensed stallion will no longer be auctioned at the scene, but will included in the Winter Mixed Sales on December 6, 2008. Only the licensed stallions will be auctioned on the final day.
Related Links
Sandro Hit x Donnerhall Offspring, Champion of the 2007 Oldenburg Stallion Licensing
Sandro Hit Euphoria At 2006 Oldenburg Stallion Licensing
Marketing Above Quality at the 2005 Oldenburg Stallion Licensing
Furst Heinrich Fledglings Fly High at 2004 Oldenburg Stallion Licensing
2003 Oldenburg Stallion Licensing