2008 Spanish Dressage Championships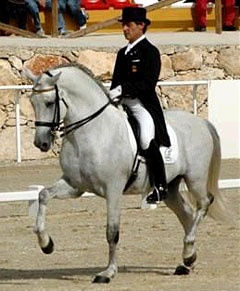 Juan Manuel Muñoz Díaz and his Andalusian bred Fuego XII became the Grand Prix Champions at the 2008 Spanish Dressage Championships held at the Yeguada La Beata in Jaén, Spain, October 10 - 12, 2008. Muñoz Díaz was unbeatable in all three qualification rounds and took the national title with a score average of 70,799%. Claudio Castilla Ruiz got the silver, José María Sánchez Cobos bronze.
Spanish Olympic team rider Juan Manuel Muñoz Díaz has been the Spanish shooting star of the year scoring all over Europe round 69% and beating many high profile German, Dutch and other European riders. At the 2008 Spanish Dressage Championships he almost had a free ride to the title. On Miguel Ángel Cárdenas's Fuego XII (by Utrerano VII x Elegido), Muñoz Díaz scored 70,958 in the Grand Prix, 66,64% in the Special and 74,8 % in the Kur to Music. Munoz Diaz and Fuego were initially trained by George Prause, who lives in Alhaurín El Grande, but are now coached by the Spanish team trainer Jan Bemelmans.
The silver medal went to Claudio Castilla Ruiz on Jade de Mv, a 9-year old Lusitano stallion by Musico out of Bandolera II. They were third in the Grand Prix with 63,833% but moved into second place in the Special and Kur. Their total average was 67,031 %. José María Sánchez Cobos and the 10-year old Andalusian stallion Fogonero (by Judio III out of Fogonera II) got bronze for their average of 64,683%
Absentees at the 2008 Championships were Olympic team rider Jordi Domingo on Prestige (by Ferro) and last year's champion Juan Matute on Wie Atlantico (by Wie Weltmeyer).
Results
Small Tour - Round 1 - Prix St Georges
1. Carlos Torrell - Upido C-TL - 69,4
2. Carmen Naesgaard - Ciowa - 68,75
3. Jose Daniel Martin Dockx - Amazing Grace - 67,7
4. Antonio Jose Diaz Porras - Duke - 66,15
5. Carlos Torrell - Thompson - 65,95
6. María Del Carmen Montes - Montoro Sultao - 65,25
7. Elena Garcia Castillo - Donnerhall Pur - 64,7
8. Antonio Abab Blanco Prieto - Señorio Jem - 63,3
9. Angela Boekel - Jamaica - 62,35
10. María Del Carmen Montes - Montoro Estudiante XXXIII - 61,35
11. Manuel Alejandro Bernal Soto - Delfinium Larios - 61,5
12. Carmen Elena Gutierrez Cruz - Légolas - 60,9
13. Carolina Serna Alvaro - Walentin - 59,95
14. José Carlos Castillo Muñoz - Rmr Dinarius - 58,85
Small Tour - Round 2 - Intermediaire I
1. Carmen Naesgaard - Ciowa - 70,75
2. Carlos Torrell - Upido C-TL - 70,35
3. Carlos Torrell - Thompson - 67,1
4. Jose Daniel Martin Dockx - Amazing Grace - 66,1
5. Antonio Jose Diaz Porras - Duke - 65,85
6. Antonio Abad Blanco Prieto - Señorio-Jem - 65,75
7. María Del Carmen Montes - Montoro Sultao - 65,15
8. José Carlos Castillo Muñoz - Rmr Dinarius - 63,7
9. Angela Boekel - Jamaica - 62,95
10. Manuel Alejandro Bernal Soto - Delfinium Larios - 61,65
11. Carmen Elena Gutierrez Cruz - Légolas - 61,4
12. Elena Garcia Castillo - Donnerhall Pur - 60,85
13. María Del Carmen Montes - Montoro Estudiante XXXIII - 60,7
14. Carolina Serna Alvaro - Walentin - 60,25
Small Tour - Round 3 - Inter I Kur to Music
1. Carmen Naesgaard Rodríguez-Passolas - Ciowa - 75,3
2. Carlos Torrell Jané Upido C-TL - 73,5
3. Antonio Jose Diaz Porras - Duke - 70,45
4. José Carlos Castillo Muñoz - Rmr Dinarius - 68,05
5. Jose Daniel Martin Dockx - Amazing Grace- 67,9
6. Angela Boekel - Jamaica - 67,75
7. María Del Carmen Montes - Montoro Sultao - 67,25
8. Antonio Abad Blanco Prieto- Señorio-Jem - 66,35
9. Elena Garcia Castillo - Donnerhall Pur - 65,05
10. Manuel Alejandro Bernal Soto - Delfinium Larios - 64,25
11. Carmen Elena Gutierrez Cruz - Légolas - 58,55
12. Carolina Serna Alvaro - Walentin - 53,95
2008 Spanish Small Tour Championship
1. Carmen Naesgaard Rodríguez-Passolas - Ciowa - 71,6
2. Carlos Torrell Jané - Upido C-TL - 71,083
3. Antonio Jose Diaz Porras - Duke - 67,483
4. Jose Daniel Martin Dockx - Amazing Grace - 67,233
5. María Del Carmen Montes - Montoro Sultao - 65,883
6. Antonio Abad Blanco Prieto - Señorio-Jem - 65,133
7. Angela Boekel - Jamaica - 64,15
8. Elena Garcia Castillo - Donnerhall Pur - 63,533
José Carlos Castillo Muñoz - Rmr Dinarius - 63,533
10. Manuel Alejandro Bernal Soto - Delfinium Larios - 62,383
11. Carmen Elena Gutierrez Cruz - Légolas - 60,283
12. Carolina Serna Alvaro - Walentin - 58,05
Big Tour - Round 1 Grand Prix
1. Juan Manuel Muñoz Díaz - Fuego XII - 70,958
2. Beatriz Ferrer-Salat - Peter Pan - 64,083
3. Claudio Castilla Ruiz - Jade De Mv - 63,833
4. José María Sánchez Cobos - Fogonero - 62,25
5. Borja Carrascosa Martinez - Remigius - 62
6. Brian Felipe Martí Hornung - Wellington - 58,75
7. Fidel Diaz Amor - Fandanguero IX - 58,667
Big Tour - Round 2 - Grand Prix Special
1. Juan Manuel Muñoz Díaz - Fuego XII - 66,64
2. Claudio Castilla Ruiz - Jade De Mv - 65,96
3. José María Sánchez Cobos - Fogonero - 64,4
4. Borja Carrascosa Martinez - Remigius - 63,2
5. Beatriz Ferrer-Salat - Peter Pan - 62,88
6. Fidel Diaz Amor - Fandanguero IX - 58,56
7. Brian Felipe Martí Hornung - Wellington - 58,2
Big Tour - Round 3 - Grand Prix Kur to Music
1. Juan Manuel Muñoz Díaz - Fuego XII - 74,8
2. Claudio Castilla Ruiz - Jade De Mv - 71,3
3. José María Sánchez Cobos - Fogonero - 67,4
4. Borja Carrascosa Martinez - Remigius - 66,1
5. Beatriz Ferrer-Salat - Peter Pan - 65,8
6. Brian Felipe Martí Hornung - Wellington - 62,95
2008 Spanish Grand Prix Championship
1. Juan Manuel Muñoz Díaz - Fuego XII - 70,799
2. Claudio Castilla Ruiz - Jade De Mv - 67,031
3. José María Sánchez Cobos - Fogonero - 64,683
4. Beatriz Ferrer-Salat - Peter Pan - 64,254
5. Borja Carrascosa Martinez - Remigius - 63,767
6. Brian Felipe Martí Hornung - Wellington - 59,967
Related Links
Alvarez, Reija and Naesgaard Win 2008 Spanish Dressage Championships
Juan Matute, 2007 Spanish Dressage Champion
Rafael Ortiz, 2006 Spanish Dressage Champion
Jimenez Wins 2005 Spanish Dressage Championships in Home Town 
Ferrer-Salat, 2001 Spanish Dressage Champion