Westfalian Auctions in Münster-Handorf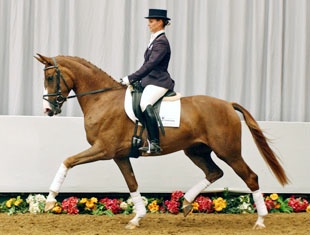 The chestnut mare Schickeria (by Sir Donnerhall x Weltmeyer) became the price highlight of the 2008 Munster October Elite Auction held October 5, 2008, in Munster-Handorf, Germany.
Renowned auction shopper, Austrian Sissy Max-Theurer, paid 355,000 euro for the mare which is bred and presented at auction by Anja Mohrahrend from Bersenbruck, Germany.
"We really fell for her phenomenal rideability and her three very good basic gaits," Victoria Max-Theurer said. "Schickeria will go in training with Helen Langehanenberg as we prefer to give our horses the time to slowly mature and believe fully in the work of Helen and her husband Sebastian."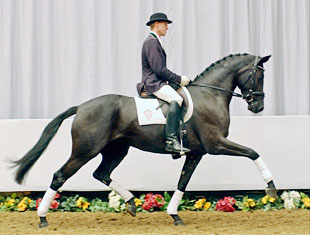 The second most expensive horse of the auction was the 3-year old black mare Real Love (by Real Diamond x Davignon). She was the third placed mare at the 2008 Westfalian Elite Mare Show and sold to a customer from Schleswig-Holstein.
Mares were ruling the Munster Elite Auction. The chestnut mare Belinja (by Belissimo M x Davignon I) sold for 125,000 euro to a Hamburg based dressage fan. Belinja is bred in Switzerland by Josefine Caliezi and presented at auction by Dr. Raymond Caliezi.
The 3-year old mare Extraordinary (by Ehrentusch x Davignon I) sold for 85,000 euro to Dietrich Walther, the president of the Business School BiTs in Iserlohn, Germany.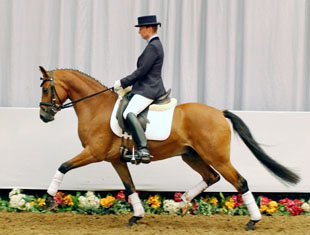 Five ponies were auctioned and the top priced one was Nagano's Son, a bay gelding by Nagano x Wortley Magic. Bred and owned by Werner Lülf, this pony sold for 41,000 euro. Sissy Max-Theurer's kept her pony passion burning by buying the chestnut pony mare Championess (by FS Champion de Luxe x Dornik B) for 32,000 euro. Last year she had bought pony Nice Blue Eyes, which became Bundeschampion this year.
58 Westfalian bred sport horses were sold at auction for an average price of 32,431 €