2008 CDI Flyinge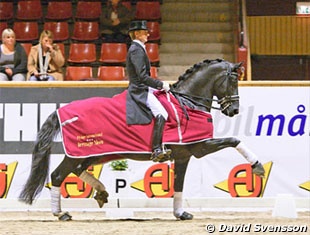 The 2008 CDI Flyinge was a big Dutch happening with four out of five CDI/FEI trophies won by either Edward Gal or his partner Hans Peter Minderhoud. In the small tour Edward Gal was unbeatable aboard Tosca Visser's KWPN bred Totilas (by Gribaldi).
Former young rider Julie de Deken finished second in the Prix St Georges with 69,100%. Riding her own Westfalian gelding Fazzino (by Florestan x Rivellino xx), De Deken is preparing her horse for Grand Prix with the help of her trainer Tineke Bartels.
In the Intermediaire I, Fazzino (who won the bronze medal at the World Young Horse Championships under Arnd Erben) was nervous and made a few mistakes. "I totally lost him," De Deken told the Dutch magazine De Hoefslag. "A big disappointment, especially because it all looked so good up to that point. I'm back with both feet on the ground." De Deken hopes to make the transition to Grand Prix in the future. "Fazzino is ready, I'm not," she said. "Fortunately there is no pressure so we'll only make the transition when we are both ready."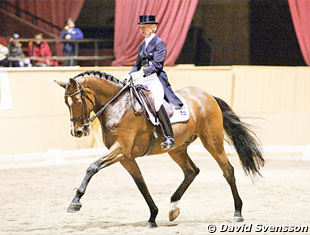 Louise Nathhorst on her small tour horse Leonardo, which she has been competing at that level since 2004. Leonardo is a 13-year old Lord Calypso x Calando gelding owned by the British Cecilia Blakey.
Sara Henrietta Bergstrom Kallstrom, the Swedish rider with the longest name (besides Princess Nathalie zu Saeyn) has made a more than successful transition to horses. A few years ago she competed her pony Stan internationally. On her search for a horse, she ended up in Jan Brink's stables and bought Garcia, on the condition that she was staying with Brink to train and ride.
Hans Peter Minderhoud and the KWPN licensed stallion Tango(Jazz x Contango) finished second in the Intermediaire I.
Edward Gal and the KWPN mare Sisther de Jeu (by Gribaldi) won the Grand Prix. Sisther is bred by the renowned Dutch breeder Huub van Helvoirt and owned by Emmy de Jeu.
In the Special the combination dropped to a second place because of some tension. "She was quite tense upon entering the ring," Gal said, "but we were prepared that Sisther would find everything a bit more exciting in the Special. Yesterday she got quite upset during the prize giving. Of course she has to learn to deal with award ceremonies, but yesterday it was all a bit too much."
The winners of the Special were Hans Peter Minderhoud and the Oldenburg Escapado (by Ex Libris). They scored 69,240%.
"We are really starting to tune into each other and I'm very happy that he showed himself so well," Hans Peter said. "Unfortunately, my pirouettes were not so good otherwise I would definitely have got a higher score."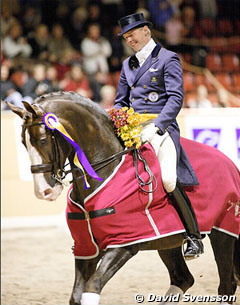 Danish dressage hero Andreas Helgstrand came to Flyinge to conduct a clinic on training young horses. Several horses appeared in the clinic and he himself presented Blue Hors Zack (by Rousseau) under saddle.
The show in Flyinge is very special for Jan Brink as his dressage career on Bjorsells Briar started there. The 2008 CDI Flyinge was also the last show in Flyinge where Briar would appear in competition. The 17-year old Swedish bred stallion will be retired after the 2009 World Cup Finals in Las Vegas.
All photos copyrighted David Svensson/Grazyna Kosno - MXM 2008
No Reproduction Allowed without Permission/Payment
Related Link
Scores 2008 CDI Flyinge