2008 Belgian Dressage Championships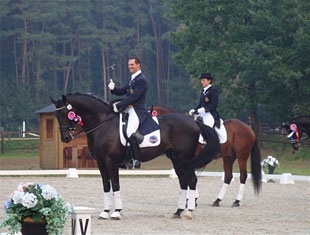 Stefan van Ingelgem won the Grand Prix title at the 2008 Belgian Dressage Championships held in Herentals, Belgium, September 26-28, 2008. Aboard the Belgian warmblood stallion Withney van 't Waaihof (by Ferro), Van Ingelgem won all three rounds and led with a 10% point difference to silver medallist Francoise Hologne Joux on her 18-year old Czech warmblood Born.
Jeroen Devroe finished in bronze medal position with his young Grand Prix horse Apollo van het Vijverhof.
Van Ingelgem scored a total of 215,242%, while Hologne-Joux totalled 204,665% and Devroe 201,408%. Devroe was not able to present his first horse, Paganini as the Rhinelander gelding is still recovering from an injury. Two Friesians landed fourth and fift place. Adel under Peter Spahn was fourth and Rintje V under Hans Meganck finished fifth.
"This is the apex of a successful season," Van Ingelgem said. "Withney gave me a super feeling. He was hot but under control. It was our freshest freestyle of the season. In Aachen, I had scored 73% and now I was hoping for a little bit more. We got 74,75% for the kur and won the Belgian Championships."
Van Ingelgem's black stallion Withney van 't Waaihof recently sold to a Belgian sponsor who initially wanted to stay anonymous. His identity has now been revealed and it concerns Bart van Malderen, son of the founder and ceo of Ontex, one of Belgium's biggest companies which produces hygiene products. Van Malderen's new partner Tereza is a horse fanatic and inspired Van Malderen to invest in an international Grand Prix horse. In the future, Withney will appear on the score sheets under his new show name "Withney van 't Genthof"
Photo courtesy: Van Ingelgem
Results
Round 1 - Grand Prix
1. Stefan van Ingelgem - Withney van 't Waaihof - 69,292
2. Francoise Hologne Joux - Born - 66,625
3. Jeroen Devroe - Apollo van het Vijverhof - 66,208
4. Marc Peter Spahn - Adel - 61,458
5. Hans Meganck - Rintje - 60,04
Round 2 - Grand Prix Special
1. Stefan van Ingelgem - Withney van 't Waaihof - 71,200
2. Francoise Hologne Joux - Born - 67,640
3. Jeroen Devroe - Apollo van het Vijverhof - 66,800
4. Marc Peter Spahn - Adel - 64,400
5. Hans Meganck - Rintje - 59,560
Round 3 - Grand Prix Kur to Music
1. Stefan van Ingelgem - Withney van 't Waaihof - 74,750
2. Francoise Hologne Joux - Born - 70,400
3. Marc Peter Spahn - Adel - 69,150
4. Jeroen Devroe - Apollo van het Vijverhof - 68,400
5. Hans Meganck - Rintje - 63,400
Related Links
Withney van 't Waaihof Sold
Van Olst, Mommen, Vandenberghe Win 2008 Belgian Youth Riders Championships
Belgian Equestrian Federation Sabotages Its Own Riders