2008 Paralympic Games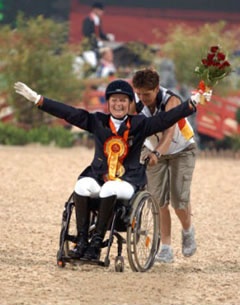 Hannelore Brenner and Women of the World won Gold for Germany on a score of 74.223% in the Grade III Individual Freestyle tests. Great Britain's Simon Laurens won silver on Ocean Diamond and Dalskov Lykke rounded out the medals for Denmark on Alfarvad April Z.
Germany's Hannelore Brenner picked up her second individual gold medal this evening which she can now add to the team silver despite her feisty ride Women of the World who was clearly in a mood "to explode" this evening. She took a moment to remark on the wonderful organisation and the dedicated volunteer staff.
In runner up position, and picking up his first individual medal, Simon Laurens, produced a wonderful test with Ocean Diamond with a score of 73.499. He was part if the morning session and as he joked he had to wait an agonising fourteen hours before Hannelore knocked him out of pole position.
In fact, all four members of the gold winning British team took part in tonight's events (Sophie Christiansen and Anne Dunham in Grade Ia, Lee Pearson in Grade Ib and Simon Laurens in Grade III) and all produced a gold or silver medal performance – a great statistic and for the team selectors confirmation of their award winning selection.   
Third place went to Denmark's Annika Lykke Dalskov, having already won silver during the Individual Championship Test riding Alfavard April Z, she was simply over the moon with this second medal. Her words, which actually seem to be the words on everyone's mind and lips "It's been amazing"…
Barbara Grassmyer was the first US rider in the ring with Mibis. Their test featured very good half-passes and flying changes that would make many advanced event horses jealous. To the music of Phil Collins, the pair cruised around the arena. They scored 63.389%, giving up some marks when their second shoulder-in was a little wobbly. 
"It was a lot of fun," said Grassmyer who has Aperts Syndrome. "It was a good score, I'm quite happy overall with how she went. She was very good. The music fits her the best."
Their score was good enough for 10th place at the end of the Freestyle.
Brenner has already claimed two silver medals at Athens and has won numerous gold and silver medals at the European and World Championships. As for Women of the World's strong character, she claimed to have the "ideal partner" and is looking forward to the Freestyle competition where the harmony between the horse and the rider is freely expressed. 
Bettina Eistel is also familiar to the Paralmypic podiums having won two silver medals and a bronze in Athens. Born without arms due to thalidomide damage, she controls the reins with both her mouth and her toes. She began riding at age seven and has amassed an impressive amount of medals since then. 
The medallists all commented on the wonderful atmosphere here at the Games, the great competition and quality of the other riders.
Brenner Brings Home Grade III Team Gold for Germany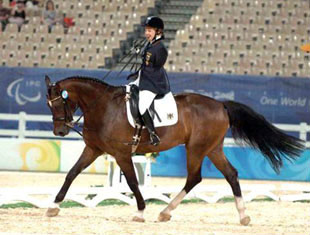 Medals in the Grade III Individual Championship test were hotly disputed and it was Germany's Hannelore Brenner riding Women of the World that emerged victorious over silver medallist Annika Lykke Dlaskov (NOR) and Alfavard April Z, with just .400 separating the top two. Third place went to another German rider, Bettina Eistel riding Fabuleux 5.
American Keith Newerla got his first chance to ride in the main arena today. Riding Walk on the Moon (who is owned by David O'Connor) as an individual, Newerla's score was not quite as good as he hoped for but Walk on the Moon was total class in the arena, which was proving very electric for many horses.
The 11-year-old Thoroughbred is a former event horse making his Paralympic debut. 
"I thought it was an accurate test, but he gets behind my leg" said Newerla who has Spastic Diplegia. "But I'm honored to have the opportunity to ride him, we've had a lot of fun together and it shows what type of horse he is. He is remarkable. Any rider would be lucky to have a horse to ride that is that special. He tried his heart out and did the best he could."
Newerla (who lives in King of Prussia, PA) didn't reckon in the medals in the Individual Test (his score was 58.571%) but he looks forward to both the Freestyle and to the 2010 Alltech FEI World Equestrian Games in Lexington, KY. 
"It would be great to compete in the US," said Newerla. "To be there, for the first time, with all the other disciplines, we can show what we can accomplish as riders. We are riders and it will help build awareness in the US."
Lynn Seidemann rode Rhett in the penultimate test of the evening of the 1b division. Her test featured improved trot work from the previous test and excellent halts. The Coppell, TX rider had some very good moments in her test with the 10-year-old Danish Warmblood. Their score of 63.905% left them sixth.
"It was good," she said. "I wanted to improve the trot work which we did so I'm happy with that. My score was what it should have been but my expectation was to do better. I am very much looking forward to my freestyle – that is my favorite part."
Seidemann is a paraplegic as a result of a skiing accident more than 20 years ago. Riding gives her back some of the freedom she used to have on her own two legs.
"I feel like I'm not disabled when I ride," she said. "I feel like I can play again."
Back to the 2008 Paralympic Index