2008 Paralympic Games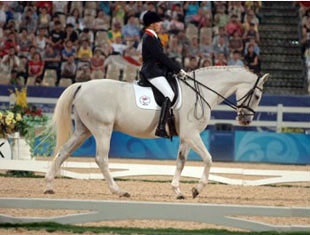 The Grade 1a Individual Freestyle was dominated by Great Britain, who flip flopped placings from the Individual Test. This time, Sophie Christiansen won her first Individual Gold on Lambrusco III (on a score of 76.056%) and Anne Dunham (who won Individual Gold in the first Individual Test) won Silver on Teddy with a score of 73.33%. The Bronze medal went to Singapore rider, Laurentina Tan.
"I'm so glad for Anne," said Christiansen. "She really deserves it. If it wasn't for her pushing me I wouldn't be at such a high standard." 
Sophie Christiansen earned her second gold medal of the Games with a wonderful performance on Lambrusco III in front of a packed out arena. She was positively beaming at the press conference and thanked all those that have made this possible as well as the wonderful Hong Kong hospitality. On winning the gold medal "Initially I just brust into tears crying, I couldn't believe it. The Team gold is great bit to come here for this, the Individual Freestyle gold medal… it's amazing. I've worked hard for it".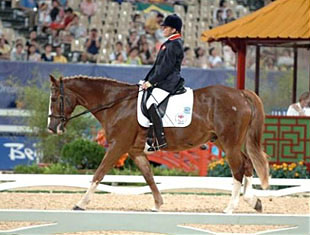 The four time Paralympian Anne Dunham added a silver medal to her gold collection taking the runner up position in tonight's freestyle competition. "It's the achievement of a lifetime and a dream come true, I will return home with a fond memory of Hong Kong, their amazing hospitality and enthusiasm".
A Singaporean crowd made itself heard this evening in the busy Sha Tin arena when their new star Laurentia Tan won her second bronze medal at these Games – the first equestrian medals for Singapore and Asia. "I've been inspired by everything I have seen here, thank you to everyone for all the support."  
Dunham Leads Great Britain to Grade 1A Team and Individual Test Gold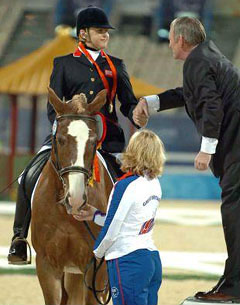 The Ia Individual Test Team Championship division was won in a close contest by Great Britain's Anne Dunham. Sixteen years and four Paralympic editions later, Dunham can finally claim the individual Olympic gold all to herself.
Her spectacular performance this evening confirmed a great partnership with Teddy, a nine year old, crowd-loving chestnut gelding. Dunham rode the adorable Teddy to a score of 73.100%.
In true form and in a bold bid to also help secure the team gold for Great Britain. Dunham had the highest score in the team portion of the competition. She just nipped teammate Sophie Chritiansen on Lambruso III, who won Silver.
For bronze, Singapore's Laurentia Tan riding Nothing to Lose caused quite the sensation with a stunning performance, thus earning the first equestrian medal at the Paralympic Games not only for Singapore, but for the whole of Asia. Her outlook and words of encouragement to athletes prior to the Games provide a little insight into how one achieves the ultimate dream: "Reach for the stars and go for your dreams…! Show your talent, try and participate in as many events as possible, you never know." This personal mantra has clearly served this determined rider well!
Back to the 2008 Paralympic Index