2008 Paralympic Games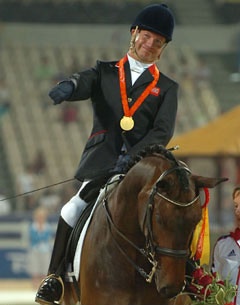 A collective sigh could be felt in the Sha Tin venue as the final day of competition at the 2008 Paralympic Games got underway this morning. For everyone who has put so much time, money and work into the last six weeks – all that remained was 15 hours. The British made the best of those hours, winning 10 medals.
Lea Pearson, the 'Golden Boy' proved that he was all he is made out to be, an extremely talented athlete and horseman – who in three Games on three different horses has won gold at every opportunity. He effectively secured his ninth Paralympic medal, and his third at these Games. He also added to the British medal count one extra gold, thus ending on a total count of five gold and five silver for Great Britain, the deservedly-so leaders in the sport.
On his life, future and 2012, Lee Pearson had this to say: "I hope this will change my life and show that I am not a 'flash in the pan'. So bring on Paralympics 2012. I hope that my success wil inspire other people."
Runner up position was taken by fellow team mate Ricky Balshaw riding Deacons Giorgi. He expressed his absolute delight at having won silver, and even though he would have liked the gold, he heartily congratulated his fellow teammate for raising the bar to such a high standard.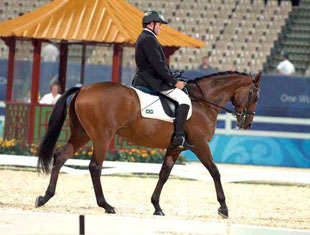 Third place went to Brazilian sensation Marcos Alves, who adds this bronze to the bronze he won a few days ago during the Individual Championships test. It's a historic result for Brazil and will certainly provide a backdrop for greater development and support of Para-equestrian in that part of the world.
"It's a team effort getting here let alone getting a gold medal, and it's thanks to all those people behind the scenes, helping us on a day to day basis, the trainers, the coaches, grooms, the sponsors, the physios, our family – basically a large team of dedicated people that enable us to compete at this level, and sometimes bring home medals – thank you". Lee Pearson
Two Grade Ib members wrote the last chapter for the US Team. The first rider was Keith Newerla and David O'Connor's Walk on the Moon. The 11-year-old Thoroughbred gelding (one of only a handful in the competition) put in an improved effort from the Individual Test, and Newerla (from King of Prussia, PA) crafted an accurate effort to the music from Inspector Gadget and Mission Impossible. It suited Walk on the Moon perfectly. 

"This is his first international Para competition," said Newerla about the former event horse. "He's done an admirable job. To deal with the stands, the heat, the atmosphere the way he did shows what kind of horse he is. He showed his heart with how much he tried. You can't be upset with a score when a horse does the best he can." 

Newerla's score of 60.500% was, to him, reflective of the entire week for the team. 

"In all honesty, from, a team perspective we were a little disappointed," he said. "We know we can ride better than we did. We didn't reach our own expectations."

Lynn Seidemann was the final rider to represent the US at these Paralympic Games. Riding Rhett, a 10-year-old KWPN gelding owned by Kathryn Groves. Performing to Disney music, Seidemann utilized all of her skills to coax a good performance out of Rhett, whom she has only been riding for two months. Seidemann's freestyle was choreographed to Disney music – the test featured very consistent trot work but lost points in the walk. 

"It wasn't what I expected," said Seidemann who is a paraplegic as a result of a skiing accident. They scored 64.221% and ended up ninth. "I wish I could have done better at my walk work and then I would have scored very high. But we've only been together for two months so I still think we did really well."

The Coppell, TX mother of two won a Silver medal in Wheelchair doubles tennis at the 1992 Paralympic Games in Barcelona. She also won Individual Silver in the Freestyle at the 2004 Olympic Games in Athens. Seidemann rode in her third and what she anticipates to be her last Paralympic Games. 

"I think I will do handcycling locally," said Seidemann of her next athletic endeavor. "But this has been a great Games – it is top of the line."
Pearson Secures Grade 1B Team and Individual Test Gold for Great Britain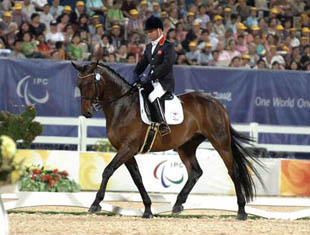 The British ran off with their third consecutive Team Gold medal on a score of 439.608, led by 1b individual Test winner, Lee Pearson. Pearson rode Gentleman to his eighth consecutive gold on a score of 73.236%. Germany won Silver and Norway won Bronze. The US finished 10th.
The pressure was on, he knew the expectations were high and… he delivered, oh so magnificently. Yes Lee Pearson, six time gold medallist at Paralympic Games, riding the young yet effervescent Gentlemen added not only a seventh, but also an eighth Paralympic gold medal to his name, as he not only won the Individual Championship for Grade Ib but was also part of the star studded cast which successfully maintained team gold on firm British soil.

"Its crazy to have 100% success rate at the Paralympics," said Pearson. "For an inexperienced horse, I couldn't ask for more."
Individual Test Silver went to Norway's Jens Dokkan riding Lacour and given his performance so far at these Games, and his clear determination, he could prove a fierce contender for the freestyle gold medal. Having already claimed silver at the FEI World Championships in Hartpury last year, and like any competitive sportsman, he will undoubtedly be looking to better that result. Jens also added some valuable points to Norway's total team score and thus was pivotal in helping Norway to the Team bronze medal. 

Third place went to Brazilian rider Marcos Alves, a former professional Jumping rider who returned to equestrian sports following an accident in 1986. He expressed his gratitude to the Brazilian National Paralympic Committee and National Federation for providing the funding and the support which has been instrumental in sending the first ever Brazilian team to the equestrian events of the Paralympic Games. And it has clearly paid off, as this is the first medal for Brazil and South America at the equestrian events of the Paralympic Games.

About 'flash in the pan' – Lee Pearson's most appropriate comment as he successfully earned gold this evening: There's reason to believe that this phrase derives from the Californian Gold Rush of the mid 19th century. Prospectors who panned for gold supposedly became excited when they saw something glint in the pan, only to have their hopes dashed when it proved not to be gold but a mere 'flash in the pan'. Conversely, 'it didn't pan out' refers to the opposite, thought there might be something, but it was just a glimmer of hope… 
Back to the 2008 Paralympic Index