2008 Pavo Cup Finals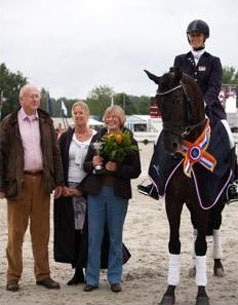 The 2008 Pavo Cup Finals have been won by the 4-year old Zuidenwind and the 5-year old Wynton. The finals were very exciting with a completely new field of top ranked horses in the 4-year old division compared to the semi-finals. In the 5-year old division, Wynton won the neck-to-neck race from Westpoint.
The licensed stallion Zuidenwind (by OO Seven x Jazz) scored the highest with guest judge riders Laurens van Lieren and Emile Faurie. Zuidenwind ranked third in the semi-finals but captured the top place and champion's title in the finals with a 9.5 rideability score from Laurens van Lieren. Zuidenwind is bred by the renowned KWPN breeder Huub van Helvoirt, who also received congratulations the same day for breeding this year's 3-year old KWPN Champion Mare Andy (by Jazz x Ulft x Amor). Van Helvoirt is also the breeder of keur stallion Jazz and his approved son Tango. Zuidenwind was presented at the show by John Tijssen and is owned by Mr. De Koning, who credit his daughter Annemiek for daily coaching John on the horse. Reserve champion in the 4-year old class became Zambuka (by Scandic x Biotop) under Jennifer Sekreve. Miranda Rongen, the rider who became 2007 World Young Horse Champion with Deveraux OLD, now finished third with the KWPN bred Zico (by Riant x Ferro).
In the 5-year old division, it was a battle of the bulge between KWPN stallions Wynton (by Jazz x Matador II) and Westpoint (by Jazz x Michelangelo). While Westpoint led in the semi finals, it was Wynton who took the 2008 Pavo Cup Title with only a 0.5 point advantage. Both guest judge riders absolutely loved Wynston and Westpoint and gave both horses the same rideability score, but Witte-Vrees scored 174,5 in the finals' round while Scholtens received 174 from the judging committee landing her in reserve champion's position. The third place went to American Katie Robicheaux on the grey gelding Williams (by Paddox x Michelangelo). She scored 163 in the finals' round and Williams received 175 points from the guest judge rider.
Source: KWPN
Results
4-year old finals test - part I (top 10 only)
Rider - Horse - Points Semi-Finals - Points Finals round 1 - total
1. Jennifer Sekreve - Zambuka - 82 - 87 -- 169
2. Isabelle van Zaanen - Zizi Top - 82,5 - 85 -- 167,5
3. John Tijssen - Zuidenwind - 82 - 84 -- 166
4. Annerein Kerbert - Zolena - 82,5 - 83 -- 165,5
5. Miranda Rongen - Zico - 80 - 83 -- 163
6. Gerjanne van Os - Zoriana - 82,5 - 80 -- 162,5
7. Magreet Prosman - So What - 80,5 - 82 -- 162,5
8. Gerdine Maree - Ziesto - 80 - 81 -- 161
9. Jose van Haaren - Zaragoza - 82 - 79 -- 161
10. Marjolein Gevaert - Akkerlans Zelly - 76,5 - 83 -- 159,5
4-year old Finals Test - Part II (guest judge riders)
Rider - Horse - Total points after finals - guest judge score - total
1. John Tijssen - Zuidenwind - 166 - 180 -- 346
2. Jennifer Sekreve - Zambuka - 169 - 175 -- 344
3. Miranda Rongen - Zico - 163 - 180 -- 343
4. Isabelle van Zaanen - Zizi Top - 167,5 - 175 -- 342,5
5. Annerein Kerbert - Zolena - 165,5 - 170 -- 335,5
6. Magreet Prosman - So What - 162,5 - 165 -- 332,5
7. Gerjanne van Os - Zoriana - 162,5 - 155 -- 317,5
5-year old Finals Test - Part I (top 10 only)
Rider - Horse - Points Semi-Finals - Points Finals round 1 - total
1. Madeleine Witte Vrees - Wyntoin - 86,5 - 88 -- 174,5
2. Emmelie Scholtens - Westpoint - 87 - 87 -- 174
3. Jennifer Sekreve - Witschge - 82 - 84 -- 166
4. Leonie Bos - Warola - 82 - 82 -- 164
5. Katie Robicheaux - Williams - 82 - 81 -- 163
6. Emmelie Scholtens - Westenwind - 78 - 83 -- 161
7. Theo Hanzon - Welt All - 80- 81 -- 161
8. Bart Veeze - Winoa - 79,5 - 81 -- 160,5
9. Emmelie Scholtens - Wendolyn - 79 - 79 -- 158
10. Florentine Rootveld - Winea - 79 - 79 -- 158
5-year old Finals Test - Part II (guest judge riders)
Rider - Horse - Total points after finals - guest judge score - total
1. Madeleine Witte Vrees - Wyntoin - 174,5 - 195 -- 369,5
2 Emmelie Scholtens - Westpoint - 174 - 195 -- 369
3 Katie Robicheaux - Williams - 163 - 175 -- 338
4 Leonie Bos - Warola - 164 - 170 -- 334
5 Emmelie Scholtens - Westenwind - 161 - 170 -- 331
5 Theo Hanzon - Welt All - 161 - 170 -- 331
5 Jennifer Sekreve - Witschge - 166 - 165 -- 331
Related Links
Zoriana, Zolena, Zizi Top and Westpoint In the Lead in 2008 Pavo Cup Finals
Westpoint and Vivaldi Win 2007 Pavo Cup Finals
Santano and Ucelli T Win 2006 Pavo Cup Finals
Uptown and Dreamcatcher Win 2005 Pavo Cup Finals
Florencio and Sandreo Win the 2004 Pavo Cup Finals 
Special D and Robin Hood, 2003 Pavo Cup Winners
Rubels and Paster, 2001 Pavo Cup Champions
Natcho and Osmium Wins 2000 Pavo Cup Finals
Broere Stallions Dominate 1999 Pavo Cup Finals
Lucky Times and Mariena Win 1998 Pavo Cup Finals