2008 Pavo Cup Finals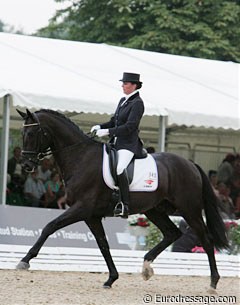 The 5-year old Westpoint and three four-year olds tied for first place in the Pavo Cup Semi Finals held at the KWPN headquarters in Ermelo, The Netherlands, on August 21, 2008. Zoriana, Zolena and Zizi Top all achieved the same score which puts them in the lead in the four-year old division. Westpoint beat Wynton by a fraction of a point in the 5-year old class.
Two mares, Zoriana and Zolena, and one licensed stallion, Zizi Top, scored the same amount of points. Gerjanne van Os and Zoriana (by Jazz x Juventus), Annerein Kerbert on Zolena (by Sir Sinclair x Cabochon) and Isabelle van Zaanen on Zizi Top (by Tango x Ferro) all scored 82,5 points.
Wim Ernes, head of the judges committe, commented. "With such a big group of horses [84 were entered] it is hard to rank them one behind the other. But I have to say that we've seen a very good leading group of seven to eight horses who are all very different in type, but close in points. All those horses have qualities which make them stand out from the rest, but all have something that could be improved."
In the 5-year old division, it became a neck-to-neck race between the KWPN licensed stallions Westpoint and Wynton. Emmelie Scholtens and Westpoint (by Jazz x Michelangelo) pulled a winning move by scoring 87 points, 0.5 points ahead of Madeleine Witte-Vrees on Wynton (by Jazz x Matador II). Leonie Bos and the dark bay mare Warola (by Rousseau x Ubis - bred by the recently deceased Adriaan van de Goor) finished third with 82 points. Jennifer Sekreve and Witschge (by Ferro x Dutchboy) and American Katie Robicheaux on Williams (by Paddox x Michelangelo) tied in third place on 82 points.
The judging panel for the 5-year olds consisted of Cor Loeffen, Hanneke Gerritsen and Gert van den Hoorn. The latter commented: "KWPN stallions Westpoint and Wynton were of an outstanding class. They are two fantastic top horses who are equal in silhouette and movement. We saw a good amount of lovely horses today, both mares and stallions. Only a few times, we had to score below 68 points. In my opinion, this year's horses were much better in quality than last year. Especially their movement potential stood out and of course most horses were very well presented. Unfortunately, you still have riders who artificially pressure their horses. This causes a slow, lofty movements which the judges do not appreciate. A few horses were presented too short in the neck, which affects the movement and general image. But in general, I enjoyed the class very much."
Results 4-year old Semi Finals (top 25 only)
1. Gerjanne van Os - Zoriana - 82,5
1. Annerein Kerbert - Zolena - 82,5
1. Isabelle van Zaanen - Zizi Top - 82,5
4. Jose van Haaren - Zaragoza - 82
4. John Tijssen - Zuidenwind - 82
4. Jennifer Skereve - Zambuka - 82
7. Magreet Prosman - So What - 80,5
8. Hendrik Toft - Zuccherino - 80
8. Miranda Rongen - Zico - 80
8. Gerdine Meree - Ziesto - 80
11. Dominique Mohimont - Zephyr - 79,5
12. Hendrik Toft - Zucchero - 79
13. Madeleine Witte Vrees - Zaragoza - 78,5
14. Martine van Vliet - Zavier - 77,5
15. Marjolein GeVaert - Akkerlans Zelly - 76,5
15. Robin Beekink - Zaragossa - 76,5
15. Theo Hanzon - Zondagskind - 76,5
18. Lynne Maas - Zamora- 76
18. Roy van den Heuvel - Zorro - 76
20. Ine van Deurzen - Zanzibar - 75,5
20. Hendrik Toft - Don Jovi - 75,5
22. Arlette van Tilborg - Ziezo - 75
22. Annabel Rootveld - Zalzatime - 75
22. Gea Bouwstra - Zeno AKW - 75
22. Jose van Haaren - Zen - 75
Results 5-year old Semi Finals (top 25 only)
1. Emmelie Scholtens - Westpoint - 87
2. Madeleine Witte Vrees - Wynton - 86,5
3. Leonie Bos - Warola - 82
3. Jennifer Sekreve - Witschge - 82
3. Katie Robicheaux - Williams - 82
6. Ellen Bontje - Wench de Jeu - 80,5
7. Theo Hanzon - Welt All - 80
8. Bart Veeze - Winoa - 79,5
9. Florentine Rootveld - Winea - 79
9. Jenneke Overduin - Watch Out - 79
9. Emmelie Scholtens - Wendolyn - 79
12. Sarah van Fessem - Winona - 78,5
13. Emmelie Scholtens - Westenwind - 78
13. Anouk Hansen - Wesley - 78
15. Judith Ribbels - Walencia - 77,5
15. Patrick van der Meer - Karolus van Wittenstein - 77,5
15. Sune Hansen - Washington - 77,5
18. Christa Laarakkers - Wolly Ann - 77
18. Leonie Bos - Walkman - 77
18. Miranda Trip - Wiebe - 77
18. John Tijssen - Wonderboy - 77
22. Lotje Schoots - Soraya - 76,5
22. Sarah van Fessem - Westenwind - 76,5
22. Emmelie Scholtens - Winningmood - 76,5
25. Stephanie de Frel - Wurona - 75,5
25. Lennart Bos - TC Wanted - 75,5
Source: KWPN
Related Links
Westpoint and Vivaldi Win 2007 Pavo Cup Finals
Westpoint and Vivaldi Lead in 2007 Pavo Cup Finals
Santano and Ucelli T Win 2006 Pavo Cup Finals