2008 Olympic Games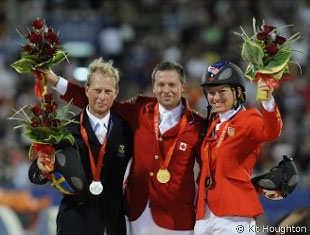 Canada's Eric Lamaze claimed individual Jumping gold on the final equestrian evening of the 2008 Olympic Games at Sha Tin stadium in Hong Kong tonight (Thursday), pipping Sweden's Rolf-Goran Bengtsson in a thrilling two-way jump-off against the clock. And on a night full of surprises it was American stalwart, Beezie Madden, who collected the bronze.
For Lamaze and Canada it was an extraordinary moment, the 40 year old from Schomberg, Ontario claiming the first-ever individual Jumping title for his country, previous best being Michel Vaillancourt who took silver in Montreal in 1976. And the man who has experienced some major highs and lows during his career wanted to lay some ghosts. "The past is the past," he said, "and if this doesn't make people forgive and forget then I don't know what will....."
FINAL CHALLENGE
For the final challenge Leopoldo Palacios and Steve Stephens were as inventive as ever but, with all riders now starting again on a zero score in this last test, ten of them found the key to the first-round track. The rainbow-coloured triple combination proved the undoing of many here including Germany's Ludger Beerbaum and All Inclusive who hit the second element and his sister-in-law Meredith Michaels-Beerbaum who steadied after the previous vertical but then couldn't quite find the distance to the combination which she hit at the front oxer. There were two sensational rounds from the Dutch - Angelique Hoorn and O'Brien and Marc Houtzager and the ebullient stallion Opium – putting a big smile on the face of their Chef d'Equipe Rob Ehrens whose temperament has been tested to the limit due to a series of unfortunate events in recent months. Fourth-last to go in this opening round were Belgium's Jos Lansink and Cumano who received a huge cheer as they joined the clear-round club and as they cantered toward the gate a group of Dutch supporters hoisted a flag reading "Jos Lansink, Made in Holland" - and the reigning World Champion, who originally rode for The Netherlands, raised his hand in recognition.
There were 22 back for the second round over a new course and this was colossal. Starting out over an oxer and straight on to a vertical, the third fence was a big double of oxers followed by a right-hand turn to a massive 1.60m wall. The pressure was further increased on the following line of 1.60m vertical to a triple combination with 1.52m oxers at the first two elements followed by a 1.60m vertical at the third. Then it was on to a liverpool oxer, a left-hand curve to a white triple bar with just four strides to a vertical with red planks on topm and the tenth and last question was asked at a big final oxer, 1.55m high with a 1.90m spread.
NO MERCY
All the first-round four-faulters were brought back for round two along with those who had jumped clear, and there was no compromise this time out. If you didn't have a big-jumping horse with plenty of heart left under you then this was always going to prove a bridge too far, but Ludger Beerbaum and Meredith Michaels-Beerbaum were in their element, All Inclusive putting in the first foot-perfect run while Shutterfly followed suit.
Superb riding from the defending Olympic champion, Rodrigo Pessoa from Brazil, coaxed Rufus around the track without incident while America's McLain Ward and Sapphire were also clean all the way but, fourth-last to go, Sweden's Rolf-Goran Bengtsson and the brilliant little Ninja were the first of those still carrying a zero score to leave all the fences intact. That really put the pressure on the remaining three and when Britain's new young star Ben Maher collected 20 faults to slip right down the order with Rolette it was up to Lansink and Lamaze to force a jump-off with the Swede. Lansink's stallion seemed to be fading however as he hit the back bar of the front element of the double at three and then lowered the top rail on the triple bar at eight, his long layoff due to injury probably beginning to take its toll.
Hickstead in contrast was still jumping like a buck, the Dutch stallion typically strong and forward all the way and popping the last to ensure a two-way run-off for gold.
BATTLE FOR BRONZE
Before that however the seven riders sharing four faults would battle it out for bronze, and pathfinder Ludger Beerbaum left the door ajar when hitting the penultimate oxer. Meredith and Shutterfly however left them all up to set the standard in 35.37 seconds. There were only seven jumping efforts this time out and when Pessoa stopped the clock clear in 37.04 seconds he was still in the game but McLain Ward looked like blowing them all away with a storming round from his great and courageous mare. The spectators cheered as he cheekily popped a decorative hedge before setting off on his tour of the track but this wasn't just for fun because Ward had a cunning plan. He had seen a time-saving short-cut from the oxer now at fence two to the following planks and was way up on time galloping to the last. All his ingenuity was in vain however when he completely missed his strike to the final wall to shatter his chances.
Angelique Hoorn hit the second element of double, now fourth on the track, but Beezie Madden just threw caution to the wind with Authentic. Taking exactly the same line as her fellow-countryman she skipped over the hedge to shave off precious fractions of time and when she raced to the finish line she was almost two seconds faster - the clock showing 35.25 as she broke the beam. Dutchman Marc Houtzager was last to take his turn and took the new hedge-line en route but hitting the second part of the double and the final wall he presented no threat. The bronze would go to the USA now for sure.
SO CLOSE
Bengtsson was first of the two now going for gold and took the longer route from the oxer to the vertical. Really pressing his brave little chestnut gelding he was seriously piling the pressure on Lamaze going to the last, but, too forward and too close, Ninja hit it hard behind and as Lamaze came into the ring he had a choice. He could go for a steady clear to clinch the golden prize or press for more speed in case he left a fence down - and he opted for the latter. Hickstead set off again with that sense of purpose that is his trademark and Lamaze was right on the button all the way although as it happened he registered exactly the same time as the Swede when crossing the line in 38.39. The gold would go to Canada while silver would be Swedish - and Bengtsson, always the gentleman, was gracious in defeat.  
"I had a very good feeling with my horse all week but in the second round today I was a bit worried when I came in because the water at the liverpool was leaking and what came back to me was that night in Athens when the gate fell down and then after it was put up again and I rode down to it again it fell down once more. I thought, "typical - this would happen to me!" he said good humouredly. His last round tonight was a great one but he said, "I knew Eric was coming behind me and he has a very fast horse so I have to try - but my horse got too strong on the last run and couldn't steady for the jump. I'm super-satisfied with Ninja, he is not so big but he is very brave and he never thinks about not jumping. If I steer him at something he always tries to jump it and clear it. In everything he is a very sweet horse and I really enjoy every minute of riding him - but we had a great winner today," he said, paying tribute to Lamaze's effort.
Lamaze talked about Hickstead. "He basically is a really, really careful horse - I have all the confidence in the world in him" he explained. Talking about some troubled times earlier in his career he said "you can't come back in a sport if you don't have the support of your friends, your family and people who wanted it for me - they made it impossible for me not to try". He talked about Hickstead's colic surgery which kept him out of action for four months "but he is a light horse and it was easy for him to get back into his work. In Florida early this year he was still a bit bothered but now he is feeling really good," he said of the horse who has jumped like a cat for the last week.
Madden explained that both Ninja and her horse Authentic are both by the same stallion, Guidam, "and all three horses of the riders on the podium were Dutch-breds, all three quite small but light and full of energy," she pointed out.
FEI President, Princess Haya, said that these Games have been a wonderful platform for equestrian sport - "and the people of China and Hong Kong have been so welcoming," she added. And she singled out course-designer Leopoldo Palacios for special mention "thank you for the amazing courses you build that allow so many people to shine" she concluded.
Tonight Canada's Eric Lamaze was shining brightest of all. 
Photo courtesy: Kit Houghton
Back to the 2008 Olympic Index