2008 Olympic Games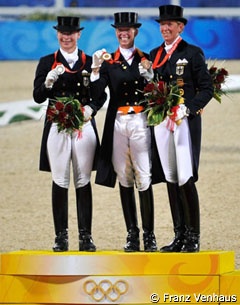 Anky van Grunsven became the 2008 Olympic Dressage champion today at the conclusion of the dressage Olympics at the Sha Tin equestrian center in Hong Kong on August 19, 2008. By winning the Grand Prix Kur to Music with 82.400%, Anky achieved the highest total points combined with her Special score.
This resulted in the Olympic gold medal, the third consecutive one in her career. Isabell Werth landed in silver medal position after another refusal by Satchmo to piaffe in her kur. The very consistently riding Heike Kemmer slotted in third to take home the individual bronze medal.
There was no question about it. Anky deserved and earned the title totally and no-one will contest it. As last rider to go, Anky was aware that Isabell Werth's test had not gone as hoped for and that the German's score stuck at 78.100%. The lesser performance of her competitive rival must have boosted her confidence upon entering the Olympic ring. Also, it probably has been more than five years ago since Anky last scored below 80% for a freestyle on Salinero. She was unsure if the bell had rung and asked her entourage at the sideline if she was good to go. On the uninspiring tunes of Wibi Soerjadi's piano composition, Anky and Salinero entered the ring in walk and halted. A beautiful piaffe followed which went over into a passage half pass with lots of suspension. Then an extended trot which showed far reaching front legs but hind legs too economical in their overtrack. Another gorgeous half pass and then canter strike off. Nice two tempi changes, that could have been more ground covering, a big double pirouette left that was well corrected by Anky into a smaller one.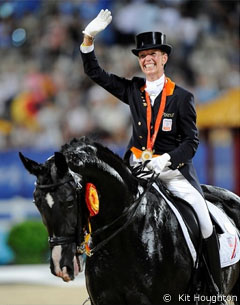 Some tension crept into the canter zig zag in which the flying changes were quite short, but the horse's tension was filtered out of its system in the walk segment. Good collected walk, good extended walk, maybe a bit too quick in tempo. Canter again. The first of the one tempi's was croup high, the rest were good. Brilliant double pirouette right, it couldn't be tinier than that. A smile appeared on Anky's face in the final piaffe-passage movement. The passage had fantastic elevation and suspension, the piaffe was rock solid in rhythm, the passage half passes in between made the whole come together. Nobody cared that the end halt was not there. There was plenty of room for such a small mistake. Anky did not release the reins to make an official salute with her right hand (no execution of the movement??), but just raised both hands in exaltation. Her ride was ridden conservatively: safe and correct.
The camera followed her outside the show ring where she dismounted and praised her horse. When they announced the score of 82.400% for the kur and an overall individual mark of 78.680 that earned her gold, she growled from relief and competitive dominance. Anky won her third consecutive Olympic title and made her one of the most successful Olympic Dutch athlete of all times. Unfortunately, her partner and trainer Sjef Janssen was not there to share the first realization of gold. Anky was asking her entourage, "where is Sjef?" and had to walk a while before finding her. She scolded at him, "Nice that you were standing there with me!" before accepting his congratulations.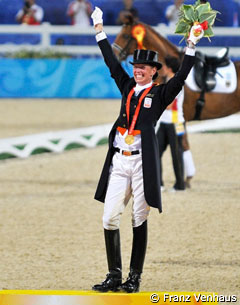 Anky felt much pressure to reclaim the gold. Never before was the competition so tight and initially Isabell Werth was the major favourite for the title after victory in the Grand Prix and Special, but Anky is known to succeed and she did with style.
It's unbelievable," Van Grunsven said about her gold medal. She confessed that the entire Olympic week she has never felt so nervous. She forced herself to stay calm and confidence, "but I remained incredibly nervous. This has never happened to me before," Anky admitted. "My entire body was stiffened by stress. Only when I heard during my warm up that Werth had made a mistake, I was able to calm down. It took the pressure away. I didn't take any risks during my ride. It was no longer necessary."
The 2008 Olympics were draining for Anky. "Never again," she said first, but quickly remarked that, "the gold medal does make up for things." Sjef Janssen added, "Of course the Games are not always fun for us. Apparently that's part of it, but one way or the other, they always end well. And Salinero can still go for years." Janssen referred to some serious behind the scenes bickering. "We've had a lot of fights behind the scenes with the technical people. What has been discussed I'm not going to answer. There is too much chaos in my head."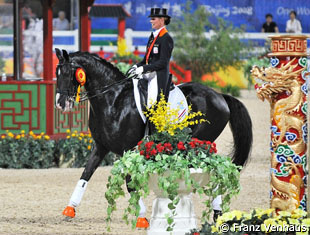 Van Grunsven participated in her sixth Olympics. Her first was the 1988 Games in Seoul where she got no medals. In Barcelona and Atlanta she won team silver with Bonfire. In Sydney, she earned individual gold with Bonfire and aboard Salinero she captured individual gold in Athens and Hong Kong. She announced that her future plans include the 2009 European Championships and 2010 World Equestrian Games in Kentucky, USA, but had no real determination to go to the 2012 Olympics in London.
Anky did, however, leave the option open. As published on Horses of the Dutch, Anky said she would consider the 2012 Olympics if she had a good, new horse. "With another top horse I would consider it [going to London], but who's going to make sure that I have such an expensive horse at home?" Anky wondered. She told the assembled journalists that it was a difficult task to acquire Salinero. "I don't regret it for a minute, but such a mega-investment I'm never doing again. I have two children now, I rather invest in them." Sjef Janssen, on the other hand, quipped, "watch out, she'll have me do the phone calls."
[Editor's note: The Hanoverian gelding Salinero was purchased from American Tess Guilder of Coast Riders Ltd. She had bought the gelding in Germany for Canadian Ashley Holzer to ride. Ashley trained with Anky right after 2000, where the horse had caught the attention of Anky and Sjef. They acquired Salinero in 2001 and gave Guilders a trade-in horse (Bertolucci), which Guilder later returned as she wasn't happy with the horse. Trouble arose and VanGrunsen/Janssen got sued by Guilder, but it came to a settlement.]
Text by Astrid Appels/Eurodressage - Photos copyrighted: Franz Venhaus