2008 Olympic Games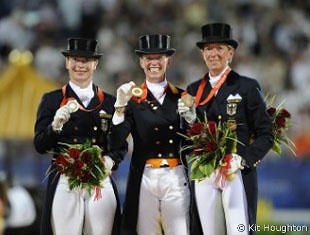 Anky Van Grunsven claimed her third consecutive individual gold medal at the equestrian stadium in Hong Kong tonight (Tuesday). Lying second, but only 0.24% behind Germany's Isabell Werth after Saturday's Grand Prix Special, the Dutch star came into her own in the Freestyle to Music (Kur) which in recent years she has made all her own.
And as Salinero danced his way to victory, Werth had to settle for silver with Satchmo while fellow team gold medallist, Heike Kemmer, claimed third with Bonaparte.
FRIENDSHIP
It was a night filled with emotion, and the tension was palpable as Sweden's Jan Brink and Briar laid down the standard with a lovely performance as the first five-strong group showed their paces. "I'm very happy with my horse," the rider said after recording a score of 73.450% which, when combined with his Grand Prix Special result, gave him an overall mark of 71.205%. "Briar is a stallion so he suits powerful music. He can feel the music and you try to make the music go according to the horse," he pointed out.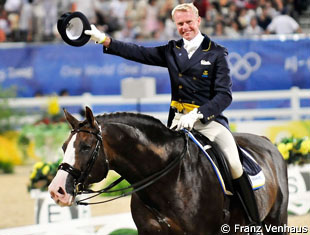 Brink was quickly overtaken by Emma Hindle as the second session got underway however, the British rider earning a mark of 74.250% to complete with a combined score of 72.345% with Lancet who showed great coordination and rhythm, particularly in passage, to the beat of the Bee Gees. And this was a colossal achievement for the 33-year old rider who revealed tonight that her Olympic appearance was little short of miraculous.
"Two weeks before I came here I had an operation for a tumour," she explained to the stunned assembled press. "I could only ride in walk when I arrived in Hong Kong and Lancet was brilliant - usually he's difficult when you are getting on and off him, but he seemed to know I wasn't well and he just stood there for me for a change." She only discovered the presence of two ovarian cysts during a team check-up and she had to undergo surgery right away. But with extraordinary support from the British team she still made her Olympic appearance - "I had lots of help with my horse - people kept saying 'we believe in you, you can do it' - but it took a huge effort from the team and a lot of physiotherapy and work in the gym to get me going again," Hindle pointed out. "Everyone was so positive and so kind, I'm really proud of my horse and proud of my friends.  When you are sick you find out who your real friends are, and many of my rivals turned into my best friends," she said.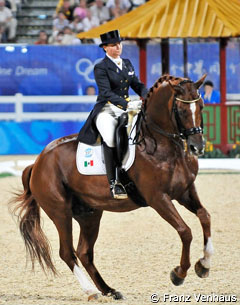 One of her greatest supporters was Princess Nathalie Zu Sayn-Wittgenstein who, last Saturday, helped Denmark to team bronze. "She rode Lancet every day, she lives four hours away from me and she's a really good friend," the rider pointed out, and one of Emma's other great supports was her Irish groom Niamh Meehan who stayed with her at the hospital and who was there when the rider was informed that she had been selected for the British team.
The Netherlands' Hans Peter Minderhoud was next to take up pole position with some lovely piaffe and passage from his 13-year old mare Nadine but, last into the second session, Mexico's Bernadette Pujals  and Vincent relegated the Dutch partnership with an energetic display that was bursting with expression but which faltered due to several mistakes. "I think it was my nerves," Pujals said afterwards, "the music was all over me and I was too hectic," but this is a partnership full of promise.
ENTERTAINING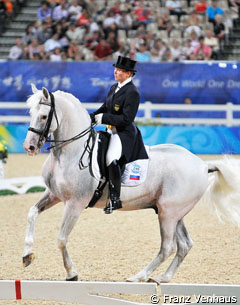 As the final session kicked off Russia's Alexandra Korelova and Balagur really entertained the packed arena who sang their way through her Broadway score as she rose to the top with her versatile grey, but she felt she could have done better. "Balagur is very clever," said the 31-year old from Nizniy Novgorod, a large town in central Russia that lies 400km from Moscow. "He doesn't want to be a police horse again, he knows that a Dressage life is better and more interesting and he likes to work to music and he likes to do it well," she explained. This was her second Olympic Games with the amazing 18-year old who has known more career-changes than most throughout his interesting life. From Orlov Trotter breeding stock, and by one of Russia's most famous trotter breeding sires, he showed little interest in racing himself and so ended up for a year in a Russian circus before being sold on to work as a police horse in Korelova's town where she spotted him. 
She took a video of him and sent it to German trainer George Theodorescu who said "buy him immediately!" and, although already 11-years of age, he was capable of Grand Prix Dressage work within five months of purchase. Another seven years later he has been to two Olympic Games.
HEAT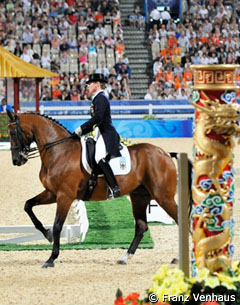 The heat was turned up when Isabell Werth entered the ring with Satchmo, the four-time Olympian making a wonderful entrance and producing fabulous passage to quickly rack up some big scores. But then the 14-year old gelding suddenly had a difficult moment when asked for his second piaffe in an almost perfect repetition of the moment he experienced in the Special last Saturday. Werth knew she might have trouble, long before she entered the arena. "I hadn't forgotten what happened the other day but if I wanted to win I had to take the risk," she explained. "My horse is outstanding and my feelings for him don't change because of the mistakes he made - I just have to work to get his confidence back again," she pointed out.
She still earned 78.100% for the perfection of many of the other movements which included brilliant flying changes and her combined total left her on 76.650% and well out in front. 
Team-mate Heike Kemmer and Bonaparte kept their rhythm to the sound of the Beach Boys "Good Vibrations" to score 75.950% which gave them an overall total of 74.555% and put them in second place and they remained there despite a special ride from America's Steffen Peters with the 10-year old stallion Ravel. Their ability to synchronise movement to music was exceptional, and the big horse, whose transitions were superb, seemed to feel the rhythm himself. However with a mark of 76.500% and a total of 74.150% he would have to settle for third spot as the reigning champion entered the ring.
BIG ENTRANCE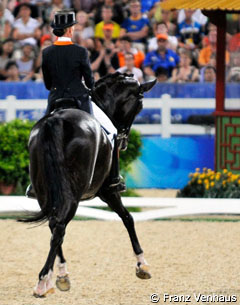 Anky Van Grunsven made a big entrance and went into action right away to the romantic sound of her "Dance of Devotion" theme, which was created by Wibi Soerjadi, picking up big marks from the outset. Salinero was responsive and keen but the Dutch rider didn't overdo it - she knew after Werth's uncomfortable moment that a good ride rather than a risky one would be enough to earn her third Olympic title, and so it did. Although she had to admit that her final halt didn't go quite as planned. "I really like to ride to music and after I heard Isabell's score I knew I needed to do a good test but without risks. It went well except for the last halt today - it just didn't happen but I thought 'let's forget about it, it doesn't matter!" she said afterwards scoring 82.400% which gave her the winning total of 78.680%.
"It was a horrible week for me here," she admitted, "I like Hong Kong and I like the people here but the pressure on me was huge," she added. "In Athens I had nothing to lose so I was more relaxed but this time I felt I have to have the gold medal to keep up the standard and in the Grand Prix Salinero was tense," she pointed out. "In the Special I tried more and then Isabell had her mistake but today I was more relaxed - I decided to do as good as I can and I tried to stay calm during the warm-up. I decided that if I didn't feel safe in the ring I wouldn't do the changes on a curve but here I am now - I have won a third gold medal and I am the most spoiled person in the world because I have had two wonderful, wonderful horses!" she said.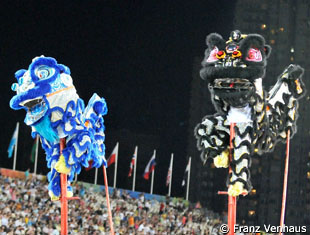 Bronze medallist Heike Kemmer was happy with her result. "My horse did a super job over the three tests and today he was very fluent, I had a good connection to his mouth, his noseline was correct and we were working together - I was very pleased" she said.
Silver medallist Isabell Werth said she had no clear explanation for what it is that makes Satchmo sometimes object to certain movements but she is determined to work through and to bring him back to his best. "We have been nearly too good for the last three years and it is a bit of a shame that this has happened at the Olympic Games, I was hoping it wouldn't happen here but we have team gold and it was very close between Anky and me - I really lost it in the Special," she explained. However now it's a case of putting it behind her and moving on - and the London Olympic Games in 2012 are another target. "I'm going to work towards that, it's a new challenge and I think I'm the youngest rider here so I can go!" she said with a laugh, looking at her two rivals on the podium.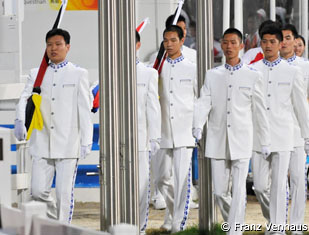 Will Anky be back in 2012? She doesn't really seem to think so. "I think there is maybe two more years left for Salinero and that will be it," she said tonight, "and all I want to do now is ask that Penfold Park can be opened up for me tomorrow so that I can give Salinero a nice hack out." As Olympic champion, the rider who has dominated her sport now for many years will, no doubt, find those gates wide open.
FEI Press release
The Eurodressage report is coming tomorrow. We'll discuss the rides and provide additional quotes from the riders
Photos copyrighted: Kit Houghton for FEI - Franz Venhaus
Back to the 2008 Olympic Index