2008 Olympic Games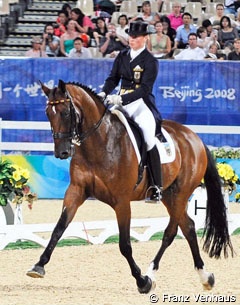 Germany's Isabell Werth took another step closer to claiming the individual Olympic dressage gold medal when winning the Grand Prix Special at the equestrian stadium at Sha Tin in Hong Kong tonight (Saturday August 16, 2008). But a moment of sheer drama during her test with Satchmo ensured that she holds only a slender lead over her great rival
, The Netherlands' Anky Van Grunsven, going into Tuesday night's medal-decider, the Kur, which now promises to be a thriller.
Van Grunsven has a two-point lead over Germany's Heike Kemmer in third, while America's Steffen Peters lies fourth and tonight saw great performances from Russia's Alexandra Korelova and Mexico's Bernadette Pujals who, lying fifth and sixth respectively, can be guaranteed to please the crowds as the final moments of this Olympic contest are played out.
DIFFICULT MOMENT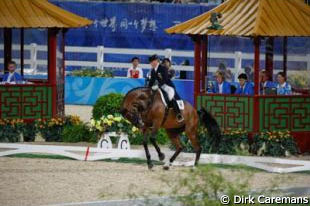 Werth held the lead going into tonight's top-25 competition but with the Dutch double-gold medallist snapping at her heels, and it all very nearly slipped from the German's grasp when her 14-year old gelding Satchmo, previously accumulating average scores in the 80's, suddenly panicked during piaffe and rushed backwards before his shocked rider managed to restore their equilibrium.
"He lost eight or nine percent there," the dismayed rider said afterwards, but she couldn't explain what had happened. "He started the piaffe really good, I had no feeling that he was not going to do it so I was really surprised, because I could see no reason for it to happen," she said. But she forgave him for the costly moment after which she took less risks and completed with a lower score than might have been expected. "He's a bit of a genius and so sometimes little things disturb him," she said, trying to make sense of it all and adding, "and we have to remember that these are animals, so anything can happen!".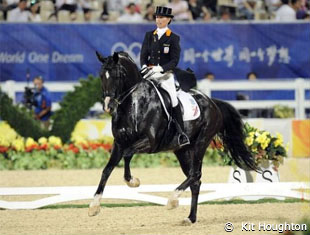 With the early movements executed to sensational effect, Werth looked like establishing a score in the 80's, but in the end she had to settle for 75.200% which still gave her the edge over Van Grunsven on 74.960%. With such a narrow margin between the two super-stars however there is no room for error now, and the Dutch rider knows that she should be right in her own comfort-zone with Salinero on Tuesday. Her test tonight was perhaps a little cautious, and a break into canter while attempting to execute the transition from collected trot to half-pass early in the test cost her valuable marks. "It was a stupid thing and it never happened in training," Van Grunsven said. "Maybe sometimes you want to go so well and maybe you are a bit on the edge but my horse is very fit and fresh and I was trying to go for the best test and that's a positive," she pointed out.
INSPIRED
Heike Kemmer, another member of the German gold medal winning team on Thursday night, produced an inspired test from the lovely Bonaparte to register 72.960% on the leaderboard. So soft in his rider's hands, the elegant, light-footed gelding floated through his movements and Kemmer was delighted with the result.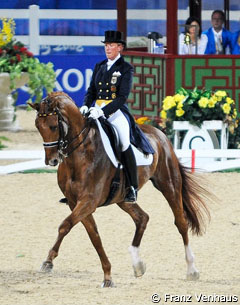 "To do his best he must not be put under any pressure and tonight he was really forward and responsive," the rider said. And there had been a team meeting between this special partnership earlier in the day. "We talked together in the stables about how we would do things - he speaks German you see so he understands me very well!" This horse and rider certainly seem to have a sense of each other's needs, and Kemmer explained that she has to ride him lightly so that he can express himself - "a lot of the test comes from inside him, from his mind as well as his body - you cannot achieve anything by putting pressure on him," she pointed out. Kemmer had a little drama of her own later in the evening when it was discovered that she may have over-run the time-allowed to start her test but, as the post-competition press conference was winding down, it was confirmed by President of the Ground Jury, Minako Furuoka, that a check had been made and that she had had started her ride just in time.
Opening the action today was Australia's Hayley Beresford who, long before she ever arrived in Hong Kong this summer, had already climbed a mountain of Olympic proportions. The 30-year old rider was diagnosed with breast cancer three years ago but, with typical toughness and determination, she hardly missed a day in the saddle throughout the intensive treatment that saw her win her battle back to good health. And having qualified in the top-25 through to tonight's competition she set the early standard when registering a score of 66.32 with her 11-year old stallion Relampago.
NO SUNRISE
For Imke Schellekens-Bartels, lying fifth individually with Sunrise, there was deep disappointment when the mare had to be withdrawn before tonight's competition.
"When I came out from the prize-giving on Thursday night I thought I could feel something strange in the way she was moving, but then she seemed to be OK again. She was excited in the ring with all the noise and everything but I can't say I remember anything happening in there so I was surprised. Yesterday we looked at her again and there was still a problem. It is in her front leg, she is uneven in her movement, but I'm hoping she will recover quickly," said the Dutch rider earlier today as she bravely held back the tears.
For Great Britain's Laura Bechtolsheimer tonight, unlike Thursday, was a night to remember although she felt she might have earned a better mark for the attractive test she produced with Mistral Hojris. Two nights ago, she fainted after coming out of the ring having become uncharacteristically confused during her test. "I warmed up in my top-hat and jacket and I think I just over-heated and I didn't know what I was doing when I was in the ring," Laura explained. Tonight she stayed much cooler, wearing cold bandages on her arms and only donning her top-hat and tails at the final moment. "My horse is naturally very extravagant and I thought he did a really nice test. I'm thrilled to come back into the ring and pull off a big performance - it was good for me and good for my horse too," she pointed out after earning a mark of 67.16.
Bechtolsheimer missed out on qualifying for the top-15 through to Tuesday's decider however and Emma Hindle will be the only Briton in the closing stages after slotting into ninth with Lancet tonight behind America's Courtney King and Mythilus in eighth and The Netherlands' Hans Peter Minderhoud and Nadine in seventh place.
FEARLESS
Mexico's Bernadette Pujals gave it everything she had with her handsome 16-year old stallion Vincent whose passage and piaffe were full of life, and the 40-year old Spanish-born rider asked for a fearless extended canter toward the end of her test. Her brave effort was rewarded with a mark of 71.000% and there was a poignant moment as she struggled with tears after leaving the ring because her mother died just 20 days ago. "It's difficult to say how I feel," she said quietly.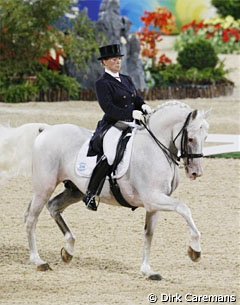 Meanwhile Alexandra Korelova and the charming former police-horse Balagur - whose legion of fans will be cheering them on in the closing stages - earned their place amongst the elite with a mark of 71.400% and so lie just behind Steffen Peters and Ravel, who scored 71.800% today. "I had more horse today than I had in the Grand Prix and I have plenty of horse left for the Freestyle," the American said confidently afterward. But tonight some riders found they did not have the horse they expected, and team gold medallist Nadine Capellman was one of those. She misses out on the final-15 after collecting a mark of 67.240% with Elvis - "Its the worst score I have ever had with him," she said. "I had problems with the contact and we had a lot of mistakes, it was a bad day for us, what can I say," she added.
Those left in the mix will be hoping for not just a good day, but a great day on Tuesday when the 2008 individual Olympic dressage champion will be crowned.
Photos copyrighted: Franz Venhaus - Kit Houghton/Dirk Caremans for the FEI
Back to the 2008 Olympic Index