2008 Olympic Games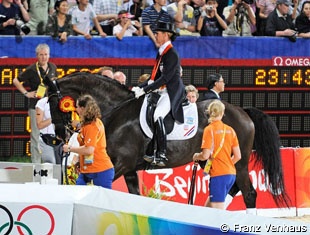 Anky van Grunsven on her Grand Prix and team silver:
"It wasn't my fault that we don't have gold."

At the press conference following the Grand Prix, Van Grunsven announced that the Hong Kong Games will be her last Olympics!
"This was my last chance to beat the Germans. In London, Salinero will be too old and I'm getting older too. Besides that I have children and absolutely no desire to continue as a professional rider till I'm 80."
But she left a window open
"Unless someone offers me a great horse, than there is the possibility. But otherwise, the 2010 World Equestrian Games are my last competition."
Dutch team trainer Sjef Janssen on Anky's ride:
"I didn't get goosebumps. I'm glad it was fault-free, but she rode the entire test with the handbrake on and technically she can do much better."
Isabell Werth on Germany's 12th team gold dressage medal:
"I'm happy. We had to face all prophecies of doom and won the gold medal!"
Heike Kemmer on the team gold:
"It was clear to us that the Dutch were breathing down our necks. But we have a team with a strong team spirit and we didn't want to stay behind on the [German] eventing riders [who won team gold too]."
Emma Hindle on placing fourth in the Grand Prix.
"Being part of this British team has made me so proud and I've had a wonderful month of getting to know people who I've never had the chance to. The Olympic experience has been amazing! I started my test today with the aim of getting a "clear round" to use a show jumping phrase - that was, to ride sensibly and safely for a good score and I'm very satisfied with the result. It was certainly one of my best in the four years I have ridden Lancet. He's very willing and the better I ride, the better he goes." said a delighted Emma.
Jane Gregory on her first Olympics with Lucky Star
"He [Lucky Star] made some little but expensive mistakes and then the judges start to look for it. I think some of it was me trying too hard to get the best test from him ever. We didn't have any big wobbles but the test was a little disappointing. Even at 16 years old this is the biggest thing he's ever done, it's been an amazing experience to be in Hong Kong."
Courtney King-Dye produced the highest score for the U.S. team
"I'm happy with that score," said King-Dye of her mark of 70.458%. "He can do more but he had a few down days when we first got here so there's more there. He did a clean test and I can ask for more if I make it to the Special. I think it was a stellar first test for the US." Mythilus was a little worn out from his trip halfway around the world but King-Dye said he feels back to normal and that it took him a few days to acclimate to the heat and humidity. "It took awhile for him to build back up," said King-Dye. "Now I can ask for more."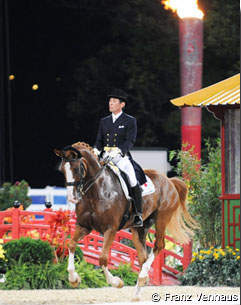 Hiroshi Hoketsu, the oldest competitor at the Olympics at age 67, was diappointed about his ride:
"I'm very disappointed. My horse Whisper spooked from the video screen each time she caught eye of it and we made mistakes."
British team captain Richard Davis on onLaura Bechtolsheimer's promising ride on Mistral Hojris, whose explosive movements she could not fully contain.
"It was absolutely tragic as Laura was on course for a blinder of a test with an expected score of 73% until she made an error of course. The judges were late ringing the bell, which threw her - you cannot afford to lose concentration for a split second in these conditions." Davison commended the riders and all the back-up team for their commitment and focus in the build-up to these games: "The riders have given it everything." Davison added: "I would like to thank everyone back home on behalf of the team for all the good luck wishes. It has given the riders a great boost. All the emails, texts, print-outs and cards have been coming through and are much appreciated."
Ashley Holzer on her 67% scoring ride with Pop Art:
"He stumbled on the first extension and that got his balance a little off; he's not used to doing that. I was getting back on track, but he stumbled again in the zig zag.  He is capable of getting a score of 70, 71 percent, but you can't make a mistake.  I tripped twice!  The rest I thought was pretty good considering the venue."
Jacqueline Brooks on her first Olympics
"It is fantastic.  It is something I will remember for the rest of my life!  I came to this sport quite late and I plan to be here at least through London, so the experience I have here will help me train the next horse to this level."
Brooks scored 63.750% to place 29th
"He was a good boy, everything I asked him to do, he did," said Brooks, 40.  "He didn't make any mistakes.  He gave me everything he's got.  I was thrilled with him."

Leslie Reid on her performance with the 11-year old Orion
"It was just too much atmosphere out there for him," said Reid after her ride.
Michal Rapcewicz is the first Polish dressage rider to make it to the Olympics
"I've qualified for the Special and hope to go through to the kur with the final 15. The Games are already a big success for me now."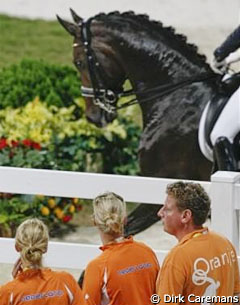 Steffen Peters on his ride with Ravel:
"Overall I'm really pleased. I had nothing to lose so I really went for it. He was quite good but he got nervous in the free walk toward the screen. There were a couple of things that weren't quite as good as normal. There were a lot of good things in there. He only did his first grand prix in March," said Peters. "I can't risk it that much in the changes yet but I really went for it in the trot work."

Imke Schellekens-Bartels on her disappointing ride with Sunrise
"Sunrise and I were actually in very good form. I was confident, even after Hans Peter's test. During the warm up, Sunnie felt good, but a little less powerful than normal. We cooled her regularly to make sure her temperature wouldn't rise too much and I had a good and sure feeling when I entered the ring. And I was right about the feeling. The test went well, the horse was together till after the canter, only at the beginning of the canter tour I got a problem with the tongue. Sunrise pulled her tongue over the bit and showed it clearly to the judges, before she put it back in at the end of the zigzag. Despite this problem, the zigzag was faultless, but a bit wild and the tongue cost me many points! What a pity, because after the zigzag I picked her up easily and the rest was faultless. The final centerline was a bit difficult because she was missing some strength, but in general I'm not unsatisfied. Unfortunately, the score was negatively influenced by the German judge and I got stuck just below 71%."
Photos courtesy: Franz Venhaus - Dirk Caremans
Back to the 2008 Olympic Index