2008 Olympic Games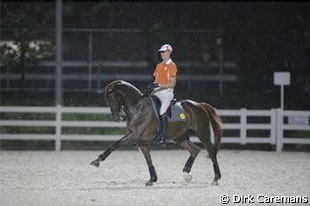 Only moments ago, the draw for the order of go of the nations took place. Holland drew the unfortunate first place, team Germany starts as 10th nation. Holland also has two riders to go on the first day, Wednesday, and one rider on Thursday
, while Germany has one rider to go on Wednesday and their two best on Thursday.
Hans Peter Minderhoud and Exquis Nadine will be the first pair to compete for The Netherlands on Wednesday August 13, 2008, and Imke Schellekens-Bartels and Sunrise will follow the same day. Anky van Grunsven will be the first rider to go for The Netherlands on Thursday for the conclusion of the nations' cup.
"This starting order is not ideal," Van Grunsven said. "W are the first to go and also with two riders on Wednesday. Our biggest competitor starts as tenth with one ride on Wednesday and two riders on Thursday. You can't do anything about it and our motto is: we just have to ride really well!"
For Germany, Heike Kemmer is going on Wednesday, while Nadine Capellmann and Isabell Werth have opted to ride on Thursday. The last horse to enter the ring for the Grand Prix is Steffen Peters aboard Ravel.
The reserve combination can be entered in competition one hour before the last rider of a team has to go. This means that reserve horses will be braided for the competition and that the rider will need to ready to warm up the horse and compete it if one of the team horses drops out one hour before their scheduled performance.
The panel of judges is constituted by Barnabas Mandi (Hungary) at E, Leif Tornblad (Denmark) at H, Ghislain Fouarge (The Netherlands) at C, Gotthilf Riexinger (Germany) at M and Gary Rockwell (USA) at B. The strongest dressage nations are all represented by a judge in the panel, which will make the judging even more interesting.
View the complete Order of Go
Photo copyrighted: Dirk Caremans