2008 Olympic Games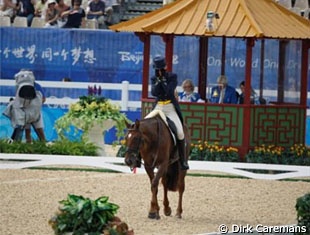 Germany's Ingrid Kiimke produced a sparkling test with Abraxxas to squeeze into third place as the final session of Olympic dressage took place at Sha Tin this morning, but it is the Australian riders who hold the whip hand going into tomorrow's cross-country phase with a firm hold at the top of  both the individual and team leaderboards.
Klimke's fabulous 11 year old gelding really rose to the occasion and attacked his test with enthusiasm. "I was pleased he was so forward" the rider said after her score of 33.50 left her trailing overnight runner-up Karin Donckers from Belgium by just over one point and leader, Lucinda Fredericks, by just over three points.  "He can be a very spooky horse but he is always wanting to try for me".  Ingrid entered the arena at 6.44 am and found the atmosphere a little surreal.  "It was quite electric but very silent at the same time" she said.  "There was hardly a sound and yet I was very conscious of the cameras clicking and the birds singing - it felt a bit strange" she added.
TENSION
The Olympic ring has certainly created plenty of tension in many of the horses over the past two days, but Karen O'Connor's youngster, the 9 year old Mandiba, was not in the least concerned, settling to his work and earning a mark of 41.90 which slotted the American duo into 16th place.  "He was almost too relaxed" O'Connor said, "but he extended well in trot and that brightened him up a bit.  He is still very young and has to mature physically, and I see him as my horse for the Olympics in London" she explained.  
Bought in Ireland from his breeders, William and Sarah Micklem, Mandiba only came into the US team following the late withdrawal of Heidi White.  "Mandiba is the friendly tribal name given to Nelson Mandela" the rider explained, adding that she hoped for a good result in tomorrow's cross-country phase.  "My horse has done all the questions - I think he will be fine" she said.
Ireland's Patricia Ryan had a nightmare experience when entering the arena two horses later - her 12 year old gelding proving almost unrideable from start to finish.  "He went well in Chatsworth and was fifth at the World Cup event in Tattersalls in Ireland but he's never been in an electric arena like this" she explained with great disappointment as her mark left her one from last on the individual result sheet..
Great Britain's Sharon Hunt was first to go after the early morning break and registered a score of 43.50.  "He felt quite bright and had a look at the flowers - if he had been a bit softer we would have had better marks but overall I am pleased" she said.  "This is my first real team experience and I'm really enjoying it, we've got a great team" she pointed out adding that, where the cross-country track was concerned, "the more I walk it the better it looks!".
POSITIVE THINKING
Positive thinking will certainly be an asset on tomorrow's cross-country track and Canada's Mike Winter has set his mind in that direction after putting 49.90 on the scoreboard with King Pin.  "When I got this horse first I could hardly persuade him to go from the barn to the arena because he was so difficult, so its a dream to be here with him at the Olympic Games" Winter said.  He noted that the galloping lanes will be narrow and that spectators will be close to fences, particularly at the first water complex and he wondered what effect that might have.  "But I feel prepared" he said.  "The options will be very time-consuming so I have made a plan how to go although I know I must be flexible.  But I came to go out there and mean it" he pointed out with determination.
A timely personal-best result for Andreas Dibowski and Butts Leon confirmed Germany's rise up the rankings, their mark of 39.60 earned with plenty of flair and fluidity.  "We really worked on the test and it was our best ever" he said with great delight.  He also is thinking ahead now and hopes, as anchorman, he will be in a position to go fast and take all the tough options.  "It will be a bit like an eight-minute jump-off!" she said, referring to the speed and frequency with which the fences will come up tomorrow.  "There is no time to recover if something goes wrong so you need to give it 150% concentration but the German team position has improved, its really looking good and we are feeling very confident" he added.
America's Philip Dutton was disappointed with the score of 40.6 he received for Connaught's test.  "I didn't quite have him how I would like it but if we end up on that score that that would be OK" he said.  The Rolex Kentucky-winning partnership may well be one's to follow tomorrow however as they are likely to put in a scorching round of the track. 
GRIFFIN TO THE RESCUE
Niall Griffin came to Ireland's rescue with the best performance of his career with Lorgaine - and it was badly needed.  "He blew up going into the arena - he felt like he just wanted to explode - so I thought - well I can either kick him forward and tell him to get on with it or just give up altogether and accept that its  going to be a disaster" he explained.  He did, of course, go for the first option and it worked a treat as the experienced gelding focused on his job, executing particularly easy canter changes and earning a mark of 49.4.  "It was a risk" he said, "but it was worth taking", while he thinks the cross-country course will suit his horse "because he locks onto his fences and he's adjustable" he explained.
The Irish will all need to lock onto their fences tomorrow if they are to finish higher than their current 10th place with a running total of 160.80 after the dressage phase.  Only the Brazilians are trailing them with a combined score of 180.30 while the Canadians lie ahead of them in ninth spot with 153.20 penalties.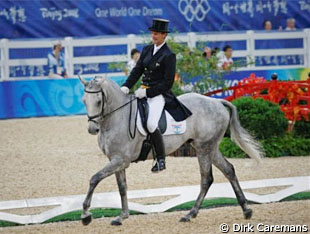 Despite all their disasters, and running with just a three-man team, the French are holding on to eighth place while Sweden lies seventh, New Zealand is in sixth and Italy is in fifth place - their current position greatly enhanced by a lovely test today from Susanna Bordon and Ava who squeezed into eighth place individually.  
The British are lying just outside a medal placing in fourth - Mary King's last-to-go effort with Call Again Cavalier also proving pivotal.  "I'm glad I got a mark in the 30's" she said, after putting 38.10 on the board.  "My horse was nearly too quiet, but he is very sensible and I was pleased with him".  Like team-mate Sharon Hunt, this veteran British rider feels increasingly comfortable about tomorrow's cross-country course - "the more I walk it the more manageable it seems" she said.  
FORMIDABLE FORM
However she and her team-mates will need to be in the form of their lives if they are to better those ahead of them tomorrow because the Australians are in formidable form in pole position while the Germans are gaining ground and lie just eight points behind, shadowed by team USA in third, just over five points further adrift.  As American team manager, Mark Phillips, said this morning - "the Aussies and Germans have to go clear to stay ahead of us, our horses are well prepared, we have a great group of riders and we are on a mission". 
The Olympic eventing contest has already developed into a fascinating battle of wills, strategy and team spirit and tomorrow morning the excitement will be ratcheted up to overdrive as the cross-country test at Beas River is played out in the unique Hong Kong climate and over a course that, as designer Mike Etherington-Smith has already pointed out, will require supreme horsemanship skills.
Back to the 2008 Olympic Index