2008 Olympic Games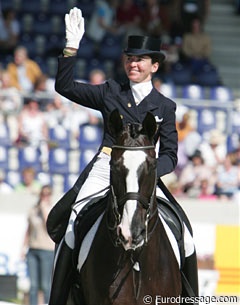 Spanish Olympic team rider Beatriz Ferrer-Salat has witdrawn her black Hanoverian mount Fabergé from Olympic competition due to an injury. Ferrer-Salat is currently standing on the sideline watching team mates Jordi Domingo and Juan Manuel Munoz Diaz prepare their horses in Hong Kong.
Four days before the veterinary inspection at the 2008 Olympic Games, Faberge went lame, but owner and rider Beatriz Ferrer-Salat has said that she will try everything to get him fit again for the Grand Prix. The Spanish team veterinarian is looking into the matter but the prognostication is unfavourable.
Spanish chef d'equipe Bobby Fernandez de Bobadilla informed the Spanish Equestrian magazine Ecuestre this morning from Hong Kong that there will be absolutely no problem for the Spanish horses and said that their state of health according to an ongoing examination is perfect although a slight dehydration is noted. Only hours later, Faberge's injury was communicated to the Spanish Equestrian Federation.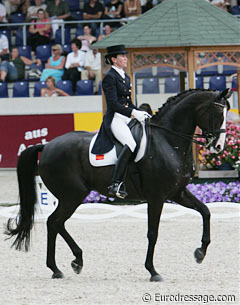 The withdrawal of Fabergé is tragic for the Spanish team as only two riders will remain with no travelling reserve and they no longer constitute a team. Furthermore, this is the second time that Beatriz Ferrer-Salat had to experience such a blow. She missed out on the 2006 World Equestrian Games because of an injured Beauvalais.
Spain has no travelling reserve present in Hong Kong, as Juan Matute and Wie Atlantico were not allowed to make the trip to the Olympic Games. "Wie Altantico stayed in the quarentaine in full training to cover the case of lameness of any of the other 3 spanish horses," Juan Matute told Eurodressage. "I really expected to travel to Hong Kong in case one of the other horses was not clear, but the Spanish National Federation and Jan Bemelmans decided not to take my healthy horse because of my low scores in Aachen. Not because of any health problems."
Photo copyrighted: Astrid Appels/Eurodressage
Back to the 2008 Olympic Index