2008 World Championships for Young Dressage Horses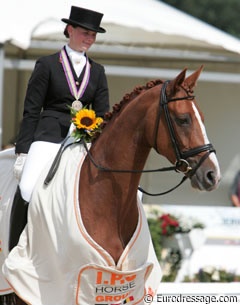 The winners of the preliminary round, Jessica Süss and Diamantenbörse, finished third in the finals and earned the bronze medal. Aboard Ewald Lüttgen's Oldenburg mare (by Diamond Hit x Rubinstein I), stable rider Süss showed off the fantastic rideability and good training level of the mare.
The trot was metronomically rhythmical with a good contact with the bit. The balance was never lost in the bends nor in the traversal movements. The mare has a world class walk which is active with big overstep. In the collected walk, the mare lost the rhythm and some impulsion in the walk pirouettes. The canter was well ridden with an active hind leg, but she tilted her head twice in the corner. Even though there was some tension before the first flying change and a miniature kick to the spurr happened, all changes were executed well and were big. The mare is absolutely on the right way in training and is a good example of the Trainin Scale, but what makes the picture less pretty on this horse is her plain front leg usage in the working trot. The horse could lift and stretch the front legs better out of the shoulder. In the extensions, she does reach out with her legs, but in collected or working trot, one gets to see a very normal, quick though rhythmical trot.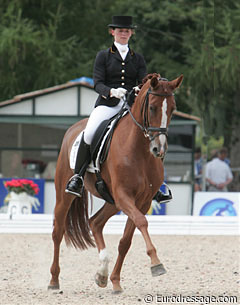 The judges praised Diamantenbörse's walk as "the best we have seen today" but they liked to have seen more efficient back usage on this mare. In the collected trot, she had a tendency to hurry and in the extended canter she could move even more uphill with more back usage. They scored her 8.0 for trot, 9.2 for walk, 8.4 for canter, 8.5 for rideability and 8.5 for general impression. Total: 8.52
"This is so much fun," Süss said at the press conference. "It's my first time here and Diamantenbörse was totally relaxed. I'm very happy with the bronze medal." Süss became the in-house rider at Lüttgen's Gut Mödrath in January 2007 and straight away got the ride on Diamantenbörse, who was just purchased at the Vechta Elite Auction. In two years time, the virtually unknown Süss, who has a circus and show background riding Friesian and Iberian horses, won the bronze medal at the 2007 Bundeschampionate and 2008 World Young Horse Championships.
Photos © Astrid Appels