2008 World Championships for Young Dressage Horses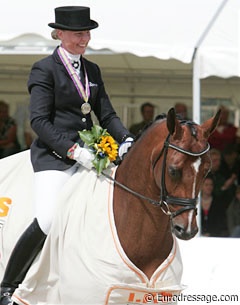 The podium of the 6-year olds was an interesting one. Whereas the 5-year old judges chose to reward rideability (Desperado OLD) over potential and quality of gaits (Silberaster OLD), the 6-year old judges seemed to have done the reverse. They chose to place first the horse with the most potential and superb quality of gaits (Dramatic) over rideability and training level (Polka Hit Nexen, Diamantenbörse).
Everyone knows that Dramatic brims with Grand Prix talent, but as judge Holler said "it is the performance on this day that decides" and potential should not be judged. So did the judges make a mistake in placing Dramatic first? Yes and No. Yes, because his training wasn't the best of the day, no because his gaits were the best of all 6-year olds competing.
The Danish Dorthe Sjobeck Hoeck and the Danish warmblood mare Polka Hit Nexen (by Sandro Hit x Templewind xx - breeder: Hans Jul Andersen) captured the silver, deservedly so! The elegant, refined, long legged bay mare trotted in good tempo and with rhythm and self carriage. The traversal movements were lovely as the mare really crossed her legs to cover ground. The collected walk kept good rhythm and the extended walk had good overtrack.
The canter work was good, though the left flying changes were jumped leaning into the hand. They lost valuable points when the mare broke into canter in the final extended trot. Nevertheless, the judges loved the Danish performance and scored it accordingly: trot 8.9, walk 8.7, canter 8.8, submission 7.9 and general impression 8.8. Their overall score of 8.62 was not too far off from Dramatic's 8.78 and the World Champion's title.
"I did not expect to win a medal," said a moved Sjobeck Hoeck, who runs a training facility in Denmark that specializes in the training of young horses and in particular preparing mares for the mare performance test. "This is how Polka Hit came to me," she added. Dorthe did not expect the mare to break into canter in the final extension. "She never does that, so I gave her lost of freedom, too much. It was 100% my mistake."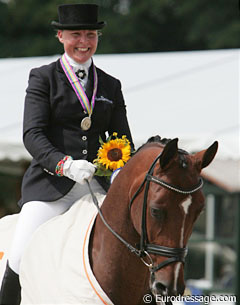 Polka Hit's daily routine besides training is daily turning her out in a small paddock as well as going into the walker up to three times a day. Hoeck has competed up to Intermediaire I level and has been given the chance by owner Berith Nielsen to train the mare further to FEI level.
Danish Jan Pedersen, President of the World Breeding Federation of Sport Horses (WBFSH), was particularly happy that a Danish combination won a medal for the first time at the WBFSH World Championships for Young Dressage Horses.